Click the Book Covers Below to Buy the Books

Current Moon Phase




Third Quarter Moon




The moon is 20 days old


Distance: 63 earth radii
Ecliptic latitude: 4 degrees
Ecliptic longitude: 141 degrees


Recommendations

Good Information

Wind Weather & Tides

Meta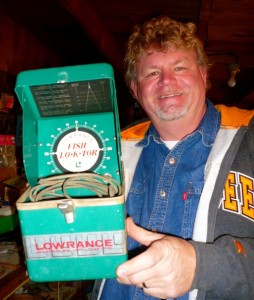 I'll never forget the first sonar unit I ever saw.  I was only five or six years old when my dad installed a Lowrance Fish Lo-K-Tor.  I was fascinated by the technology. It took two big six volt batteries with springs on top.  There was one knob on the front to adjust the gain and a diagram behind the dial to show the cone angle.  The transducer attached with two suction cups and could be taken on or off anytime. Not only could we read the bottom depth,  but with a little practice we could interpret the red flashes around the dial to find fish.  There was nothing more exciting than seeing that dial light up.  Quick sparks meant bait, solid lines meant fish, wider solid lines meant big fish.   The "Little Green Box" revolutionized fishing.  My dad was always ahead of the game when it came to technology, but I admit I haven't always kept up with the latest and greatest in gadgetry.  In fact, I was still using a Lowrance flasher on my small boat when I first started fishing the Chesapeake four years ago.  When color graphic screens came out I thought they were nice,  but I didn't see them as a giant leap forward.  Even though I bought one for my big boat, I still trusted the flasher to put me on fish. Things changed when side-scan sonar became affordable for amateur fishermen.  Just like those Fish Lo-K-Tors in the early 1960s, side-scan has opened a new chapter in 21st century fishing technology.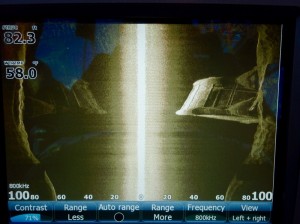 When I was outfitting my boat Thunder Road for Chesapeake fishing, I knew I had to add side-scan sonar.   Both Lowrance and Huminbird make good units but I've always used Lowrance so I went with their "StructureScan" version.  Just like the early flashers, there is a learning curve involved.  Since fishing has been tough this April, I've had some time to familiarize myself with my unit. I still have a lot to learn, but I feel like I'm getting close to having it "dialed-in."   The picture to the left is a StructureScan image of a deep piling on the Bay Bridge.  Since I have my unit set to "left and right" side scan with a view of 100 feet on each side, the piling looks sideways and somewhat small on the screen. Click the photo to enlarge and see the incredible detail, or click this link for even more detail. Yes, that's a cable running down the front, and yes, those dots are probably jigs on the cable!  I've been jigging this piling for years, but I never knew how it widened out near the bottom.  On the other hand, I did know about that cable, I'd bet a lot of those jigs are mine! There's also some debris around the base of the piling that I didn't know about.  It looks like big timber which will surely hold fish when there is enough oxygen that deep.
Another advantage of StructureScan is the detail it provides in identifying bait. The Lowrance unit has a "Downscan" feature that provides a view that is oriented just like the sonar image on a traditional fish finder.  On regular sonar, schools of bait fish show up as indistinct blobs, but on Downscan I can easily identify the size and orientation of each individual fish.
Identifying the size of the bait is important because big fish prefer
bigger bunker.  When I can find the big bait pods, I know trophy stripers may be lurking nearby.  In fact, I've put that theory to the test this week.  The fish have been hard to catch, but there are a few around.  It's still catch and release season, so I don't have many pictures.  Almost all my fish were released boat-side and never taken out of the water.  With water temps in the mid-fifties, rockfish are now spawning in the rivers.
Despite my nostalgia for the old stuff, we've come a long way from those red flashes on the Lo-K-Tor dial. Stay tuned to ChesapeakeLightTackle.com since I'll surely post more StructureScan pics as I encounter interesting situations.  Post-spawn striper patterns should begin in the next couple of weeks and I'll be fishing close to home. I hope to get even more detailed shots of familiar underwater structure like the Bay Bridge.  Thanks to this exciting technology it's just a matter of time before we find even more of what we've been missing down there.
Responses to "StructureScan"