Click the Book Covers Below to Buy the Books

Current Moon Phase




Full Moon




The moon is 16 days old


Distance: 61 earth radii
Ecliptic latitude: 4 degrees
Ecliptic longitude: 92 degrees


Recommendations

Good Information

Wind Weather & Tides

Meta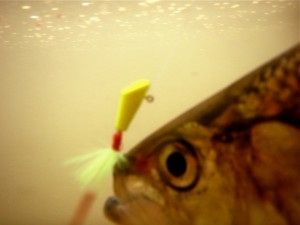 Besides gannet storms, April showers bring cherry blossoms and tourists to the Mid-Atlantic.  Since cherry trees were first planted around the Tidal Basin in 1912, people from all over the world travel to Washington DC to welcome the arrival of spring.  This is also the time when fishermen look forward to other visitors making their way up the Potomac.  In April, the hickory shad run begins bringing some of the most exciting fishing of the year. Hickory and white shad are anadromous species that spend the vast majority of their lives at sea, but enter the Chesapeake region in the spring. They swim through the Bay and up the rivers looking for the fast water they need in order to spawn. Shad hold an important place in American history. The Native Americans fished for them extensively and used them to fertilize their crops. George Washington was known as a prolific shad angler and caught thousands near his home on at Mount Vernon. It was the spring shad run in Pennsylvania's Schuylkill River that saved Washington's army from starvation at Valley Forge.

Shad are amazingly flashy fighters. Once hooked, these "poor man's tarpon" make very strong and fast runs. It's not unusual for them to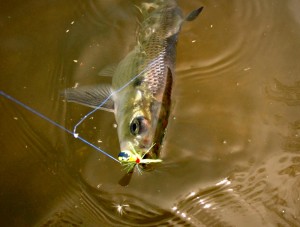 jump three feet out of the water as they try to throw the lure. If you happen to catch two at the same time on a tandem rig, don't be surprised if they snap a 10 pound-test line. White shad are threatened but Hickory shad are relatively abundant.  Because of the difficulty in telling them apart, Maryland requires both species to be immediately released.  White shad are distinguishable from hickory shad by the saw-like scales along their body.  They're wider, and lack the protruding lower jaw of their close cousins.  It's unusual to catch very many white shad.
Although the cherry trees are beautiful, my indicator for when to start shad fishing is when the redbuds bloom. Yesterday after work, I made the short drive from my K street office up to the C&O Canal National Historical Park.  Arriving at Flet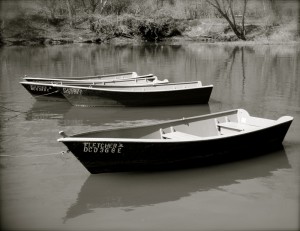 cher's Boat House about 6:00 PM, I pulled on my waders and started casting a rig consisting of two shad darts, one white the other yellow.  At first the bite was slow, but things begin to pick up as the sun started setting over Donaldson Ridge.  Soon I was getting two or three strikes on every cast.
Here are some tips for successful shad fishing.  Look for deep water where there is a lot of current.  I think you need at least 4 feet, and 10 is better.  Cast upstream at a 45-degree angle as far as you can. Let your lure sink and follow it downstream with the rod tip.  Once the lure is opposite you, raise your rod tip and let the current pull it.  This helps the lure swim up the slope of the rocks and adds sensitivity for strikes. (A very similar technique to striper fishing with heavy jigs in high current situations.)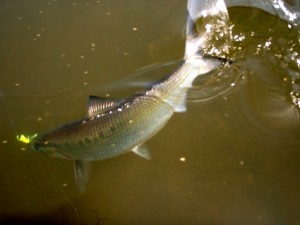 Shad don't really have teeth and they don't strike hard.  It's more like a little bump.  When you feel it, set the hook shortly and sharply, but not too hard.  Their mouths are soft and the lure will pull out if you play them too aggressively.  Although I sometimes get away with braid, monofilament on a limber rod is the best equipment.    Shad run in schools, so if you catch one cast back out quickly as there may be more waiting. Early morning and late evening are the best times to fish.
I shot some video of my trip last night with my cap-cam.  It probably tells the story better than I can.  There's more information about shad fishing located on Maryland DNR's website including directions to other productive fishing spots.  The shad run will last another two or three weeks with more white shad showing up in late April into May.  Get out there and get them if you can.  It's a once a year event that no mid-Atlantic fisherman should miss.
Responses to "Monumental Shad"