Click the Book Covers Below to Buy the Books

Current Moon Phase




Full Moon




The moon is 16 days old


Distance: 61 earth radii
Ecliptic latitude: 4 degrees
Ecliptic longitude: 92 degrees


Recommendations

Good Information

Wind Weather & Tides

Meta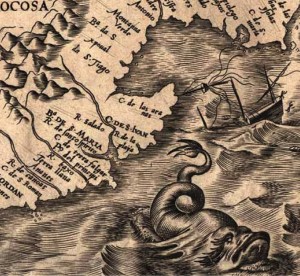 Certain ancient and medieval maps identify the edges of the known world with a Latin phrase that has piqued the curiosity of explorers for centuries:  "Hic sunt gigantes."  While you won't see the words on any Chesapeake charts, they could just as easily be penciled-in:  "Here there be giants."   From mid-May to mid-June, gigantic Black Drum leave their spawning grounds near Cape Charles, VA to forage up the Bay.  Maryland fishermen look for "boomers" around rocky bottoms in the Mid-bay, especially in the area just north and west of Sharps Island Light known as Stone Rock.  The best way to catch them is to bait a circle-hook with soft crabs or clams and motor around looking for big marks on the sonar.  Once they appear on the screen, drop the bait quickly.  Drumfish aren't known to be hard fighters but they are a challenge to land because of their sheer weight and massive girth.  I've heard stories of fishermen struggling for hours before finally breaking them off.  There are rumors of anglers who occasionally score one of the big-finned behemoths on a jig.  I wasn't so sure until yesterday when I saw one landed on light tackle.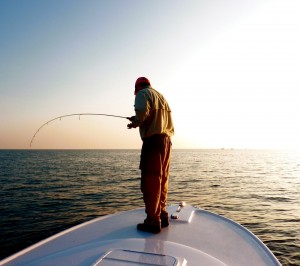 Our day started at 5:00 AM when Cory and I met John Page Williams and Chuck Foster at a gas station on Kent Island.  I've managed to fish frequently with JP this spring and always look forward to the trips.  This was my first time out with Chuck.  I'd heard he was an excellent fishermen and I was looking forward to talking to him about the new boat he's ordered and his work with the Chesapeake Bay Foundation.  We gassed up Thunder Road then trailered a couple of miles down Old Romancoke Road to launch at the Matapeake Ramp.
Our first stop was the shallow pilings of the Bay Bridge.  Unfortunately, the incoming current we were expecting was late, so we moved west along the bridge until we found waning outgoing flow.  Cory and I fished the bridge the night before with good results, but this morning the rockfish wouldn't cooperate.  We decided to change strategies. After an unsuccessful stop at a top-water spot, we ran north along the humps and ledges in the 16-25′ depth range.  That pattern has been very good for striped bass over the past month or so.  Sure enough, just after we came off plane over a hard rocky bottom, the fish finder lit up.
It was immediately obvious that Chuck is an experienced light tackle angler.  He hooked up right away with a thirty inch striper, then followed it with two slightly smaller ones before the rest of us ever tuned-in to the feel of our jigs.  He was facing the wind while casting a white split-tail Fin-S minnow attached to a three-quarter ounce jig using a very light spinning outfit.  The fish were finicky, but we finally figured out the right combination of casting and twitching and started catching.  John Page introduced us to a new lure dye that is designed to hotrod bio-baits.  He proved its worth by landing several nice stripers on a 7″ Gulp Alive lure.
The fish were holding in a narrow north-south strip about 50 feet wide and 75 yards long.  The wind was from the northwest, so it was tough to set the drift to accurately intersect the strike zone.  Still, we were picking off a fish every two or three casts.  As the sun came up a little higher over Frying Pan Cove, we noticed some cow-nosed rays splashing the surface of the 70 degree water.  Due to the over-fishing of sharks, rays now have few natural predators. There are more in the Bay this year than ever before.  In some places they are so thick that it's impossible to drop a lure.  As we were discussing the rays, Cory made a long cast with a hotrodded 7″ Bass Assassin on one of Fischadler's chartreuse jig heads. After a couple of snaps he set the hook and his rod bent double.
He pointed my medium weight, extra-fast Powell directly toward the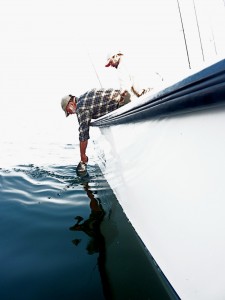 fish and watched as the ten-pound-test PowerPro braid screamed off the Revo reel.  He'd surely hooked a ray, so I didn't get too excited.  We were on a good drift right through the best spot on the hump, so I didn't want to start the engine and chase.  Chuck and I both hooked a rockfish, so I called over my shoulder to Cory to let me know when he got down to the backing line.  John Page moved up to the bow to offer advice.
After a few minutes it was obvious Cory's snag was staying on, so I reluctantly repositioned the boat to make things quicker.  John Page made the call first.  An experienced fisherman can often recognize a species just by the way the rod dances. He said he wasn't seeing the wing pumps or fast runs for which rays are known.   He suspected a black drum.  I wasn't so sure since we were twenty miles north of the area where most drum are caught, but I've learned not to doubt John Page. I moved the boat over the fish two or three more times, calling out my intentions to Cory so he knew exactly what direction I was heading and could keep the line tight.
After about ten minutes of pumping and reeling, Cory had gained enough ground to jump down off the casting deck and hold the rod over the gunnel.  We all stared down into the water as the fish came up.  John Page was right, we were looking at a massive black boomer.   I snapped photos as Chuck and JP pulled the fish over the rail.  I attempted to weigh it with my Boga Grip, but it bottomed out the 60 pound scale.  My initial estimate was 65 pounds, but I've since heard from more experienced drum anglers that it was probably closer to 80.  Exhausted by the fight, Cory couldn't pick up the fish.  We hoisted it up into his arms so he could cradle it for the photo.  After a couple of shots he put it back into the water.  With a massive tail swipe it swam back into the depths.
Although I won't rule it out, I don't know if I'd intentionally go after black drum with light tackle in the Chesapeake. One fish is fun, but I wonder if another just might be too much work.  There's no denying that it was an exciting few minutes and probably the catch of a lifetime for Cory.  Although I've caught some big catfish back on the TVA lakes, in 45 years of fishing I've never caught a fish that big on gear designed for largemouth bass.  After landing several more stripers that exceeded the 30 inch mark, we called it a successful morning at 9:00 AM.  I always add a mark on my GPS for places where memorable fish are caught, so before we motored away I scrolled over to the keypad and typed in what I hope is an appropriate title.  With a nod toward the cartographers of old, waypoint 127 on my twenty-first century electronic map shall forever read:  "Here there be giants."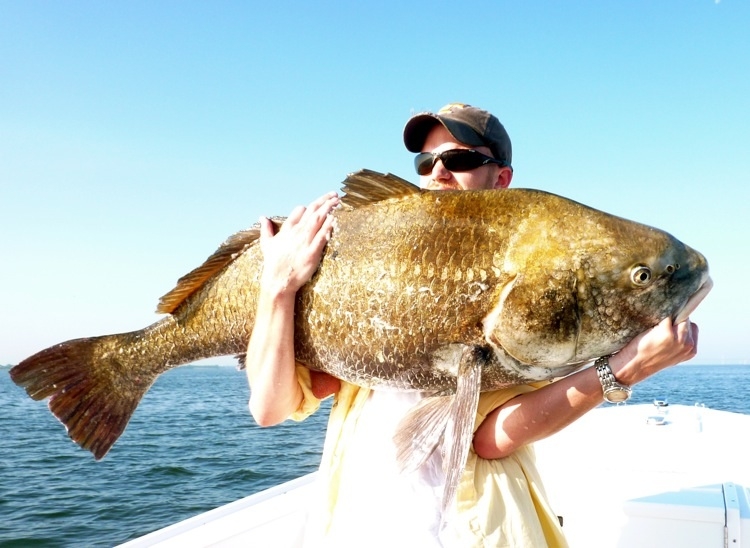 Responses to "The Land of Giants"