Click the Book Covers Below to Buy the Books

Current Moon Phase




Waxing Gibbous Moon




The moon is 12 days old


Distance: 56 earth radii
Ecliptic latitude: -3 degrees
Ecliptic longitude: 336 degrees


Recommendations

Good Information

Wind Weather & Tides

Meta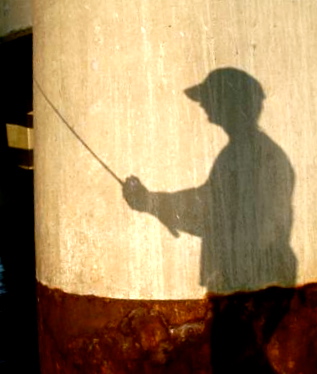 Summertime,
And the livin' is easy
Fish are jumpin'
And the cotton is high
If I could add a line to George Gershwin's song, it would be "and the piling bite is on."  This week marked the start of the summer pattern around the William Preston Lane Jr. Memorial Bridge.  The migratory fish are long gone, the bluefish are moving in, and the resident rock have set up shop around the pilings.  This is the time of year when it's well-worthwhile to make a sunset run out of Matapeake to drop a jig around the rockpiles or toss a top-water plug over the Pipe.  Go, even if there's only a few minutes to fish.  It's the closest to a sure thing the Chesapeake has to offer. Better yet, the big white perch are out of the rivers and hanging out in the shallow water around the bridge. My wife and I ate fresh fish three times this past week.  Back in the South, we'd call that steppin' in high cotton.  Here, it's just a summer week on the Bay.
I got out a couple of times this past week, an hour before dark one evening and 90 minutes the next.  I found good outgoing current and plenty of fish both nights.  Most of the stripers were small, but I managed a few in the 27-28 inch range.  Friday evening as I was driving home across the Bridge with the top down on the Miata convertible,  I looked down to see my friend Rick Long, inventor of the "FISH-OFF GLOVE" casting around the shallow eastern shore pilings.  I probably shouldn't have taken my eyes off the road, but traffic was slow and I couldn't resist.  I watched him cast and hook up a fish as I was driving by.  I quickly picked up my cell phone and called him.  He told me he was having one of the best white-perch-catching evenings he's ever had.  Some of his perch were over 13 inches, all on small artificial flies.  That's trophy perch in anyone's book and  Maryland DNR citation award winners.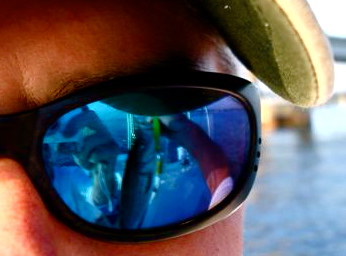 My friend and Kent Island neighbor Mark was waiting for me at my house when I pulled in the driveway.  I told him about Rick's report so he hurried home to get his perching gear.  Within 30 minutes we were on the water and casting.   Rick was right on.  Mark hooked a 12 incher on his first cast and followed it with two more big black backs before I could tie on a shad dart.  We put a couple dozen big perch in the fish box for dinner, then set off after rockfish.  Even though weekend striper fishing is usually tough because of all the fishing pressure, they didn't disappoint either.  We found linesiders on nearly every piling.  Although we released all we caught, we could've easily taken home a limit of rock to match our big mess of perch.
The best striper lures were hot-rodded 6 inch bass assassins, BKDs, or Mann's Hard Nose (we used all three) in either chartreuse or pink hotrodded with Spike-It Dip-N-Glo garlic dye in various contrasting colors.  I used half ounce jig heads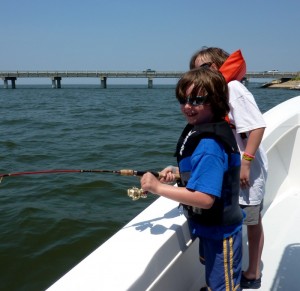 most of the time, but moved up to three-quarter ounce when the current started running stronger.  The bigger fish were holding tight to the pilings on the up-current shadow side.  The perch were hitting one-sixteenth to one-eighth ounce shad darts in either chartreuse or white jigged right alongside the shallowest pilings.  I tandem-rigged them with the heavier dart on the bottom and moved up to heavier line since two big ones at a time could easily break 6-pound-test. The perch preferred lighter current, and kept biting through the slack tide.
Saturday I fished with my wife's friend-since-law-school Tim, and his boys Michael and Ryan.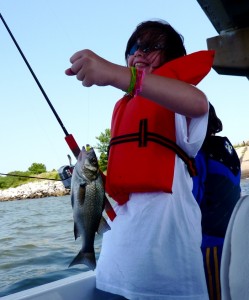 They started the trip out right when they showed up with a couple of quarts of fresh blueberries they'd picked on their way to Kent Island. I'll trade a fishing trip for fresh berries any day! Tim entertained me with tales of his work as a Justice Department voting rights attorney while the boys reeled in fish after fish on their jigs. We spent a couple of hours on the pilings, then made a quick run to Annapolis where we stopped at City Dock for ice cream.  After a short harbor tour where the boys exchanged imaginary fire with a tourist pirate ship, we headed back across the Bay to fry up our perch.  The fish were delicious. Dianne baked some biscuits and whipped up some Lewes Dairy heavy  cream for a homemade strawberry-blueberry shortcake desert.  Now, it's time to relax.  Tonight,  I'm enjoying a nice Chesapeake breeze while sitting on the front porch staring out over the blooming black-eyed susans and sipping on a blueberry-Gentleman Jack mint-julip .  Ah, summertime, and the livin' is easy.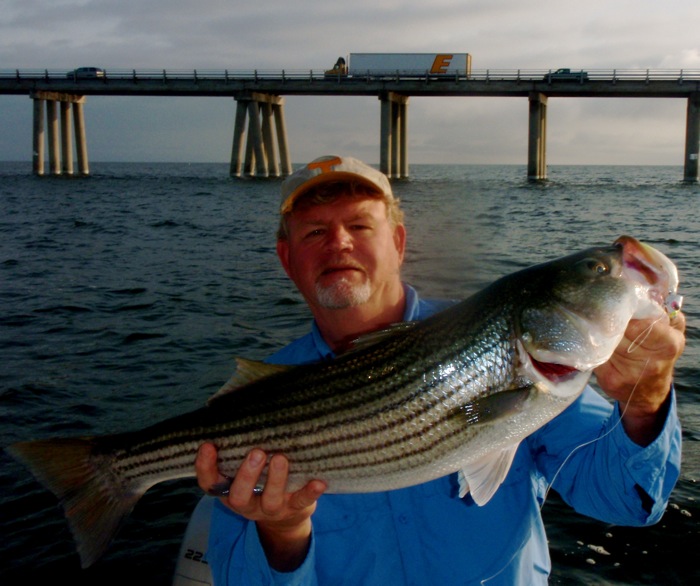 Responses to "Summertime"