Click the Book Covers Below to Buy the Books

Current Moon Phase




Full Moon




The moon is 16 days old


Distance: 61 earth radii
Ecliptic latitude: 4 degrees
Ecliptic longitude: 92 degrees


Recommendations

Good Information

Wind Weather & Tides

Meta
In a recent report I mentioned that I caught a tagged fish.  It wasn't the first fish with a tag I've caught on the Chesapeake – I've managed to land four previously – but it was the first time I felt like I knew exactly what to do.  Despite my participation in conservation associations and advisory groups, it's taken me four years to figure out how to properly handle a tagged fish caught in the Bay.  Apparently I'm not alone because I've heard from some other experienced anglers who don't fully understand the process either.  The problem is, there are several organizations that are actively tagging fish, and the rules for each are somewhat different.  For example, a pink tag on the left side belly of a striped bass is put there by the Department of the Interior's Fish & Wildlife Service.  I now know you can cut this tag off, measure, and release the fish.  However, I hope you aren't color blind because if that tag you cut off turns out to be chartreuse, you just disqualified yourself from the chance to win $25,000.00.  It gets even more confusing.

Do you know the difference between chartreuse and green?  While Maryland uses chartreuse for their annual "Diamond Jim" rockfish challenge, the Virginia Institute of Marine Science (VIMS) uses a slightly darker green tag.  If you catch a fish with one of their tags, you have two options.  Option one is to keep it cold (unfrozen) in ice and call the number on the tag so a surveyor can pick it up.  For this, they'll give you $25.00.  Option two is to cut off the tag and call the number for a $5.00 reward.  Don't make the mistake I did though by cutting off the tag so you can't read the identification number because you won't get anything but a hard time from the guy who answers the 800 number!
Confused yet?  Well,  the VIMS website, mentions that there are some pink tagged fish swimming around.  They didn't say who put them there, only that they wouldn't pay.  I wonder if that's the same pink tag they put on Maryland fish? Catch a yellow tagged fish and you can participate in the Chesapeake Bay Environmental Center's (CBEC) Reef Ball Monitoring Program by calling the number on the tag.  If you're really motivated, you can contact the CBEC, take a class on proper techniques, then start tagging your own fish caught around their reef balls. In fact, I don't know of any laws that prohibit anyone from tagging the fish they catch anytime or anywhere.  I've also heard of some offshore stripers with brown and yellow tags put there by the National Oceanic & Atmospheric Administration (NOAA).
Further complicating the situation is what to do when you catch a tagged fish that is either undersized or caught during catch-and-release season.  Some organizations intentionally tag undersized fish in order to track growth and migration patterns. Maryland writes the instructions right on their pink tags, "If undersize, cut off tag & release fish,"  but Virginia makes an exception allowing fishermen to keep sub-legal and winter fish for the purpose of the survey.  Maryland reciprocates with the VIMS green tagged fish, but keeping a undersized fish with a pink tag could get you a fine in Maryland.  Let's hope our DNR officers would be objective when they encounter this confusing situation.
By far, the two most commonly seen tags in Maryland are pink and chartreuse.  I guess the bottom line is this; if legal, keep the fish on ice, call the number on the tag, and wait for further instructions.  (The exception to this comes if you already have your limit, in that case, even a ten thousand dollar Diamond Jim fish has to go back.)  I kept the tagged fish I caught.  I was casting to some breakers south of Poplar Island just before dark when I caught a 22 inch striper tagged on the left side belly.  I called the number on the tag and was greeted by the answering machine of Beth Versak of Maryland DNR.  I left a message and she called me back first thing the next morning.  She asked for the tag number, size of the fish, and where it was caught.  I off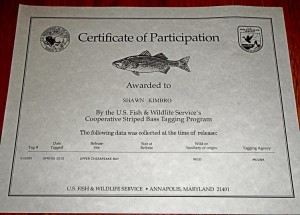 ered to bring her the fish but she said she didn't need it.  She was very pleasant and I enjoyed talking to her, but I was a little disappointed that I had killed a fish unnecessarily due to the instructions on the tag.  Ah, well, it's Maryland.  We still have a long way to go before we catch up with the rest of the world on the concept of catch-and-release fishing.
Ms. Versak told me that I would be receiving some information in the mail about the fish I caught, a certificate, and a cap.  Sure enough, in less than a week the mailman delivered a very official looking package from the U.S. Department of the Interior.  The letter thanked me for providing information that "is very important in the coast-wide effort to maintain a sustainable migratory striped bass stock."  It went on to say, "Data from the tag returns provides information about migration patterns, distribution, abundance, mortality, age and growth of striped bass."  It also said that I could find more information about the fish I caught on the enclosed certificate.
Although I'd like to have known more, the certificate states that my fish was wild caught and released this spring in the Upper Bay.  I'd guess it only lived a couple of months after the tagging before I sacrificed it for the sake of science.  I'll put the certificate up in my shop alongside my assortment of citations and other paraphernalia. I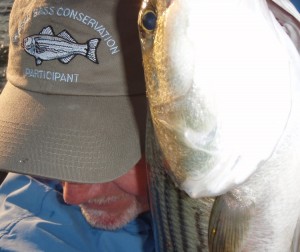 especially appreciate the cap they sent, especially since it's my size!  It fits my superstition that you catch more fish wearing a fishing cap that is given to you.  The sorcery was confirmed when I landed a fish pushing 30 inches on top-water the first time I wore it. Too bad they didn't include a power T!
My next goal is to catch a chartreuse tagged fish.  I like the Diamond Jim program even though it has suffered from something of an identity crisis in the past couple of years.  It's getting more and more popular with this year promising to be the biggest yet.  According to the website, the Maryland Fishing Challenge Featuring Diamond Jim is a free, year-round tournament sponsored by the Maryland DNR Fisheries Service, 27 recreational fishing organizations, and generous donors across the state.  The purpose of the event is to promote excellent fishing opportunities and the importance of kids in the outdoors as the essential key to future environmental stewardship.
What I like most about the Diamond Jim contest (DNR should drop all that confusing "fishing challenge" language.) is that it is essentially a catch and release event.  The fish have to first be caught in order to be tagged and released, then caught again for an angler to win.  The Maryland Charter Boat Association has done a great job helping DNR with the contest.  They volunteer their time and boats to take youth groups and other interested anglers out to catch and tag the fish.  In future contests, it would be great see some individual recreational anglers accompanied by DNR officials on private boats involved in this tagging process.  I worry that Maryland relies a little too much on the charter industry for all of their conservation and assessment programs.  No agency should put all their eggs in the basket of one particular stakeholder group.  As we saw in last winter's catch and release debacle, it leads to undue political influence and big mistakes in the management process.
Although it takes a tagged fish to win the big prize of $25,000.00 in the Diamond Jim contest, there are other ways to enter.   I've participated in the past three years by sending in pictures of citation-size fish I've caught and released.  So far, I haven't won anything, but there's always next time. As for the confusing tag situation, I don't think there's much that can be done about it. I think most fishermen want to do their part for conservation, so our best course is to keep ourselves as educated as possible about them. For more information about tagged fish and associated rewards, check out this web page by Chesapeake Angler magazine.
I spent a couple of evenings out searching for Diamond Jim this week.  I've been lucky enough to encounter pods of breaking fish off both sides of Kent Island.  Since there's a lot of bait in the Bay and it's been very windy, my strategy has been to look along whatever shoreline the wind is blowing toward.   That's a tried-and-proven freshwater bass fishing technique, and works just as well for stripers.  The wind piles up the bait tight to the shoreline.  Once the current starts flowing, the stripers descend in force.  I took out a couple of buddies – Charlie and Bill – who haven't done a lot of light tackle fishing on the Bay and they both did well.
It's Independence Day weekend, so I wouldn't expect too much in the way of striper fishing.  All the boats running around put the fish on alert.  If I get out at all it will be early morning or late evening for some top-water casting along the shore.  That, and my wife and I have decided to see as many fireworks shows by water as possible. I'll close with a picture I shot Thursday evening.  I had a strong following sea and Thunder Road was really clearing water off the bow flair.  I was trying to get a shot of the sunset to the west when a big wave hit about the time I snapped the shutter.  Here's some aquatic fireworks to wish everyone a happy 4th of July!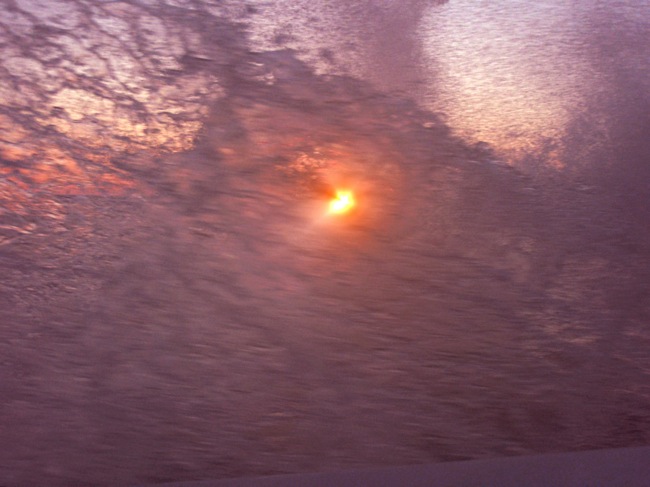 Responses to "Tag, You're It!"