Click the Book Covers Below to Buy the Books

Current Moon Phase




Full Moon




The moon is 16 days old


Distance: 57 earth radii
Ecliptic latitude: -4 degrees
Ecliptic longitude: 272 degrees


Recommendations

Good Information

Wind Weather & Tides

Meta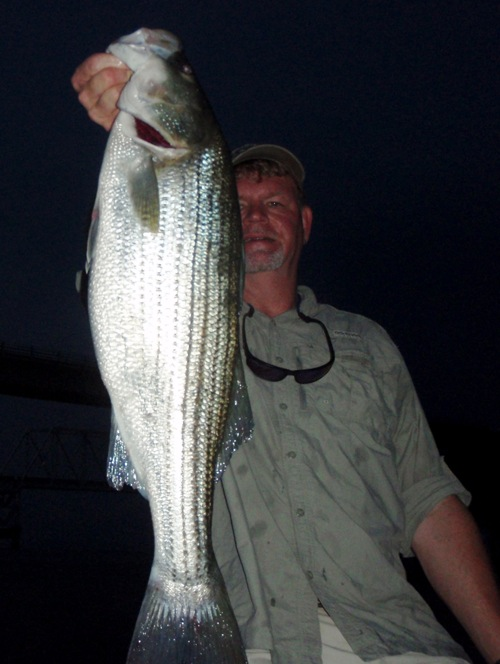 With Rhonda Vincent singing "Sweet Summertime" on the satellite radio, it was already 7:00 PM when I pulled into the Matapeake parking area.  Due to a heavy work schedule, I didn't think I'd get to fish at all tonight, but a welcome window of opportunity opened when rush hour traffic inexplicably parted like the Red Sea to reduce our usual commuting time by half .  I took it as divine intervention. With lightning on the horizon, I launched Thunder Road into a ripping incoming tide pushed along by the two-day-old moon and a low pressure system to the south.  Destination: Bay Bridge.  It's been three weeks since I've fished there.  I wasn't sure what patterns I might encounter, but I had a hunch the unsettled weather would turn-on the fish.  I've been meaning to film some instructional video at the bridge for a while, and finally remembered to bring my cap cam.  I started recording on my way to the ramp hoping my self-portraits wouldn't turn out to be a study in unflattering camera angles (of course, they did).
The first order of business was to identify a pattern of where and how the fish were feeding.  The liveliners have been fighting over several hot pilings on both sides of the bridge, so I wasn't surprised to see several boats out.  A
couple of bigger boats were jigging and unfortunately running their engines, so I knew I had my work cut out for me.  Running engines around the pilings will work for little fish, but it spooks the big ones.  Catching bigger fish around the bridge in the summer requires stealth.  It baffles me why some people don't understand that they should be quiet to catch fish.
I found some 18-21 inch fish around the cross bar of a deeper piling and caught enough to let me know that I had a strike zone in the 18-25 foot range and needed a 1 ounce jig head to get my hotrodded chartreuse Mann's Hardnose down through the current.
Now that I found a pattern, it was time to move. There's plenty of keeper rockfish in that 18-25 inch range to be caught in the Mid-Bay – I go to the bridge for trophies.  I moved around quickly looking for the territorial bigger fish while avoiding the pilings that had been recently fished by the noisier boats.  If I found schoolies, I pulled off.  When trophy hunting at the Bridge this time of year, zero bites can indicate the presence of big fish better than the multiple tap-tap-tap of dinks.  I was confident in my strike zone and stayed on the pattern realizing the bigger fish keep to themselves.
I managed a smaller fish or two now and then, but time was short as I could see the storm cell that had been lighting up the blue-gray sky over Annapolis starting to move toward the bridge.  At about 8:15 PM – fourty-five minutes into my trip – the bigger fish turned on.  I forgot to start my cap cam on the first one, a fat 29 incher, but remembered in time to get some good video of a 32.5 coming across the rail.   Another good fish threw my barbless hook with a thunderous tail slap, so I called it a night.  Lightning danced across the west side of the bridge as I opened the throttle on Thunder Road and raced big raindrops back to the ramp.  Rhonda was right, there's nothing more fun than fishing the sweet unsettled evenings of Chesapeake summertime.
.
Responses to "Sweet Summer Thunder – Video"