Click the Book Covers Below to Buy the Books

Current Moon Phase




Full Moon




The moon is 16 days old


Distance: 61 earth radii
Ecliptic latitude: 4 degrees
Ecliptic longitude: 92 degrees


Recommendations

Good Information

Wind Weather & Tides

Meta
Ouch!  Sunday night, my fishing partner Rich got a little too close to the top-water lure he'd left hanging on his rod in the console rod holder. The heavy duty treble hook went clean through. Even though he had mashed the barbs, it didn't want to back out cleanly on those heavy duty saltwater hooks. More on that later….. If you've heard about big migratory fish with sea lice in the Bay, you heard right.  I don't know why they're here, but I don't see any reason to ask questions.  They're here so let's enjoy them.  I've fished three times since returning from my freshwater bass retreat to Tennessee.  Each time we had big fish in shallow water.  I'm fishing very close to home near Kent Island, sometimes within site of my house.  I spent most of Saturday winterizing my boat and fishing gear. In my world, winterizing means preparing for big fish and rough water. I worked most of the day on the emergency gear in my boat but took the evening to upgrade the hooks and hardware on my top-water plugs. I also made sure I had plenty of good line on my reels, loaded my tackle bag with 10″ BKDs, and generally got things prepared for bigger fish. Saturdays are tough on the Bay, I think the fish hide on weekends, but on Sunday evening, sometimes they peek their heads out to see what's going on.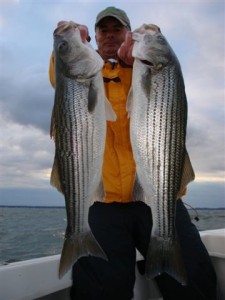 We launched off the back side of Kent Island tonight and stayed close to home finding big birds and breakers right where they were last Wednesday, within sight of the boat ramp. I don't know why, but for whatever reason we have big (30 inch plus) fish with sea lice migrating into the Bay in early October. I talked about it at the Baltimore CCA banquet Friday night and I don't think some people believed me. It's a spectacular thing to see mid-thirty inch fish exploding on bait so big even the biggest gulls can't carry off the stunned menhaden. This is the best bite of the year since April.
We had fish up to 37 inches tonight on big topwater lures. Since the fish were chasing 16-18 inch bait, they wouldn't hit a small lure. Full sized Stillwater Smackits and Super Spooks were too small. Fortunately, I had some musky plugs and some balsa wood off-shore striper spooks on Thunder Road, and that's what they wanted. When the fish went down, I couldn't even get them to hit a 10″ BKD for a while even though my HDS 8 sonar was lit up. Then I got to thinking about it and remembered something from a couple of years ago. I took out my pink garlic Dip-N-Glo marker and hot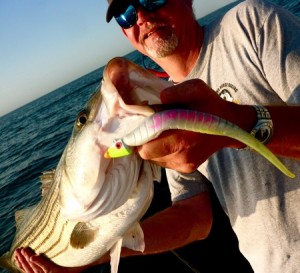 rodded the name of my frequent fishing partner and down-the-Bay rival "JAMIE" on the side of one, and sure enough it turned up the biggest fish of the night.
We stayed on big fish from 5:00 PM until dark, one of the top ten evenings I've ever seen on a ripping incoming tide. Rich said it might have been his best evening ever, and I know for sure he's seen some good ones.
Now, here's the rest of the story about that pierced ear. The reason he got that hook in his ear is because fish were exploding like grenades all around our boat. He went quickly from one side of the boat to the other and got a little too close to his plug. I wanted to cut off the end of the hook so I could back it out of his ear, but he wouldn't be still long enough. He said, "I don't get too many evenings like this," and wouldn't stop casting and jigging! I finally talked him into stopping long enough to get it out. Once I backed that hook out he bled like a stuck hog and his white shirt looked like he had been in an auto accident before the night was over, but he never stopped casting!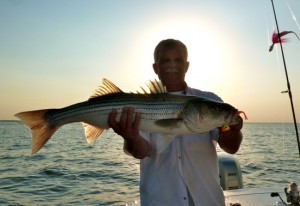 In the past couple of years this pattern has developed in late October and held through Thanksgiving.  I don't know why they're early, but once again, not complaining.  Let's hope they stay.  Water temperatures are in the mid 60s.  With nice weather this past weekend it's actually warmed a little in the past couple of days.  Incoming tides seem better than outgoings.
Fish are holding near areas where the water goes from 20 feet deep up to 8-10 feet deep.  They stay mostly over the deeper water but move up on the ledges to feed.  Jig them deep and throw top-water when they're shallow.  You can't buy a plug too big and make sure you upgrade them so that you have the heaviest split rings and strongest hooks you can find. Nobody wants to lose a trophy because of inferior lures. Also, be smart, make sure you have some heavy-duty wire cutters on the boat and use your pliers to mash down the barbs on those trebles.  Trust me, it's as good for the fisherman as it is for the fish!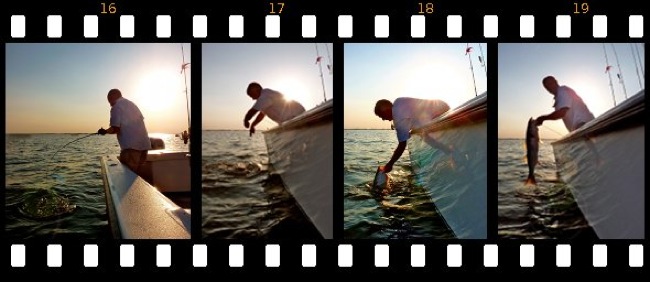 Responses to "Heard That!"