Click the Book Covers Below to Buy the Books

Current Moon Phase




Full Moon




The moon is 16 days old


Distance: 61 earth radii
Ecliptic latitude: 4 degrees
Ecliptic longitude: 92 degrees


Recommendations

Good Information

Wind Weather & Tides

Meta
I recently discussed light tackle with some fishing buddies over a bottle of Tennessee's finest. We all agreed that casting artificial lures on the Chesapeake Bay has the potential to catch as many big fish as any other method. I believe the chances for a trophy striper are better for those who know how to handle a light stick. Until a couple of years ago, most Mid-Atlantic fishermen would have laughed at a statement like that, but not anymore. Throughout 2010, light tackle casting held its own and often out-produced other methods of Chesapeake Bay fishing.  It's encouraging to walk into bait shops and tackle stores now and see Bass Kandy Delights, Bass Assassins, and top water plugs displayed prominently at the end of the aisles beside umbrella rigs and parachute lures. I'm very happy to promote light tackle fishing for one main reason – I don't know a single light tackle fisherman who isn't a conservationist. It is absolutely clear that anglers who cast artificial lures are hard-wired to protect the fish and to take care of the water they fish in.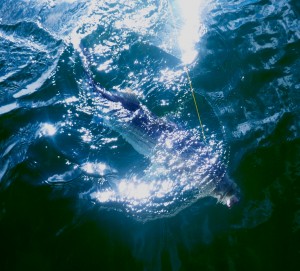 There are many ways to catch fish that are fun and relaxing and I'm a fan of sports fishing by almost any method. I'm not saying fishermen who are attracted to other methods aren't conservationists, in fact, a great many are.  It's just that, like ethics and sportsmanship, there are many interpretations of conservation.  I just prefer the perspective most of the light tackle guys I know bring with them to the Bay.
The most productive fishermen I know use whatever method of fishing produces best considering the conditions. I just find it more fun and challenging to cast artificial lures. Light tackle has historically been looked at as a little fish method. A lot of good Chesapeake fishermen only bring out the light gear when they can't get the big fish to bite otherwise.  I think that's a mistake.
Light tackle casting is easy to learn at the basic level, but it can also be a life-long study. The best fishermen have a clear understanding of what's going on in and around the water. Light tackle fishing is never a passive sport.  There's no waiting for a rod to go off or a float to go down.  Casting takes both mental and physical skills.  Rather than fate or luck, casting success is determined by a long list of skills and decisions – spot selection, lure choice, rate of retrieve, depth of presentation, and direction of the cast just to name a few.  Whether it's with a fly, jig, or plug, there's no greater sense of satisfaction than out-smarting a fish casting an artificial lure.  I sincerely believe that anyone who experiences it will become a better steward of our natural resources.
Since it doesn't look like I'll get too many more trips in before the first of the year, I thought this might be a good time to look back at this year's fishing. It's been a good year. I'm frequently asked if I think Chesapeake striper fishing is in decline.  I'll leave that up to those who have fished here longer.  This was my fifth year fishing the Bay, so I don't have a good baseline.  I've learned a lot and there's no doubt I've refined my skills and become a better fisherman.  I've learned to streamline my trips and make surgical strikes to the areas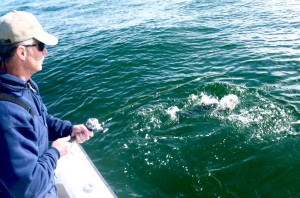 where I think fish are more likely to be at times when they're most apt to bite.  That said, I feel like every year I need to up the effort-ante more and work harder to find the fish.  It's a lot harder to catch fish now than it was when I first started fishing in Maryland.
I sat down last night and paged through my photos hoping to filter them down to a single-barrel video montage. With a self-imposed time constraint of ten minutes, I decided not to include most of my freshwater trips. It was tough. I'm sure I left out some nice fish and excellent fishermen. On some of my best trips I didn't even take a camera.
Whether it's eight minutes or eight hours, any time I've spent on the water has been exceptional and I've learned something from every single person I've fished with this year. To those of you who have shared your trips with me, either in person or through emails, letters, text messages, or phone calls, just saying thanks seems insufficient.  I only hope I can give back a fraction of the help you've given me. I think I have the finest fishing network on the Bay and I savor it.  So, here is my attempt at distilling 2010 down to a small batch of pictures. All my best to you and yours for a happy holiday season and here's a steep tip of the mason jar to everyone reading.  May the new year lead you down the road to the thunderous slaps of big fish tails.
Responses to "A Year of Light Tackle Thunder"