Click the Book Covers Below to Buy the Books

Current Moon Phase




Waning Gibbous Moon




The moon is 17 days old


Distance: 61 earth radii
Ecliptic latitude: 4 degrees
Ecliptic longitude: 104 degrees


Recommendations

Good Information

Wind Weather & Tides

Meta
"Show me a fisherman and I'll show you a scoundrel and a sneak," says well-known outdoor writer Bob Lawless. I don't hang out with too many scoundrels, but every good fisherman I know is a sneak.  In an article about newly-invented trolling motors, the April 1960 edition of Popular Mechanics offers this observation:  "Big fish don't get to be bigger fish by being dumb.  They get big by learning to recognize predators in their midst." Stealth is one of fishing's primary skills.
By swimming and scuba diving I've learned that some sounds are easily transferred through the water.  Surface conversations can be heard down to about fifteen feet while the thump of loud music or an object falling onto the deck of a boat can be detected even deeper. The most recognizable underwater noise is made by running outboards and whirling props.
Some fishermen are so careful about noise that they won't even turn on their sonar units when they know they're over fish.  It's been proven that fish can detect the pings.  I'm not always that sneaky, but I've learned a little something over the years about how important stealth can be.  Take a look at the monster light tackle stripers in this report and you'll see what I mean!
This winter there's been more talk than ever about striper fishing in the Chesapeake Bay's warm water discharges.   As a result, fishermen are piling in to places like Brandon Shores, Bethlehem Steel, and the Calvert Cliffs Nuclear Power Plant.  Every year, my fishing buddies and I are accused of being selfish when we ask people to stay quiet about productive winter fishing spots.
The fact is, we are selfish.  Of course we don't want too much competition for the fish, but we also know by experience that some anglers don't get the most elementary premise of trophy striper fishing – the importance of stealth.  When boats show up running their engines and drifting right down through the center of the discharges, it kills the bite and all but eliminates the chance for trophy fish. One noisy boat can ruin fishing for everyone.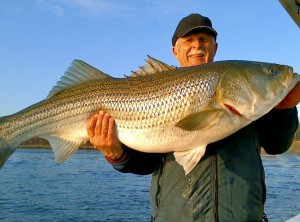 When there are a lot of hungry fish around, smaller stripers can still be caught in boats with running engines.  This leads some anglers to falsely assume that they're fishing as productively as possible. They never realize how many huge fish they could catch if they were a little more sneaky.  Different strokes for different folks, but I'd rather catch a few really nice fish than spend an entire day jerking dinks.
I fished Sunday with my friends Gaylon and Rich.  Since the weather was predicted to be nice, we thought our best bet was to try and beat the crowds to the fishing spots.  Up at 3:00 AM for the two-hour trip south, we managed to arrive well before sunrise. Gaylon killed the engine on his Parker 2320 and slipped into a drift that was barely within casting reach of where we thought the fish might be hiding.  We were careful to whisper as we tied on our jigs.  Stepping lightly in the boat we eased into position and launched our lures into the nautical twilight.
Whack! That stealth was rewarded on my first cast when a huge striper slammed my hot-rodded chartreuse ten inch Bass Kandy Delight.  The fish checked in at forty-five inches and was released strong and healthy after a quick picture.
I slid my thirty-pound-test mono leader between my fingers to make sure it wasn't damaged by the trophy fish, checked my improved clinch knot, and made another long cast.  My fifteen-pound-test braid came tight in the current and I felt the two-ounce kandy-korn jig head touch down on the bottom. One snap of my rod tip and, WHAM!  Another barbless hook set and more deep dips of my 6′ 6″ medium power/fast action St. Croix Mojo Bass rod. This strong rockfish turned out to be a twin to the first.
Two casts and two forty-pounders – that's worth getting up early and being sneaky for!  We managed three more fish in the twenty-five to thirty-pound range before the crowds arrived and things got tough.
My sneaky fishing buddy Jamie checked in a couple of days ago with a similar report.  Since he was fishing weekdays without so much competition, he managed to keep the bite going through more of the day.  Some of the pictures in this report are of nice fish caught on his boat last week.
Expect fishing to be off at the Calvert Cliffs discharge for a while since they are performing maintenance on one of the nuclear reactors and the ambient Bay water temperature has climbed above 40 degrees.
All fishing should be fun and fishermen have different priorities when they're on the water.  There's nothing better than spending a few hours laughing and casting with good friends, so I hope this doesn't sound too critical or preachy.  I'm just offering a little time-tested advice for a time of year when Chesapeake anglers have their best shot to catch and release the fish of a lifetime – Shhh, sneak up on 'em!
Responses to "Sneak Up On 'Em!"