Click the Book Covers Below to Buy the Books

Current Moon Phase




Third Quarter Moon




The moon is 20 days old


Distance: 63 earth radii
Ecliptic latitude: 4 degrees
Ecliptic longitude: 141 degrees


Recommendations

Good Information

Wind Weather & Tides

Meta
I've been off the Bay for well over a week due to some work commitments that took me north to Minneapolis, Minnesota.  When this destination was first announced, some of my colleagues were disappointed because of the location.  Not me.  There aren't many places I'd rather be because I know how much fun June fishing can be in that part of the country.  My first stop was the Minnesota Fishing Museum.  It's located north of St. Cloud in the small town of Little Falls on the Mississippi River.  That's about a hundred miles north of Minneapolis.  I'm a big fan of vintage fishing equipment so I had high hopes for the museum.  I wasn't dissapointed.  You name it, they had it – everything from antique minnow buckets to classic lures to vintage outboards with even a few old fishing-themed whiskey bottles in the mix.  Before we left I asked some ladies at the front desk if there was anyplace close where I could fish the Mississippi River.  They told me that most people fished the lakes, but there was a place I could try not too far away.
I'll let the video tell the story, but suffice it to say the fishing was good at Blanchard Dam.  I've heard a lot of good stories about the Mississippi this far north, but never tried fishing here. Every strike brought a different species and I even managed to make some new friends.  I even got in some rock hunting, another favorite pastime.  "Cross rocks," they call them.  Staurolites that look like Maltese crosses, there are only two other places in the world where they can be found.  I never would've known except for a fellow I met named Ringwelski.  I hit it off with him right away.  While it took me ten or fifteen minutes to find a single stone, he could pick them up in a matter of seconds.  We fished together two evenings. He told me he owned a farm a few miles up river.  Besides being a good rock hunter, he was an excellent fisherman.
Here's where I have to admit that I only had an ultra-light reel spooled with eight-pound-test braid and a four-piece travel rod.  I was drastically under-gunned for some of the fish I hooked.  I had hooks straightened, lines snapped, and I would've been spooled once had I not over-tightened my drag.  I think I had some big muskie or northern pike hooked up.  I hope to go back some day when I'm better equipped. Ring told me he used thirty-pound-test braid, but he still got spooled sometimes.
I got back late yesterday just in time to meet my son and his family who drove up from Tennessee to Kent Island. After a morning of yard work, we finished the day with a cruise from Matapeake to Rock Hall with a couple of stops for jigging along the way. I'm a little out of synch with the pattern, so we jigged Bay Bridge pilings and hit some humps at the mouth of the Chester using 3/8 ounce jig heads and hotrodded BKDs.  We could have had a limit for all six onboard had we been keeping fish, but we had other pursuits in mind.
We arrived in Rock Hall just before sunset where steamed Number One Chesapeake Crabs are going for sixty bucks a dozen. After we enjoyed our share, and watched the grandkids even dance to the music of a local country band, we set a course back south. I skirted Love Point, staying in the lee of of a fifteen knot southeaster and still managed to get the boat back in the driveway before 10:30 PM. Ah, it's good to be home for summer in the Upper Bay.
I have a several trips planned this weekend, so stay tuned for more reports in the next couple of days.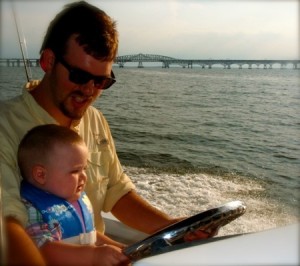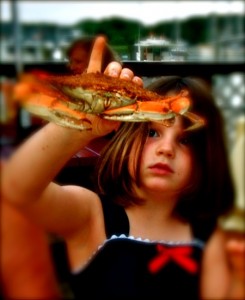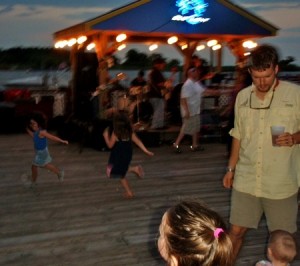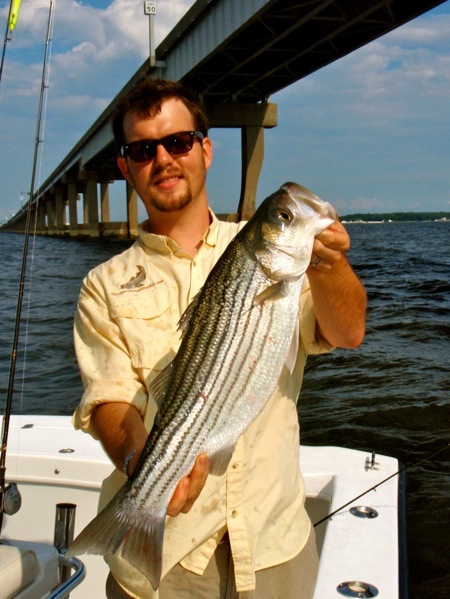 Responses to "Minnesota Field Trip and a Cruise to Rock Hall"