Click the Book Covers Below to Buy the Books

Current Moon Phase




Waning Gibbous Moon




The moon is 17 days old


Distance: 61 earth radii
Ecliptic latitude: 4 degrees
Ecliptic longitude: 104 degrees


Recommendations

Good Information

Wind Weather & Tides

Meta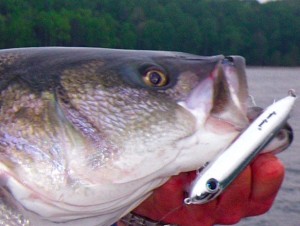 Have you been to the mouth of Eastern Bay looking for breakers lately?  Find any? It will eventually get better, but so far they've been few and far between. If you think there are fewer breaking rockfish in the Chesapeake Bay this summer, you're right.  I believe it's due to several factors including low salinity and less bait, but I'm afraid the primary reason is because there are fewer fish.  The rockfish we normally see blitzing in the summer months are either juveniles too young to migrate up the coast, or residents that for whatever reason decide to stay in the Chesapeake year round. It's not hard to figure out why there are so few resident fish this year. All it takes is a glance back to last February's news reports when our Natural Resource Police pulled tons and tons of dead fish out of illegal gill nets.  No one can say for sure how many illegal fish leave Maryland. It's very possible that over a hundred thousand pounds of resident fish are stolen every winter from the Chesapeake Bay.  Is it any surprise that the fish aren't where they've always been this summer? It's extremely frustrating, but since you're probably here for a fishing report, let's talk about how to find the few schools of breaking fish we have left.  In this entry I'll begin a series of tips for finding blitzing rockfish and bluefish in the Chesapeake.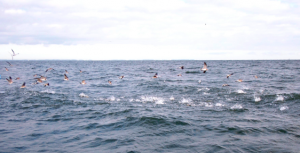 I recently received an email from a reader who thought my fishing reports were somewhat complicated for anglers who are just learning to fish with artificial lures.  I wrote back that I consider CLT to be a continuing narrative, and I suggested that he might do well to start with the basic instructions under the Articles & Techniques tab before studying the reports.  Still, it's a good point that I sometimes assume my readers have a basic understanding of light tackle methods. I'll try not to be so presumptuous, but it's worth stating that It doesn't take an expert to catch fish on a jig.  I routinely take out people who have never done it before and they catch plenty of fish on their first trip.  My granddaughter was catching fish on a jig when she was four years old.  As an added bonus, it's a lot easier to teach good fishing ethics, like the benefits of reduced release mortality, when you're casting artificial lures.  It's pretty easy to catch fish on light tackle – the hard part is finding them.
Since this is the time of year when most fishermen are looking for breaking fish under birds, I'll start with basic tips on where to look for them.  Granted, most anglers find breakers via information from fishing buddies or from posts on the internet. While there's nothing more valuable than a good network of fishing partners, it's also very satisfying to find your own fish, especially when you can have them all to yourself!
CLT Tip #1 For Finding Breakers:  Run the Oyster Bars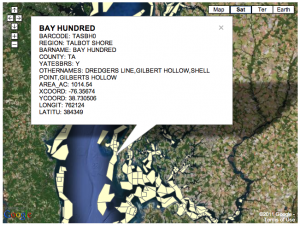 The best strategy for finding blitzing fish, no matter where you launch your boat, is to head straight for the closest oyster bar.  In my reports, I often mention that I find fish over live, hard, bottoms.  By that, I mean places where there are active shellfish populations.  If you're not sure where the hard bottoms are, you're in luck.  The Maryland Department of Natural Resources has made it easy by creating a Google Earth map with overlays of all the historic oyster bars in Maryland.  Click on the shaded areas of the map and a window opens that provides information such as the exact coordinates, county of location, and additional names for the each individual oyster bar. Pretty cool huh? Since it's a historic map, and the Chesapeake oyster population is almost depleted, some of the bars are silted over and others are dead.  But even a dead bar will leave behind a hard shell bottom.  Those bottoms can still provide habitat for marine life including bait-attracting shellfish like mussels or clams.
I typically plan all my fishing trips so that I keep my boat over as many oyster bars as possible.  That includes when I'm just running from one place to another.  For fish to feed on the surface in the Chesapeake Bay they need three primary ingredients.  I abbreviate the formula like this: C  + B/HB = BF That's current plus bait over hard bottoms equals breaking fish.  Hard bottoms are also important because the water is usually cleaner there with more oxygen.
Say, for example, I get a tip about the breakers down at Pone Bar and Bay Hundred.  If I launch at Shipping Creek, I have a couple of choices of how to get there.  The most direct route might be to run straight across the Eastern Bay channel and cut through the narrows behind Poplar Island.  But it might be a better idea to take the long way around, skirting the hard-bottom ledges off Bunker Hill, Romancoke Bar, Hooligan's Snooze, and Kent Point, then zipping over to check Lowes Point, before blasting on south.  Take a look at the map and you'll see what I mean. Chances are pretty good that I might find some activity on one or more of those bars since there have been fish on all of them already this year. If not, I still have my original plan to check out the tip about the fish off Tighlman.  If that doesn't pan out, I can always go on down to the False Channel at the mouth of the Choptank River where fishing is very good right now.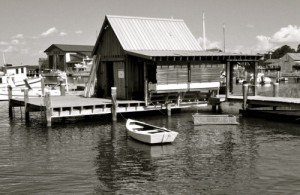 I fished this past weekend with my cousins Kris, Danny, and Colton who were visiting from Georgia.  We sandwiched a cruise to the Chesapeake Bay Maritime Museum between two fishing trips to the mid-Bay looking for breakers.  On the morning excursion, we ran over several oyster bars and eventually found breakers stretching over an area of about two miles.  There were only a few terns and laughing gulls working the fish and we had them all to ourselves – not another boat in sight.  We caught rockfish, bluefish, and even a few croakers using metal jigs and top-water plugs.  I spent most of my time shaking fish off our barbless hooks for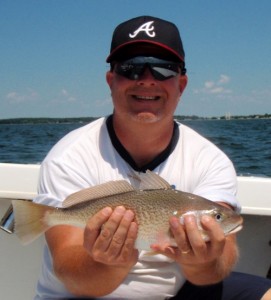 my guests, but when I had a chance to grab a rod, I jigged a heavier BKD hoping to find bigger fish on the bottom beneath the blitz.  All the rockfish went back but we kept some croaker and blues for the smoker.  We left the fish biting when it started getting hot.
After a run up the Miles river, we docked  in St. Michaels where we visited the museum, then caught the end of the woman's World Cup soccer match while enjoying soft-shell crab sandwiches at a downtown restaurant.  About 6:00 PM we pointed Thunder Road back down the river to look for more action.  The predicted 5-10 knot winds turned out to be 15-20, so we stayed in the relatively sheltered waters waters of Eastern Bay where we managed to find a nice school of rockfish and blues to entertain us until sunset.  My wife got the biggest fish of the day on a silver Heddon Super Spook, and our guests went home happy with what they called the best day of fishing they've ever had.
In my next report I'll offer more tips on finding breaking fish including some information about different species of birds and what they tell us about the fish they might be over.  Please stay tuned!
Responses to "Gimme A Breaker – Part I C+B/HB=BF"