Click the Book Covers Below to Buy the Books

Current Moon Phase




Third Quarter Moon




The moon is 20 days old


Distance: 63 earth radii
Ecliptic latitude: 4 degrees
Ecliptic longitude: 141 degrees


Recommendations

Good Information

Wind Weather & Tides

Meta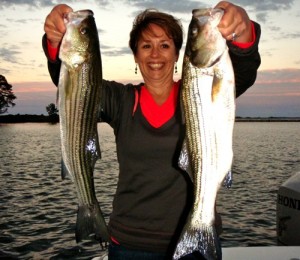 No, this isn't an entry about breakfast cereal.  It's about skinny-water fishing on the Chesapeake Bay where conditions are perfect for the snap, crackle, and pop of topwater lures.  That's the good news.  The bad news is that muddy water has all but eliminated fishing in the main stem of the Bay.  The tributary rivers are clearing, but water in the main channel remains deeply stained.  Satellite photos show a sediment plume stretching all the way down to the mouth of the Patuxent River.  It's too trashy to troll, too muddy to catch bait, and too dirty to bottom fish.  Thank goodness for the versatility of light tackle!  While many anglers are sitting on their hands lamenting the impossible conditions, light tackle fishermen are enjoying a banner fall.  Since the shallow-water bite is tasty, I thought it might be interesting to look at three basics premises of topwater casting –  let's call 'em snap, crackle, and pop.
Snap – That's the action to put in your rod tip when you're casting a spook-type topwater plug.  Spooks are usually the first lure out of my box in calm water, like when I'm fishing in the lee of a rocky point or in the shelter of a narrow river.  Modern spook-type lures are designed to be relatively easy to use, but it takes a little practice to get the best response out of them.  The basic technique is a rhythmic, slack-line retrieve that makes the lure walk back and forth, alternately left and right.  That action is called walking-the-dog, although it might better be called walking-the-fish since stripers find it irresistible.
To effectively walk-the-dog, start by standing close to the side of the boat with your rod tip pointed steeply down toward the water.  Reel in the slack, then use your wrist to snap the rod tip down and toward your feet in short, rhythmic pulls. Let you line go slack, then repeat. Each subsequent snap should be done on a slack line, using
the wrist only. Experiment with the length of each pull, along with the cadence, to determine the distance the lure travels on each glide. Sometimes the fish prefer a very fast walking lure, while at other times they want one that slides from side to side very slowly. When fished correctly, a spook will leave a long wake.  This wake, in combination with the length of the plug, simulates the irresistible appeal of an eel, snake, or needlefish swimming through the water.
Crackle – If you've picked up a top-water plug off a bait shop shelf recently, you've probably noticed that it made a racket.  Most fishermen realize that lure noise attracts fish.  Need proof?  Drop a marble or small stone into an aquarium.  The fish will startle and bolt away, then immediately return to investigate the source of the noise.  Taking it a step further, fish hatcheries in Japan have invented a technique whereby a rhythmic sound is played every time they feed their young fish.  Once the fish are old enough, they are released into wild streams to grow.  Once they get big enough to eat, the farmers simply go out to the streams, play the sound, and wait for the fish to fill up their waiting nets.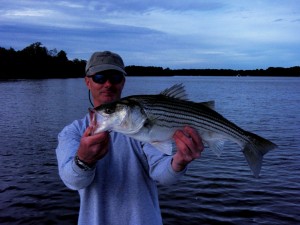 Rockfish have lateral lines that sense vibrations in the water.  Sound travels five times faster through water than it does through air.  In certain conditions, noise is the only thing a fish will pick up on.  The more of a crackle your lure makes, the more attracted the fish will be to it.  Some lure manufacturers offer topwater plugs in low-pitch and high-pitch varieties.  Since bass sounds travel for longer distances through water, I usually opt for the low-pitch variety.  When I'm looking at brands that don't offer a choice, I still pick the plugs up and shake them to select the ones with the lowest pitched crackle.
Pop – Poppers (also called chuggers) have a flat or concave face that forces water up and out.  This results in a significant splash coupled with a gurgling or popping sound.  Most baitfish will rush to the surface when under attack from predators, at times even jumping clear out of the water to avoid being eaten.  This panic type action is simulated by poppers, making them attractive to wary gamefish, even in shallow, clear water.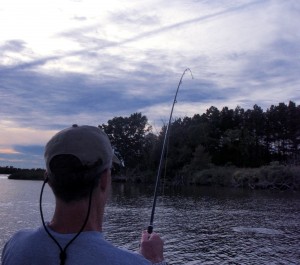 Poppers are best when fish are feeding aggressively, or in windy conditions.  They can be worked very slowly with short snaps, or quickly with sharp twitches while constantly reeling.  They can also be fished with a "do nothing" method.  In other words, just let them sit on the water and give it a pop every 15 or 20 seconds. This allows spooked fish to return and investigate, just like they do when you drop a marble into an aquarium.  My usual technique is to fish them very aggressively, then slow down if I don't get strikes.  The splashing sound poppers create can call fish in from a distance which is even more helpful when the water is choppy or muddy.
According to one lure manufacturer, topwater lures should come with a warning: This product is known to cause increased heart rate, sweaty palms, trembling limbs and in some cases, heart attack. That's the excitement of topwater fishing.  One minute your lure is plop-plopping back toward the boat and the next moment it explodes like a charge of dynamite.  Topwater lures are also great for beginning anglers because they can see, hear, and feel the strike.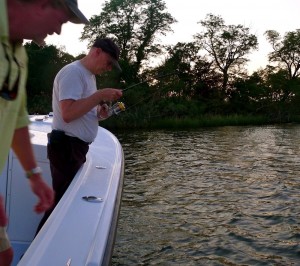 I've fished frequently over the past few days, always in the evenings and almost exclusively with top-water.  Avoiding the muddy mess in the main channel, I've concentrated on the Eastern Shore rivers.   Most of my fishing has been with my mother- and father-in-law, who were visiting from Drummond Island, Michigan.  I also got out for a couple of hours one afternoon with my fishing buddy, Mark.
We found a few fish in open water, but most of the time we were casting to places that are very shallow.  Sometimes the fish are in water so skinny that, in order to get to them, I have to trim the 225 Honda outboard on my Judge 27cc Thunder Road up like a go-devil.   I've had to get out and push the boat off a shallow spot or two, but I know these areas very well so I've been careful to avoid hidden rocks and snags.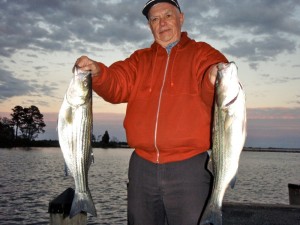 The essential ingredient for finding fish right now is moving water around points, jetties, docks, and snags.  I look hard for subtle rips.  Sometimes, the only thing that gives away a good fishing spot is a change in the way the waves ripple on the surface of the water.  This time of year, a rip near a point with deeper water nearby is a guaranteed good fishing spot.  We easily caught a limit of keeper-sized rockfish on every outing.  Hot lures are Bomber spooks, Heddon Super Spooks, Stillwater Smackits, and MirrorLure Top Dogs.   Best colors are contrasting reds and whites but chartreuse and blue has also been effective.
Casting to shallow structure with top-water lures is as fun as it gets. I'd rather catch one fish on a top-water plug than a dozen on another bait.  There's nothing more satisfying than that jolt of adrenalin you get when a big striper surprises you by exploding on your surface lure.  So don't just sit there on your hands waiting for the water to clear. There's another game on the Chesapeake Bay, and all you need in order to join the fun is a light tackle outfit and some lures that snap, crackle and pop.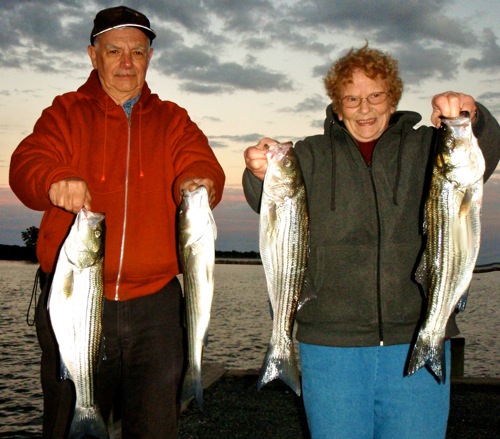 Responses to "Just Like Rice Krispies"