Click the Book Covers Below to Buy the Books

Current Moon Phase




Full Moon




The moon is 16 days old


Distance: 61 earth radii
Ecliptic latitude: 4 degrees
Ecliptic longitude: 92 degrees


Recommendations

Good Information

Wind Weather & Tides

Meta
Over the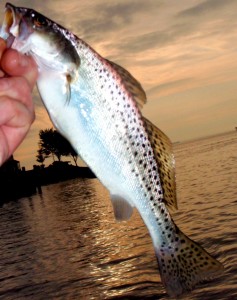 last three days I've caught fifty speckled trout. That's forty-eight more than I've caught in the previous five years here on the Chesapeake Bay. I'm sure I could have caught a few in years past had I targeted them, or if I fished farther south in the marshes, but that isn't necessary right now because, for whatever reason, the trout are here in force. This week, Maryland fishermen have reported speckled trout as far north as Matapeake Pier and well into the Eastern Bay rivers. Also known as spotted sea trout, or simply "specks,"  these colorful fish were once plentiful throughout the Bay.  Their numbers have been down in recent years, but if this season is any indicator, things are looking up. Adult specks are migratory, usually moving into the Bay in late April to spawn before swimming farther north toward Maryland.  Since they prefer warm, salty water, they're usually gone by mid-November. They aren't true trout but are related to croakers and drum, and will sometimes make a groaning or grunting sound when caught.  Here's what they sound like  CLICK HERE and here's how to catch them.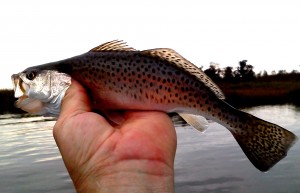 While my Chesapeake trout fishing has been limited, I learned good techniques for catching them in the Gulf of Mexico. They usually travel in schools and they aren't too hard to catch.  All you need is a light spinning outfit rigged with 8 to 10-pound test line.  If you use braid, you might want to add a mono or flouro leader, but don't go too heavy because they have good eyesight and they'll see a big leader or other terminal tackle like snaps and swivels.  Don't sweat it, even though they have sharp teeth, bite-offs aren't too common. Specks eat small minnows, little crabs, shrimps, and other small crustaceans.  The best artificial lures are light bucktails, swimbaits, or twister-tail soft plastics that are four inches or smaller and light enoug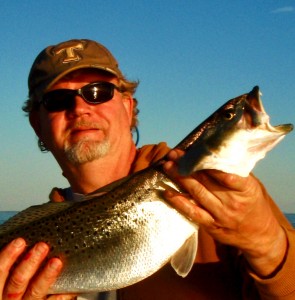 h to retrieve barely off the bottom.  I like one-quarter or even one-eighth ounce lures.
Specks prefer nearshore waters where the bottom is grassy and sandy. To catch trout right now in the Mid-bay your best bet is to head over to the Eastern Shore and look for grassy banks near water that is 3-feet deep or better.  Banks that get good current are best.  Since these are also good areas for top-water striper fishing, it makes sense to have one outfit rigged for stripers and another ready for trout.  Just drift along the shore and cast toward the bank.  When you feel a strike there's no need to set the hook very hard.  You can usually just raise your rod tip and start reeling.  Since their mouths are soft, you'll lose a few fish during the fight, but that's all part of the challenge.  Once you hook up, you can tell whether you've caught a trout or a rockfish right away just by the way your rod behaves.  Speckled trout bend their long bodies back and forth when they're trying to get off the hook.  This will cause your rod to dip a little deeper than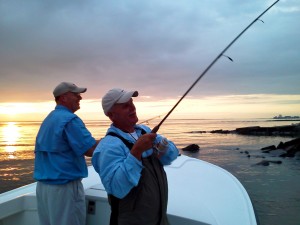 it does with stripers.
In addition to good trout catching, the skinny water rockfish bite remains very good.  I fished several times over the weekend and had no problem finding stripers in the shallows along rocky banks.  Most days brought dozens of blow-ups with almost all keeper-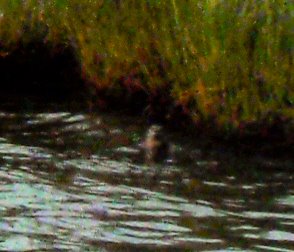 size rockfish. Since the water in the main stem of the Bay has cleared considerably, I moved out to throw topwater plugs at points and jetties near the main channel this week.  The fish are there, but I still prefer the bite in the rivers right now.  That may change soon because it's almost time for big fish in the Upper Bay. If the pattern of the last three years holds, we could see some very nice stripers move into the area this coming week or next.  Despite all the trash and debris we've seen over the past few weeks, the Bay is very beautiful right now.  This past weekend I saw at least a dozen bald eagles in the trees around Kent Island.  We even spotted a rare river otter one afternoon as we were drifting down a grassy bank.   Good luck if you get out.  This is a great time of year to fish the Chesapeake.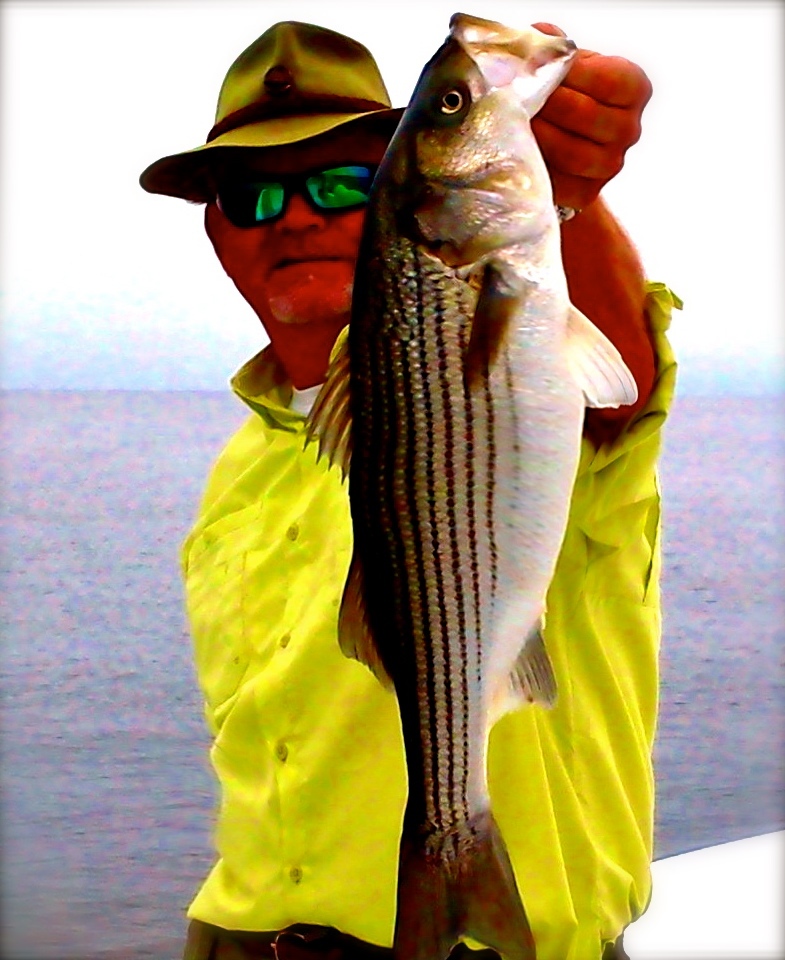 Responses to "Speckapalooza"