Click the Book Covers Below to Buy the Books

Current Moon Phase




Waxing Gibbous Moon




The moon is 12 days old


Distance: 56 earth radii
Ecliptic latitude: -3 degrees
Ecliptic longitude: 336 degrees


Recommendations

Good Information

Wind Weather & Tides

Meta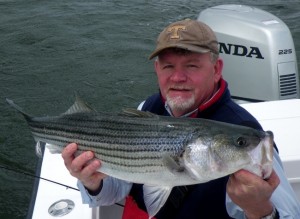 So far, it's been a disappointing fall for Chesapeake Bay striper fishing.  There are a few fish to be caught, but it usually takes a lot of time and fuel dollars to find them.  I spent a few minutes last night going over my logs from the past four years.  This November's fishing has been the poorest I've seen since I started fishing the Chesapeake.  I think there are several reasons, first and foremost is lack of bait.  We already know that menhaden have been over-harvested to the point where they are only a small fraction of what they should be, and we know that striped bass populations are down, but I think our biggest problem this fall is fresh water.
Last week, the Maryland Department of Natural Resources reported big problems with Upper Bay oysters. As part of a Bay-wide survey, biologists collected samples from 15 individual oyster bars north of the Bay Bridge. In the four northernmost bars along the Eastern Shore, oysters suffered a cumulative mortality of 79 percent, with no live oysters on the two northernmost bars. The few live oysters that were found in upper Bay bars were in poor condition — bloated, watery and translucent — and mortalities may continue for some time.   Biologists believe the high mortality was caused by the lack of salinity in the upper Bay from March through July, 2011.  During that period many  modern day records were broken for high flow and low salinity. 
The demise of the oyster population is very bad news for the Bay, but we haven't heard much about another part of the equation.  Freshwater runoff from upstream flooding caused by Hurricane Irene and Tropical Storm Lee sent already-depleted bait schools packing toward warmer saliter water down south earlier than normal this year.  This had a drastic impact on striper fishing.  No bait equals no fish.  If you've kept up with my reports you know that I believe early fall stripers come into the Bay through the C&D canal.  That usually brings us big fish in October and November.  I think they came in this year as usual, but instead of stopping to feed at traditional spots like the Knolls, Man-O'-War Shoals, Swan Point, and the mouth of the Chester River, they just kept right on trucking down the Bay.  Some stopped for a while a
t places like the Kent Island Sewer Pipe and The Bay Bridge, but they didn't stay long.
Like most of my fishing partners in this part of the Bay, I've been struggling to find quality rockfish.  In fact, it just hasn't seemed worthwhile to look for them lately and I've only been out three times in the past couple of weeks.  Each time I found fish, but not the 30 and 40-inchers I've had in November's past.
I fished a couple of days last weekend.  I got out Friday evening with Mark.  We found plenty of birds working very small stripers, but didn't hit keeper fish until 20-minutes before dark.  I went back the next day with Brian and Marty.  We headed south to the mouth of the Choptank River, and found some mid-20-inch fish right away, but the bite didn't last long and we spent most of the afternoon running from one dink school to another wishing for bigger fish.
This past weekend I got out once and ran all the way from Kent Island to Calvert Cliffs, stopping at every hotspot I know along the way.  I only hit one or two schools of keeper size fish although, once again, there were birds and little fish all over the place.  My fishing buddy Jamie has made a few more trips than me lately.  He usually fishes the Mid-Bay and he is occasionally turning up some "overs,"  – th
at is to say, fish that are over 28- inches long.  He's also managed to squeak out some fish over 30-inches as well. I don't want to speak for him, but I think he would also tell you that fishing is tough this fall and he's had to look around to find the bigger fish.
I'm still holding out hope that we will get some big migratory schools up from the south.  There have been a few big fish picked off trolling, but most of those are well to the south where the water is saltier and cleaner. Since the Bay has turned over and water temperatures are about the same top to bottom, the fish can be at any depth.  I've found them in 10-feet and in 60-feet and they can be feeding on top or right down on the bottom.  There are still a few fish feeding along the shorelines as well.  They can be caught on topwater, especially during the mid-Day when the sun warms the shallow water. Water temperatures are still in the mid-50s in the open areas of the mid-Bay.  That's a little warm for this time of year.   Colder weather in the forecast should drop water temps considerably and (fingers crossed) bring some big fish farther north.  Let's hope so anyway!
Responses to "Falling Short"