Click the Book Covers Below to Buy the Books

Current Moon Phase




Waxing Gibbous Moon




The moon is 11 days old


Distance: 56 earth radii
Ecliptic latitude: -4 degrees
Ecliptic longitude: 321 degrees


Recommendations

Good Information

Wind Weather & Tides

Meta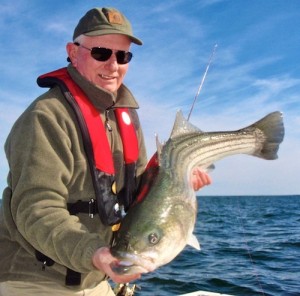 Last December, I caught up with my friend Gaylon Thompson at one of my light tackle seminars in Severna Park, Maryland.  During the few minutes we had to talk, we wondered if we might be able to get in a fishing trip in early 2012.  I was very excited when Rich Jenkins called me last week to say he and Gaylon were heading down to Virginia to fish in the ocean Monday, and I was invited.  He also invited Jamie Clough.  We've been hearing about the coastline bite for a while now from Wild Bill and other fishermen who follow the migration.  Even though I'm turning up a few hard-to-catch but very big fish here in the Bay, we couldn't resist giving it a go. Our first challenge was deciding whether to fish the Chesapeake Bay Bridge Tunnel, or the ocean. We called, emailed, and Facebooked everyone we could think of seeking advice. Some of our friends came though, especially "Hillbilly Boater" Jack, and a couple of Jamie's buddies. I also got some good info from some of Tattoo Charlie's buds on Facebook.
After hours of gut-wrenching deliberation with everyone offering input and finally putting the matter to a vote, we chose the ocean. (Please read between the lines here. Those guys wouldn't commit to anything, so I made the no-guts-no-glory call!) Really, the deciding factor was a call I received from a DC flower child who decided to leave his tent at the Occupy encampment and join his partners Phil and Jimmie on a similar trip to the same area we were considering. Brian surprised us by showing up at the ramp at sunrise with legendary Eastern Shore fishermen Butch. Wow, what a fun crew.
Never underestimate the importance of a good fishing buddy network. Soon after we got up Monday morning one of our partners got a good report from a local charter boat captain about big schools of migratory rockfish right off the beach. We left the ramp at 7:00 AM with Gaylon following Phil out of the inlet at low tide. It was Grady 23 Walkaround vs Parker 23 Sport Cabin.  Both boats plowed through the mud and out of the shallow inlet with no problem. We split up after we hit the ocean. Gaylon asked for a heading and I made a wild guess, "A mile out and a mile south."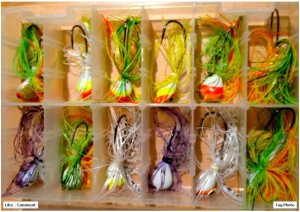 I was right. Days like Monday make you look good. There was a thousand gannets right on the button when we arrived. We had them all day, even though most of the late morning slack tide – a wide open light tackle bite with a fish on almost every drop. Phil's crew was hooked up every time we crossed paths too. Our fish weren't huge, we measured one we thought was about average and it came out 32-inches long.  We had a few over 40 and a few in the high 20-inch range, but nothing you could really call small. We caught fish on almost everything we tried; topwater, jigging, swim baits, I even got board and hand-lined for awhile. All the fish but the few we took pictures of were released boat-side in the water.
I spent some time last weekend making skirted jigs with my fishing buddy Mark Nichols. I thought those lures would put me one up on the other guys, but Rich had the same idea and showed up with a box of his own. We caught a lot of fish on our homemade skirted jigs and we also had a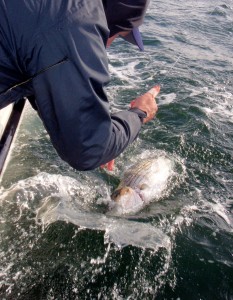 good supply of a lure called The Bug made by Specialized Baits.   We tipped most of our jigs with hotrodded BKDs. We stopped to talk to Phil and the boys about 11:30 AM. We noticed everybody was jigging except for Butch. Jamie asked him why and he informed us he doesn't fish between 11:00 AM and noon
Of course.
The ocean bite lived up to our expectations as the closest thing to a wide-open bite I've seen in a while. Thanks very much to Gaylon for taking us. This will likely be my only trip to the ocean this year. Here is a short video I put together showing some of the action.  The quality isn't up to my usual standards because I didn't take my video camera and only used the video function on my waterproof Olympus point and shoot.  The music is a tune I wrote about fifteen years ago that was recently recorded by my sons' band, Mountain Soul.  The song and the album is available on their website, and you can get it at Amazon.com, i-Tunes, and other outlets.
Don't forget, this Saturday I'll be signing books at Marty's Sporting Goods in Edgewater, Maryland, from 1:00 PM to 3:00 PM.  Stop by if you can and lets talk fishing!
Responses to "Virginia Coast Stripers – Video Report"