Click the Book Covers Below to Buy the Books

Current Moon Phase




Third Quarter Moon




The moon is 20 days old


Distance: 63 earth radii
Ecliptic latitude: 4 degrees
Ecliptic longitude: 141 degrees


Recommendations

Good Information

Wind Weather & Tides

Meta
Along with sneaking in a couple of catch-and-release fishing trips, I've been reading all I can lately about why we catch fish with ease on some days, and why we cant buy a bite at other times. I can't say I've solved that mystery, but I've included most of the knowledge I've gained in a PowerPoint slide show that I will present over the next couple of months to area fishing clubs. If you attended the Annapolis Saltwater Fishing Expo last weekend, you've already seen this show, but don't be surprised if it morphs into a somewhat different format as I present it to different groups and organizations.  I learn more every time I talk to fellow fishermen, pick up a book, read a magazine article, look at a website, and (especially) when I go fishing.  Here's a sneak preview of my Strike Triggers presentation:
Have you noticed that some fishermen seem to steadily catch big fish and regularly have successful days even when others don't?  What are they doing differently?  In my opinion, one trait of consistently productive fishermen is an appreciation for the concept of strike triggers. They may not always call it that, but you can pretty well bet that good fishermen are incorporating techniques in their lures and lure presentations that trick fish into biting even when they're not particularly inclined to eat.  It starts with a good understanding of the five reasons why striped bass attack a lure.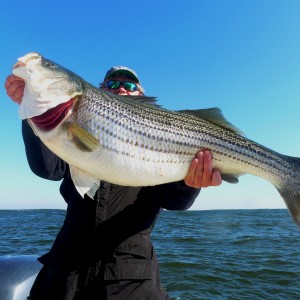 Five Reasons Why Stripers Attack
1.  Hunger Strikes – When stripers are hunger feeding, they're usually pretty easy to catch.  A good example of a hunger bite is when fish are attacking large bait pods under diving birds.  Locating a school of hunger feeding fish almost always means good fishing, and almost any bait or lure will work. Unfortunately, it doesn't always happen that way.  Maybe there isn't enough bait around, or for some reason the fish are just not inclined to eat.  Since most of us have to fish in the limited time we can find, and close to home where conditions can be challenging, it isn't always possible to go off looking for actively feeding fish. Instead, we have to convince the fish that might be nearby to take our lures. That's when it pays to look at other reasons why they bite besides hunger.
2.  Reaction Strikes – These strikes happen when the fish just can't help it because a lure or bait triggers an instinctive reaction. It's often the result of a particularly attractive lure that is presented in such a way that it's just irresistible.  In Chapter 1 (page 21) of my book, Chesapeake Light Tackle – An Introduction to Light Tackle Fishing on the Chesapeake Bay, I tell the story of a big fish and a reaction strike.
3.  Competition Strikes – Have you ever caught a rockfish and noticed other fish trying to take the lure away from it? Stripers often behave like dogs, cats, and even humans when they try to take away whatever a competitor is attracted to. When one fish gets caught, other fish come running to see what the commotion is all about.  You can sometimes keep a school of fish excited and biting and right under your boat just because they are competing with each other for your bait.
4.  Territorial Strikes – While most stripers feed in schools of similar size, bigger fish often stake out hiding places from which to ambush bait.  These solitary trophies will often protect their feeding territory from competing stripers and from other species.  Big stripers that hide along the shoreline and around underwater cover are especially territorial and will sometimes take a lure just because it's in their feeding zone.
5.  Curiosity Strikes – There are times when striped bass will take a lure simply because they're curious about what sort of creature might have wandered into their lair.  Curiosity strikes don't happen often, but it's important to be aware of them and plan accordingly.
In my talk, I go over each of the above reasons why rockfish bite and talk about how we can select and modify lures and lure presentations so they produce strikes even when fish aren't particularly hungry.  I also take a close look at the five senses stripers employ to locate and identify their prey using the concept of comparative anatomy.  The science of comparative anatomy takes what we know about animal species that have been adequately researched, and applies that knowledge to the traits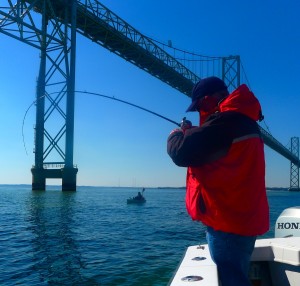 and behaviors of fish like striped bass. If that all sounds way too complicated, don't worry.  The results are interesting, but they confirm a lot of what fishermen have known for generations.  In most cases, it provides scientific reasons why the lures we regularly use are frequently successful.
My Strike Triggers presentation is 45 – 60 minutes long and includes photos and videos, so I'll save the rest for the talks.  Scroll down a couple of entries on the main Chesapeake Light Tackle page for a schedule of when and where I'll be speaking.  There's also more information about strike triggers in my book.
As previously mentioned, I fished both the Bay Bridge area and at some of our region's warm water discharges this past weekend and found fish everywhere I went.  I can't really say they were easy to catch though.  The hunger feeding bite only lasted a few short minutes during each tide cycle, and the rest of the time fishing was tough.  Even so, there are some very nice fish around as migratory fish are now entering the Bay in advance of the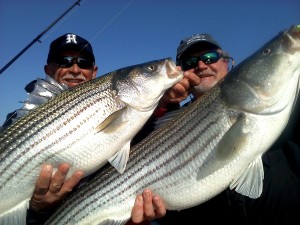 spring spawn. My best lures have been hotrodded BKDs and jig heads that we've modified to incorporate proven strike triggers. Most fish are easily released in the water since we're using barbless hooks, but we held up a few for photos. Water temperatures are holding in the mid-40s, so it's even possible to find fish feeding beneath birds in the open Bay right now.  Gannets have been reported as of today and we are encountering migratory fish with sea lice.
The yellow perch spawn is on in the upper reaches of tributary creeks and rivers.  Reports of white perch catches are just starting to roll in.  They should be spawning over the next couple of weeks.  Crappie are still in a deep-water pre-spawn pattern, but consistent catches are reported throughout the Maryland portion of the Bay.  Pickerel fishing has been steady.
Good luck fishing this week.  I hope you can get out and take advantage of the great weather we've had lately.  I hope to see you at one of my upcoming talks, or better yet, out there on the water!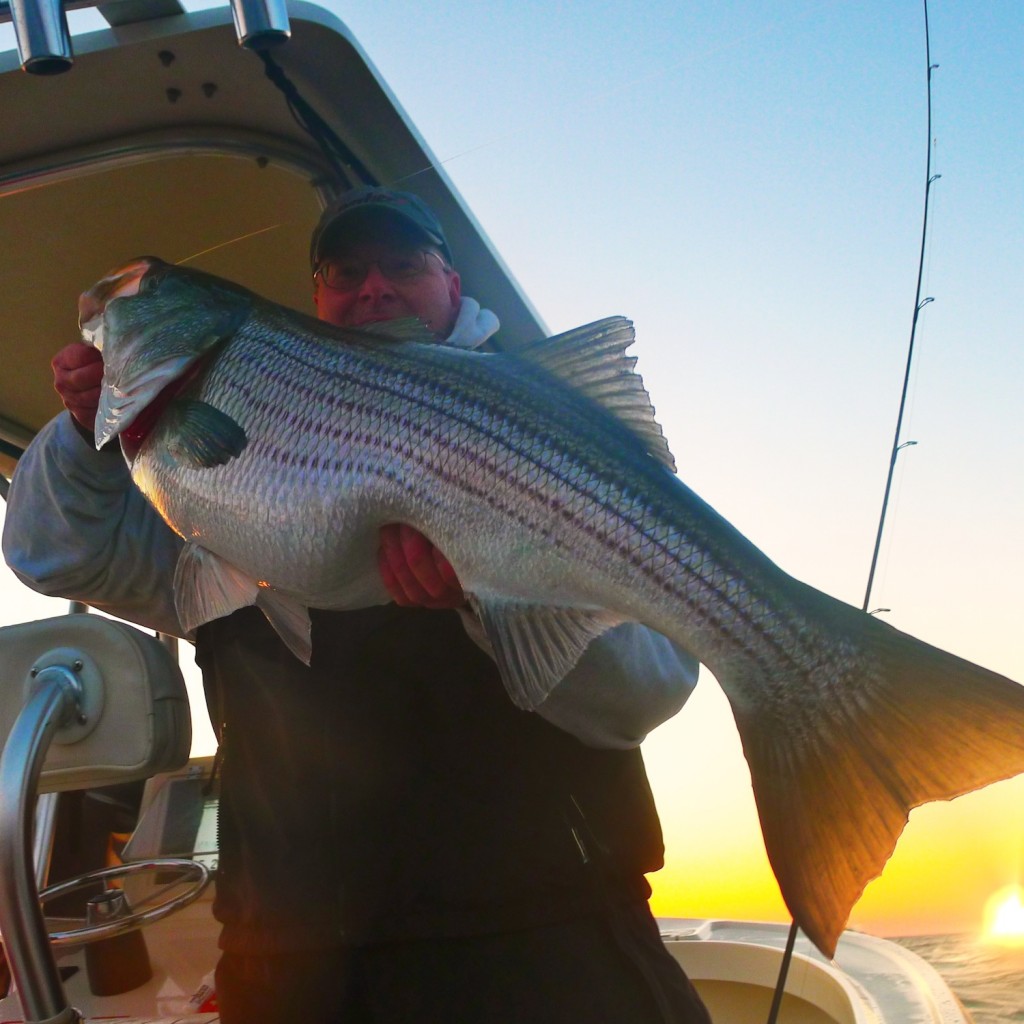 Responses to "Strike Triggers – Part 1"