Click the Book Covers Below to Buy the Books

Current Moon Phase




Third Quarter Moon




The moon is 20 days old


Distance: 63 earth radii
Ecliptic latitude: 4 degrees
Ecliptic longitude: 141 degrees


Recommendations

Good Information

Wind Weather & Tides

Meta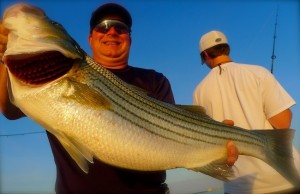 "I got eelgrass veins and brackish blood, I wrote my name in the tidal mud."  Daniel Kimbro from the song "Cape Charles."
Eelgrass – it's not something we're used to seeing much in the Maryland portion of the Chesapeake Bay.  According to the Maryland DNR website, it's most likely found in high salinity areas of the Chesapeake Bay, approximately from the Choptank River south to the Atlantic Ocean at Cape Charles and in the smaller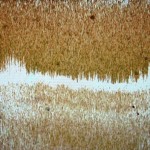 coastal bays. Because of poor water quality, bay grasses are at historically low levels, so it's a little odd that we're seeing eelgrass farther north than usual this summer. It's probably a result of high salinity coupled with sustained warmer temperatures – we've just come through the warmest twelve consecutive months ever recorded in the United States.  On my StructureScan sonar, eelgrass and its cousin wild celery grass, looks like underwater fields of waving amber grain.  Baitfish hide in it, and rockfish love it.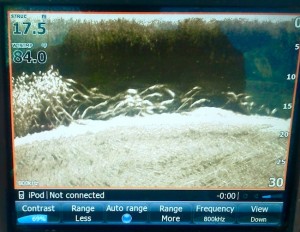 In my book Chesapeake Light Tackle – An Introduction to Light Tackle Fishing on the Chesapeake Bay, I write extensively about the importance of fishing over live shellfish bottoms.  I didn't mention grass beds too much.  That's because the water quality is usually so poor that there just isn't enough to be found.  The submerged grass gets started growing in the spring, but by June, the water is just too warm and dirty in our area of the Bay for it to survive.  We still have the dirty water this year, but other conditions have made it possible for the grass to stay alive longer. If you can find beds of eelgrass or wild celery growing near a hump, ledge, or drop-off, you'll probably find some fish.  Sometimes, very nice ones.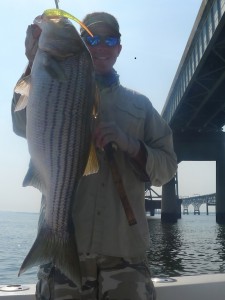 I've been fortunate enough to get out several times over the past couple of weeks, mostly in the late evenings. On some days, I did a lot of running around. On others, I got lucky and popped in on nice rockfish very close to home.  I fished Friday evening with my buddy Jeff Via and his dad Lynn. Jeff is a wildlife fisheries specialist who works with my brother Creig as a county extension agent in Tennessee. You might remember him as the fellow who provides those spoilt-rotten ducks that march down the red carpet at the Peabody Hotel in Memphis.  Here's the link.
Jeff and his parents were vacationing in Williamsburg, Virginia last week, so he called to see if I might be fishing. I thought I'd save them a few miles of driving by running my 27 Judge center console Thunder Road across the Bay from Kent Island to pick them up at Rod 'n' Reel dock. On the way across, I noticed birds working over very small fish breaking near Kent Point. I wasn't interested in fish of that class, but it was a good sign.  If you find small fish feeding, there's a very good chance the bigger ones might be active somewhere close by. Jeff and Lynn were waiting at the dock when I got there.  We loaded up their gear and headed back out toward Sharps Island.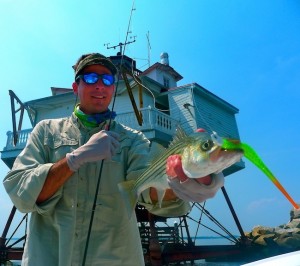 It turns out the bigger fish were harder to find than I anticipated. I hit lumps and ledges near all the lighthouses – Sharps Island, Bloody Point, Thomas Point –  then ran on up to the Bay Bridge. We caught fish everywhere we stopped and some were in the keeper size range, but I  held out hope for a stronger bite. About ninety minutes before dark I decided to look at a ledge where I've found fish the past couple of years in mid-June.  When I got there and turned on my downscan sonar, I was surprised to see a field of waving eelgrass on a mud bottom seventeen feet deep.  I swung the wheel hard around and made a U-turn over the ledge.  Sure enough, the sonar lit up with feeding rockfish.  We all hooked up quickly on 6-inch chartreuse BKDs hotrodded with orange garlic dye.  Jeff landed the biggest fish of the night, a mid-thirty inch striper, and Lynn held his own by fighting a fiv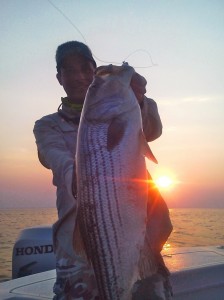 e-pound bluefish to the side of the boat.
We finally have a pattern change underway, so there are a lot fewer suspended fish and more fish setting up on the ledges or chasing bait on the surface. I got a report at the end of last week that there were some nice fish on a well-known ledge not too far from the Bay Bridge.  I didn't think I'd get to fish Saturday evening because my cousins Kris and Danny were visiting.  They are traveling through the area taking their high-school-senior-son Colton to visit some colleges along the Atlantic seaboard.  Judging by the schools they're visiting, Colton is apparently a smart kid and a very good football place kicker. I didn't expect them until late, but they got an early start out of Atlanta and, despite horrible traffic conditions near the Bay Bridge, arrived on Kent Island before 6:00 PM.  Colton had visits scheduled for Princeton, Dartmouth, and Yale, but there was sunlight left in the sky, so I thought his first stop should be Light Tackle University.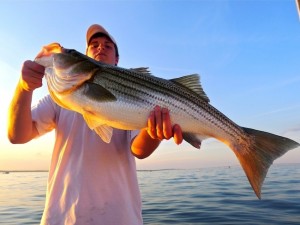 The fish were right where I wanted them to be.  This is probably a good time to point out the value of a good network of fishing friends.  I called several buddies before I left.  Phill had been on the water Saturday morning fishing a bite he'd heard about from another good friend, Mark.  He gave me a good report, so we were off to the races.
The fish were up on a ledge feeding near the hard shellfish bottom in 25 feet when we arrived.  We caught a few before the tide changed to outgoing and brought some bad water down from a local river and the fish moved out to 35 feet and suspended.  Fortunately, they stayed hungry and, unlike most suspended fish, they were not too difficult to catch.  As the sun got lower in the sky, the bite kept getting better.  By sunset, everyone on Thunder Road was hooked up at the same time with very nice Chesapeake Bay rockfish.  A beautiful sunset, calm seas, and trophy rockfish in June – it just doesn't get much better.
As we were wrapping up our trip and heading back to the ramp, the conversation turned to Colton and what field he might like to study in college.  I smiled when he mentioned biology, environmental science, and wildlife fisheries.  If that's the career he decides to pursue, I hope he'll remember the success we had Saturday evening. I also hope he'll keep in mind the cleaner water we found, and the importance of good habitat like shellfish bars and aquatic grasses to good fishing.
I'll talk more about the current fishing pattern this Wedneday evening, June 27th when I deliver an updated version of my Strike Triggers presentation in Easton, Maryland to the CCA Maryland Mid-Shore chapter.  You'll find more information here:   Shawn Kimbro at CCA Midshore.   Hope to see you there!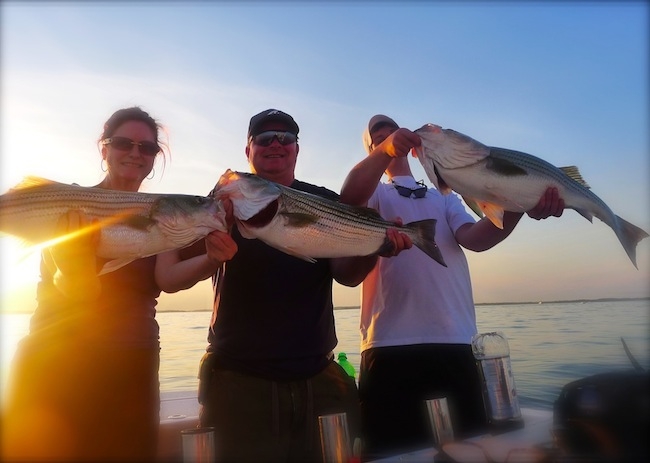 Responses to "June Eelgrass and Trophy Striped Bass"