Click the Book Covers Below to Buy the Books

Current Moon Phase




Third Quarter Moon




The moon is 20 days old


Distance: 63 earth radii
Ecliptic latitude: 4 degrees
Ecliptic longitude: 141 degrees


Recommendations

Good Information

Wind Weather & Tides

Meta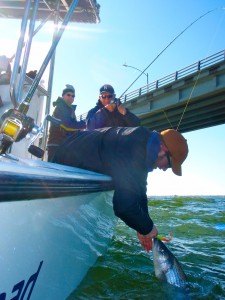 Fishermen are gear heads.  Most of the anglers I know spend hours analyzing the features of a good fish finder and studying the differences between mono and fluorocarbon. We pride ourselves on being equipped with the best gear available. Unfortunately, some fishermen miss the most important tool in the light tackle arsenal. It isn't the perfect rod or the most effective lure and it isn't a bad ass boat or ultra-sensitive sonar. Good fishermen know that the most critical piece of equipment to successful fishing on the Chesapeake Bay is a good network of fishing buddies.
There's nothing more important than friends on the water.  The information you receive from fishing buddies can keep you updated on productive areas to fish and tune you in to prevailing patterns. They can keep you informed during times when you aren't able to fish. For example, due to work restrictions and time spent on conservation efforts, I haven't fished too much over the past couple of weeks, but thanks to my network of fishing buddies I have very good information about the most productive areas and depths to fish.  My friends have kept me in the loop so when I go out tomorrow morning, I'm pretty sure I can find fish. When I get back, I'll return the favor by letting them know how I did.  That's how it works.
The difficult part of developing a good fishing network is forming relationships with competent fishermen who are frequently on the water.  It takes time and patience and frankly, some people will never get it.  On the other hand, I've only fished the Chesapeake Bay region for six years and I have a great network. I'm proof that it can be done.  Here are some DOs and DON'Ts for putting together a good network.  Most of these were learned by trial and error.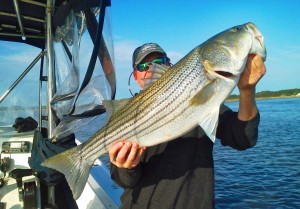 Networking Tip #1:  Ask – There isn't a single new light-tackle fisherman who I wouldn't help if they asked me. That's how I got my network started, so I'm eager to help others.  When I was new, I looked up the most successful fishermen and asked them where and how they are fishing.  Notice I said, light-tackle fishermen. I don't often share information with trollers because I don't like to fish around running boat engines, but if someone wants to cast and asks me to help, I'll do it whenever possible.
Networking Tip #2: Check back in – If you ask for help and receive it, always report back.  If someone gives you information, they expect feedback. If another fisherman is kind enough to tell you about successful areas and patterns, it's only common courtesy to let them know how you do.  We've all had bad fishing trips; so don't sweat it if you're unsuccessful.  In fact, non-productive reports are often more useful than successful ones.
Networking Tip #3: Reach out with info – Have you had a good day, found some nice fish, and want to develop a good network?  This is the time to share.  Reach out to the people you want to fish with and share the details of your success with them.  Give away some good intelligence and you've given yourself a head start toward developing an effective network.  The guys you share with will report back and provide information for you the next time they go out.  You win both ways.
Networking Tip #4:  Keep it on the down low – So, you got some good intelligence from another fisherman and you had a heck of a day.  You want to tell people about it, right?  No problem, that's what fishermen do.  However, if you sign on to the Internet and reveal exactly where you are fishing or give away someone's top-secret technique, you can bet you won't get information again.  Not only that, the person you offended is going to tell everyone he knows that you aren't trustworthy, so your chances of building your own network just flew out the window.  There's nothing wrong with Internet fishing reports.  I love them.  Post your reports and pictures of the fish you caught whenever and wherever you want, but don't burn the spots where you caught them.  That also includes being careful about backgrounds in pictures.  Prove yourself trustworthy by keeping your information tight and you're a lot more likely to get feedback the next time you need it.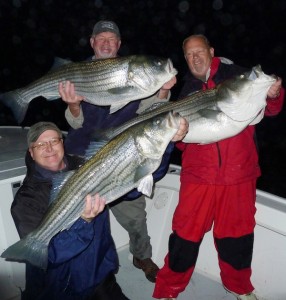 Networking Tip #5:  Give room – If you've exchanged information with someone, there's a good chance you and he might both show up at the same fishing place. When that happens, give way to the guy who told you where the fish are.  This is especially important if the fish are feeding in a tight area such as a specific point, rip, or ledge. Remember, you won't always be competing for the same spot. Give way to the guy who was on the fish first. It's more important to preserve your network.
Networking Tip #6:  Be Honest – I've had fishermen call me with reports that I know were fabricated.  One of the advantages to having a good network is that you get a pretty good idea of prevailing patterns.  If someone relays something that just doesn't fit, the first thing I do is consider the source.  Do I know this guy can catch fish?  Does the information come third party?  Is it a "friend-of-a-friend-said" kind of thing? That can still be useful, but if the information doesn't fit the pattern, I'll be a lot less likely to believe it.  I'll also be reluctant to believe you next time you report in.  There's nothing wrong with a third-party report as long as you identify it as such. Just be honest. We all know guys who make up reports and exaggerate.  I know some guys who catch one decent fish and make you think they caught a hundred. The same guy shows me a picture of a 28" fish and tells me it's a 35". I won't share with people like that. Don't say you caught fish somewhere when it was really miles away, and don't over-exaggerate. If you had a good day share it, and if you had a bad day say it. The best fishing networks are those in which everyone shares honestly.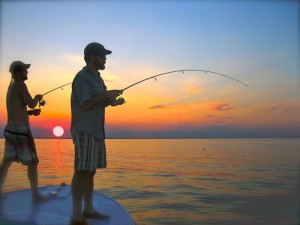 Networking Tip #7:  Don't be a spot burner – Did I say this already?  It's worth saying again. Better yet, here's an example:  There's a guy I know who fishes frequently and is a talented fisherman, so I'd love to have him in my network. Unfortunately, he's known for going on the Internet mailing lists and calling everyone in his cell phone contacts and providing exact locations. There's just no way I can share information with him because I can't trust him to keep it within my network.  Even worse, I don't want to share too much with fishermen who fish with him. I don't want a dozen clumsy fishermen at my spot the next time I go out. Once again, Internet fishing reports are great, but it's not necessary to reveal critical details. When you do, you expose your productive spots to thousands of fishermen who may not share the people in your network's sense of fishing etiquette. Don't blow it before you ever start.
Networking Tip #8:  Get Cellphone numbers – And use them!  One of the best phone calls you'll ever receive is one from a buddy who is on a hot bite.  Make it a point to keep up with who is fishing on the days you're on the water.  Let your buddies know where you'll be and find out where they are.  When you get on the fish, give 'em a call.  They'll appreciate it more than you realize and they'll almost always return the favor.
Networking Tip #9:  Recruit New Members – The truth is, fishermen come and go.  Situations change, and it's not always the same group of guys out there on the water.  Look for new up-and-coming fishermen and help them when you can.  People who are new to fishing the Bay are usually willing to put time and energy into perfecting their techniques.  Help the new guys early and it will pay off in the long run because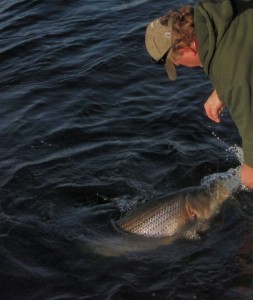 they'll return your early favors.
Maybe you can think of a few more tips for putting together a good fishing network.  I'd love to hear your ideas.    We're on the verge of the fall migratory season here on the Chesapeake Bay. Big fish are pouring into the Bay and we're catching some very nice fish on light tackle. (Shhh, don't tell the trollers.)  This is a good time to start an effective fishing network.  Good luck with the fall trophies!
Responses to "Networking Tips"