Click the Book Covers Below to Buy the Books

Current Moon Phase




Waxing Gibbous Moon




The moon is 11 days old


Distance: 56 earth radii
Ecliptic latitude: -4 degrees
Ecliptic longitude: 321 degrees


Recommendations

Good Information

Wind Weather & Tides

Meta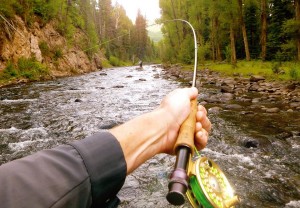 There's nothing better for sharpening your light-tackle skills than scaling down and hitting the fast water in the creeks. Almost all I know about fishing I learned first in East Tennessee mountain streams. Tactics like swimming a lure with the current, casting to the deep side of cover, matching the hatch, looking for the dark water, minimizing terminal tackle, and the importance of stealth are all stream fishing techniques that translate easily to light tackle casting in the Chesapeake Bay. As much as I love the Bay and targeting the many species that live here, there are times when the call of the creeks is so great that I have to drop everything and go. Over the past couple of weeks, I've had a lot of fun stream fishing at some very scenic locations.
I've always had an interest in history and I'm especially intrigued by the Civil War. It's not because of romantic notions about the ante-bellum South, but because it was such a seminal period for our country. I grew up kicking minie-balls around in the dirt near my farm in Mooresburg, Tennessee. Years later I was surprised to learn that the property I grew up on was the camp of General James Longstreet's Army of Northern Virginia in the winter of 1863.
That led me to swinging a metal detector and turning up a nice collection of Confederate relics including some well-presevered belt plates, bullets, and buttons.
When I moved to Maryland, I visited several National Civil War Parks but I somehow missed the Antietam Battlefield near Sharpsburg. One of the most interesting stories from the killing fields of Sharpsburg is the battle of Burnside's Bridge where 12,000 Federal troops were held at bay by 500 determined Georgians perched on the bluffs above the creek. Two weekends ago, I set off  toward Antietam Creek to see if there are any fish below Burnside's Bridge.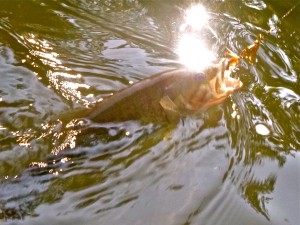 There are.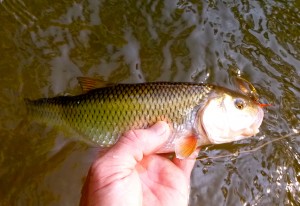 While it's illegal to bank fish within 500 feet of the bridge, there are plenty of places to cast if you walk along the trails that go up and downstream. I chose to simply wade in the middle of the shallow stream.
Antietam Creek is very fertile and filled with small minnows and crayfish. My first cast with a 1/16th ounce Panther Martin spinner scored a half-pound smallmouth bass. Subsequent casts caught largemouth, catfish, sunfish, redeye, and some of the biggest fallfish I've ever seen. I understand the creek is stocked with trout in the spring, but the water was way too warm for them when I was there. Fishing was good. Casting near the site of the bloodiest battle on American soil, I felt a sense of eerie power. The cannons silhouetted on the park's high grounds above my head were a jarring contrast to the calm beauty of the creek. As I climbed up the steep creek bank and walked back across fields where so many men died, I felt a cold chill on my neck. I dismissed it as the first hint of fall.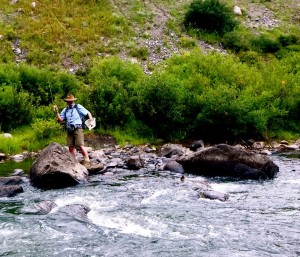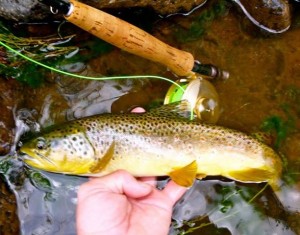 Last weekend I enjoyed another stream fishing adventure, this one many miles away from the battlefields of Maryland, but also in a scenic and historic area. My brother-in-law Mitch Smith and his friend and colleague Jim Boncella invited me on a fly-casting excursion to the Conejos River in southern Colorado. We had a great time fishing the gorgeous little stream that flows through the high mountains of the Rio Grande National Forest near the border of New Mexico. While I haven't done a lot of fly fishing in the Chesapeake, I'm not too bad at casting dry flies in mountain streams. It took the first day to shake the cobwebs off my Lefty Kreh-signed Temple Fork Outfitters 5 wt-flyrod, but by day two of our trip I was delivering my dry-hopper and midge-dropper about where I wanted it to go and hooking some surprisingly large brown, rainbow, and brook trout.
If you'd like to see more photos of Burnside's Bridge or shots from the beautiful Conejos river, tune in to my Facebook and Twitter feeds. I'm putting a lot of pictures and stories up just as they happen and even live-tweeting some fishing trips from time to time.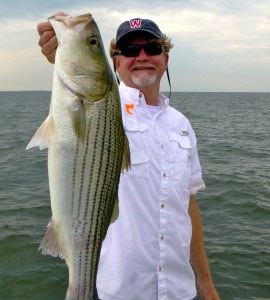 By this past Wednesday evening, I was back on the Bay. I started fishing the Bay Bridge pilings where I caught a few. Thinking there might be better fish in open water, I fired up the Honda BF225 on Thunder Road and headed north. I found fish biting on top-water and even more in deeper water near submerged ledges where there is a lot of bait. After two weeks of stream fishing, it was good to be back on the stripers, but I couldn't help but miss the strong runs of the mountain trout or the acrobatics of the feisty smallmouth. Pound for pound, stripers aren't in the same league.
By all reports, striper fishing is still good all over the mid-Chesapeake Bay region. I'm hearing of breakers near Poplar Island and along the west side of Kent Island over the deeper ledges and oyster bars. Topwater is good all over. I saw a few schools of two- to three-pound bluefish above the bridge when I was out Wednesday, and I'm hearing of even more around Sharps Island and down toward the Gas Docks. Redfish are filling in along the shorelines including the sod banks around Eastern Bay. Speckled trout and redfishing has slowed a little in the Tangier, but a lot of fish are still being caught. The best light tackle action right now is with topwater along rocky shorelines where the current is strong and the fish have immediate access to deeper water.
It's Labor Day weekend and, whether you're following the call of the creeks or chasing the hot bite in the Bay, it's a fun time to go fishing. Cheers to tight lines and fighting fish, no matter where you find them.
Responses to "August Streaming"