Click the Book Covers Below to Buy the Books

Current Moon Phase




Full Moon




The moon is 16 days old


Distance: 61 earth radii
Ecliptic latitude: 4 degrees
Ecliptic longitude: 92 degrees


Recommendations

Good Information

Wind Weather & Tides

Meta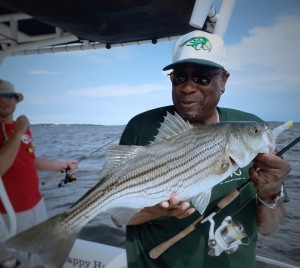 I got to fish with Dusty Baker. If the name doesn't mean anything to you then you must be living with the sea bass underneath the reef balls off Tilghman Island. Dusty Baker is nothing short of baseball royalty. He's the manager of the Washington Nationals, former manager of both the Chicago Cubs and San Francisco Giants, and All Star outfielder for the Atlanta Braves and Los Angeles Dodgers. I couldn't hope to list all his accomplishments but the most important statistic relative to Chesapeake Bay fishing is that he's caught thousands of striped bass and other species. Dusty has fished all his life, on both U.S. coasts and all over the Caribbean as well as in other parts of the world. He's a pro with a fly rod, a spinning outfit, and a baitcaster.
We caught a lot of fish while he was staying in St. Michael's, Maryland over the All-Star break, but my most memorable few minutes came while we were sitting in the back of Chuck Castle's Whaler and reminiscing about fishing with our fathers. Dusty and I found that we have a lot in common in that both of our dads were very active in fundamentalist Christian congregations (his father a Baptist deacon and mine a Church of Christ minister), and that they both loved to fish. As we swapped stories about our younger days, the conversation eventually came around to our fathers' favorite fish. "Shellcrackers," we said at the same time. If you know anything about southern fishing and those hard-fighting redear sunfish, that coincidence won't surprise you at all.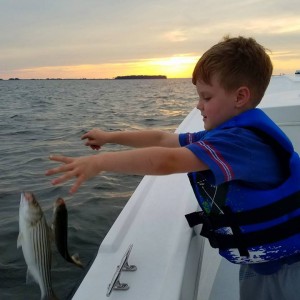 The reminiscing soon turned to talk of how fortunate we feel to have shared time on the water with our dads, and how important it is for kids to have a mentor to show them how to fish and enjoy the pleasures of outdoor sports. I've since learned that Dusty volunteers with organizations that teach physically and economically challenged kids how to hunt and fish. He understands the concept of giving back and he firmly believes in the Biblical concept I quote in both my books: "To whom much is given, much is expected."
That conversation with Dusty and some recent fishing trips with my grandkids and the kids and grandkids of good friends got me thinking about how important it is to introduce the younger generation to the joys of fishing. There's no better time than summer on the Chesapeake Bay to teach kids to fish. Rockfish are rocking, bluefish are blitzing, and Spanish mackerel are making their way up the Chesapeake Bay. If you love fishing like I do, you probably can't wait to introduce your children, grandchildren, nieces, or nephews to the fun you enjoy out on the water. Casting to summer breakers on the Chesapeake is a great way to show kids how much they can enjoy time outdoors and away from the TV and video games.
This seems like a good time to put together a few dos and don'ts that I've learned about fishing with kids.
DO:  Set the stage:  Make sure the children know when you're going and what you're trying to catch. Talk it up. Explain that fishing is about the experience and enjoying time with family and friends in and around the water. That isn't to say you shouldn't talk about the fish. Make sure they understand the possibility of failure, but be clear that the objective is to catch! That's why summer on the Chesapeake Bay is such a great time to get them started. The fish aren't big, but there are plenty around.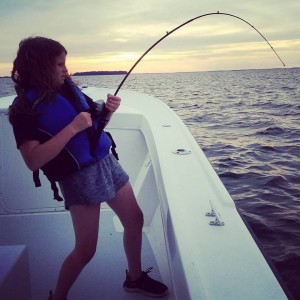 DON'T:  Raise expectations too high. One of the great things about fishing is that it teaches problem solving. Even the best fishermen get skunked sometimes, so make sure the kids understand that catching fish is a challenge and that it can still be fun even if the fish don't bite.
DO:  Practice! Time spent in the backyard learning how to cast can be fun for both the kids and the parents. It also increases anticipation and lets the kids know that there is an element of skill involved. For most kids, casting is the best part. Even a two-year-old would prefer to cast his own line because that's what he or she sees the adults doing. You probably aren't okay with someone casting and hooking a fish then letting you reel it in, and neither are your kids. A backyard-practice session is also a good time to teach basic knots. Start with a clinch knot or Palomar and don't fret if they don't pick it up right away.
DON'T: Over-complicate it. I'm a big fan of push-button spincasters for kids who are just learning to fish. Many thousands of anglers, including some of the top pros in the business, learned to cast on a tried-and-true Zebco 202 or a Johnson Century. Once kids get older, you can move them up to a spinning reel or even a baitcaster, but there's no reason not to start with a simple push-button reel. Also, a shorter rod will make it a lot easier for them. Don't go too short, because you'll limit both their casting distance and the chances that they might hook into and land a nice fish. Four or five feet is about right for younger kids.
DO:  Make some lures. Kids are naturally creative. I'm not suggesting you start them pouring lead, but there's no reason why they can't help you customize some jig heads or hotrod some soft plastics. Even adding some paint or eyes to a topwater plug can be fun. Getting kids started with lure making early teaches them to focus on the details of fishing and makes it especially rewarding when they catch a fish on a lure they made or modified.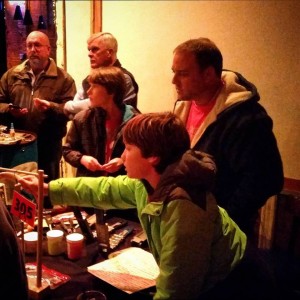 DON'T:  Be a perfectionist. While most fishermen can spend hours hand-crafting a faultless jig or tying the perfect fly, kids are more likely to just sprinkle on some glitter or glue on some feathers and be done with it.  You know what?  If you get them on summer breakers, it won't matter. Those lures will still catch fish no matter what they look like.
DO:  Keep it quick. Kids just don't have the attention span to stay in a confined space for three or four hours. They won't be happy if they're bored and you won't be either. Plan short trips in the mornings or evenings when the weather is cool. After all, that's when you are most likely to find breakers. Two hours is usually long enough, even if you're catching on every cast.
DON'T:  Fish on windy days or when it's likely to rain or thunderstorm. Pick a calm, cool day for their first time or two out on the water.
DO:  Be patient. Let's face it, even those of us who have fished all our lives will see tangles, snags, and lost fish. Those things come with the territory and it's even harder for a youngster who is just learning the sport. Stay calm and don't raise your voice. Use the foul-ups and backlashes to teach and focus on the positive things they're doing. Compliment them when they do things like check behind them before they cast or when they don't cast over someone else in the boat.
DON'T:  Yell.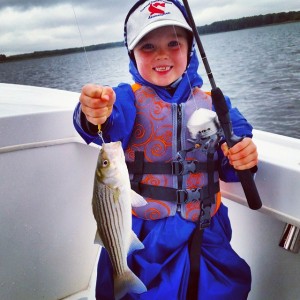 DO:  Teach them conservation. It's never too early to teach kids fishing ethics. If you're fishing summer breakers, chances are you are going to catch some undersized fish. Teach kids to handle their fish carefully and get them back into the water quickly so they'll survive. Since keeping and eating fish can be an important part of the experience, teach them about rules and regulations. It's a good idea to show them how to measure the fish they catch, even when you know it's big enough. This is also a good time to talk about removing treble hooks or at least mashing the barbs on your topwater plugs. Kids (and most adults) love seeing fish blow up on a topwater plug, so by all means use them, but do yourself, your kids, and the fish a favor by getting rid of those barbs. If you're fishing with older kids, introduce them to the importance of clean water and healthy underwater habitat. A fishing trip is a great time to teach responsibility and a respect for the environment and fellow creatures.
DON'T:  Insist that kids handle a fish when they don't want to. I've seen kids who were absolutely fearless when it comes to handling fish, and others who were terrified when a spiny fish comes flopping into the boat. Let them make the decision about handling their fish. If they want to hold it, teach them how to do it safely so that they don't get fin-pricked or bitten.
DO:  Bring lots of snacks and goodies. Remember, the object is to make it fun. Take along lots of drinks and maybe even a special treat or two. Make your fishing trip a very special occasion and a reason to celebrate. For young children, bring along a toy or two for when they get bored. I can't oversell the value of having a beanbag chair on the deck for the exhausted young angler on the cruise back to the dock.
DON'T:  Let them get seasick. Even on calm weekends there can be a lot of boat wakes that make your boat rock. When a kid starts getting queasy it's time to head back to the dock. You can always try again on a day when there aren't so many waves around.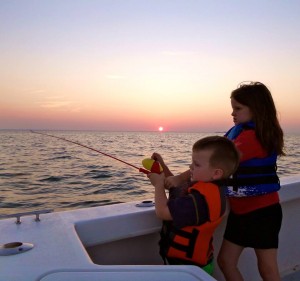 DO:  Practice Safety. A life jacket isn't just a good idea, it's the law. Children under age thirteen are required by Maryland law to wear a life jacket while onboard any vessel that is less than twenty-one feet long. Life jackets worn by kids under four years old must also include a strap between their legs and a neck supporting device to hold their heads well above the water. Make sure the life jacket fits properly. If you don't have the proper size, take the kids with you to the store and let them pick out one that they like. They'll be a lot more likely to wear a life jacket when they know it's theirs alone; it might help even more if it has their favorite superhero or Disney character on it.
DON'T:  Let them wander around on the dock or ramp without a life jacket. The best rule is to put it on before they even get out of the car or truck. Trust me on this one. I've seen many kids fall in at docks and ramps and even a few jump in to water that is over their heads because they aren't aware of the danger.
These are just a few of the dos and don'ts that I can think of off the top of my head. Maybe you can think of more? If so, please share them. I hope to fish with Dusty again soon and I plan to ask him about his work introducing kids to hunting and fishing. I'm sure he'll have something to share. Almost every angler I know was introduced to the sport by a mentor, usually an older adult or family member. Teaching our kids to fish is a commitment we should all take very seriously. Beginning fishers are very impressionable and they'll learn some of life's greatest lessons out there with us on the water. Kids are imitators and fishing teaches attention to detail, responsibility, and the importance of good choices. The behaviors they learn on the water can have incredibly far-reaching implications for other aspects of life, so hey, if you're in the position to take a kid fishing, do it!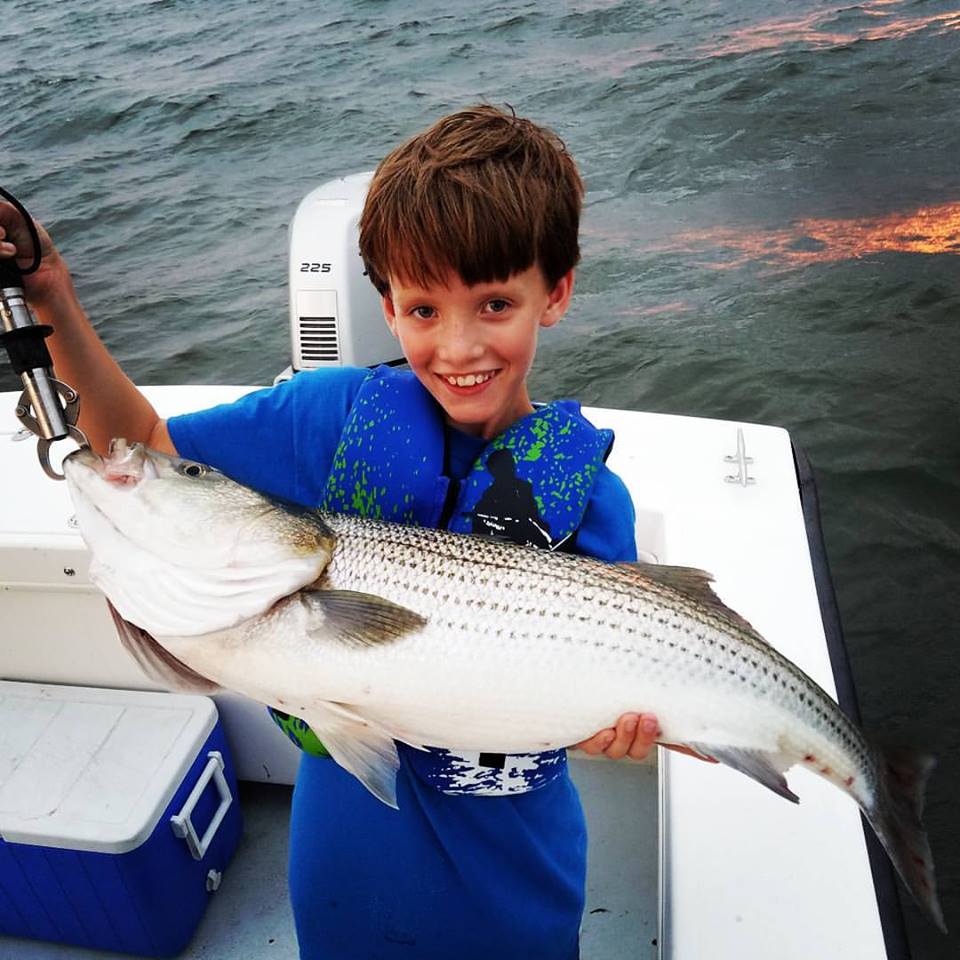 Responses to "Every Kid Needs a Mentor"