Click the Book Covers Below to Buy the Books

Current Moon Phase




Third Quarter Moon




The moon is 20 days old


Distance: 63 earth radii
Ecliptic latitude: 4 degrees
Ecliptic longitude: 141 degrees


Recommendations

Good Information

Wind Weather & Tides

Meta
I quit rockfish. Yes I did. Well, at least for a while. I haven't fished for striped bass since December 6, 2017. That was the day we landed three huge stripers including a 50-incher just below Poplar Island. It seemed like a good stopping point.
Now, don't get me wrong, I haven't quit fishing, nor have I given up rockfish for good. In fact, I'll be back on them next week. I just decided to spend the winter/spring of 2017-2018 fishing for perch, crappie, and shad.
You know what? I've had a blast!
I can't resist the call of the creeks. I dearly love striper fishing, but the hours I've put in polishing my rockfish techniques add up to only a fraction of the time I've spent in my life-long pursuit of panfish. They are my first love. After over fifty years of fishing, my favorite fish remain bluegill, crappie, perch, and shad.
The longer I live and the more I fish, the more I long for simplicity. To me, panfishing is therapy; a welcome counter to the competitive and frequently fast-paced world of run-and-gun striper fishing. I can stand on the creek bank for hours casting for perch or crappie. It makes me feel like I'm connected to nature, not only as an observer, but as a participant. When I'm panfishing, I never think I'm wasting a minute. In return, panfishing has enhanced my striper fishing skills. The pursuit of perch has made me a better rockfisherman.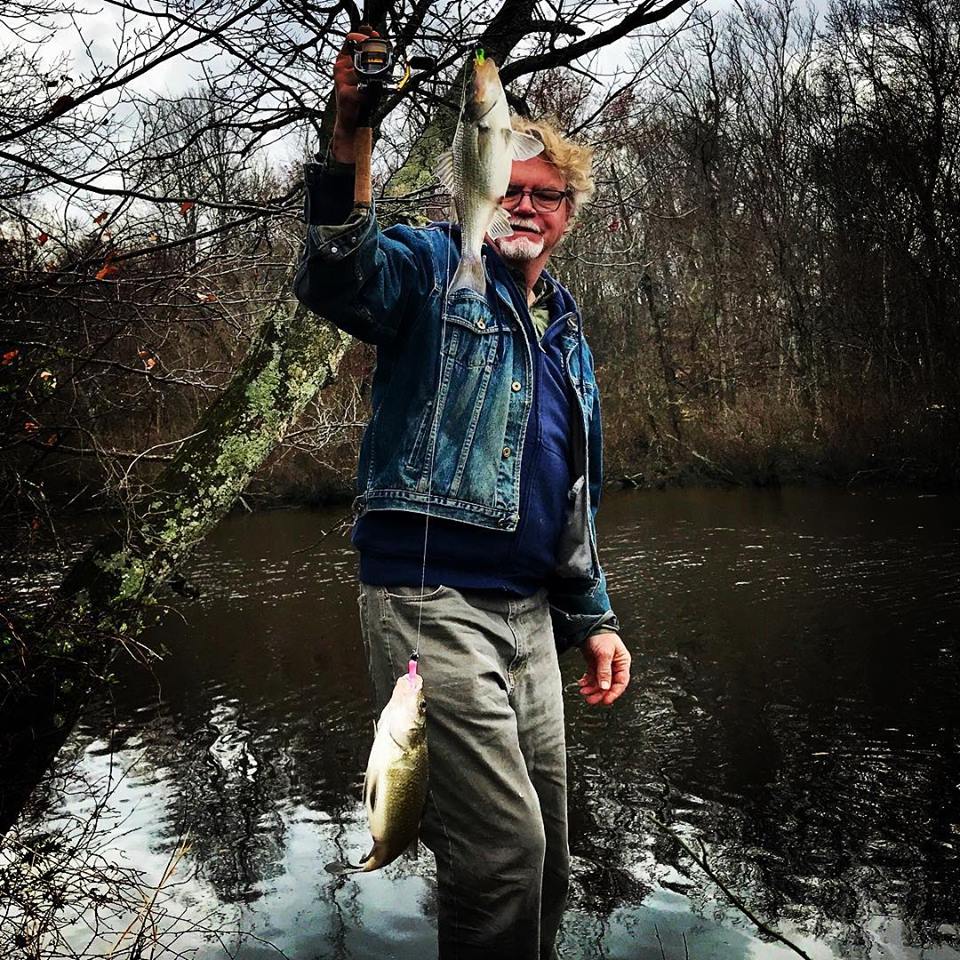 When I moved to Chesapeake country more than a dozen years ago, my first trips were for panfish. I quickly found out that I had to adapt many of my time-tested panfishing techniques to the unique challenges brought on by the additional elements of salinity and tides. I've learned a lot, some by trial and error, and some from the advice of seasoned anglers who share my life-long panfish fascination. Once I started hanging out along the creeks and rivers, I met men and women who have spent decades honing their skills in the tidal streams of the Chesapeake. Often, I've had to step back and realize that I'm overthinking my techniques. When it comes to panfish, simpler isn't always better, but most of the time, it is!
Panfish are great equalizers. They aren't picky about social class or fortune. They make it just as easy to take home a limit by fishing from the river banks as by casting from a boat or kayak. Panfish can set a novice to bragging like a crackerjack just as easily as they can reduce a savvy pro to whining like a rookie.
I love to eat them too! I'll take a plate of battered and crisply fried perch over a toxin-laden rockfish filet any day. I'm a strong proponent of catch and release fishing, especially when it pertains to potentially imperiled species like striped bass. But you won't see me throwing back too many perch or crappie. I typically release the biggest spawners, but it doesn't bother my conscience one bit to enjoy a big plate of fried panfish. Most of the panfish species in the Chesapeake region are prolific and they usually aren't threatened. While I won't hop on the "take-all-you-want, they'll-make-more" bandwagon, there is absolutely no harm in occasionally keeping a mess of delicious perch, crappie, or bluegill. In fact, eating panfish is one of my life-long pleasures. Long before it became a trend, bringing home and frying up a mess of panfish has been the perfect example of eating locally and sustainably.
I'll have a lot more to report about my low-key and extremely enjoyable winter of panfish passion, but for now, I'll just say, "go!" Striper fishing has started, and by all accounts catching is tough this trophy season. When a few fish show up, there's usually way too many boats around. The competition is tough, good manners are low, and stress is high. On the other hand, it's very quiet back in the tidal streams. The perch, crappie, and shad bite is still red hot. Take my advice, mix it up a little bit. Spend some time in the creek. Tune out the world, and tune in to your panfish lures. It doesn't have to be for an entire winter, a few minutes are all you need. So, even if it's only for a little while, quit rockfish!
Responses to "I Quit Rockfish"