Click the Book Covers Below to Buy the Books

Current Moon Phase




Waning Gibbous Moon




The moon is 17 days old


Distance: 61 earth radii
Ecliptic latitude: 4 degrees
Ecliptic longitude: 104 degrees


Recommendations

Good Information

Wind Weather & Tides

Meta
catch & release
Currently browsing articles with a topic of "catch & release".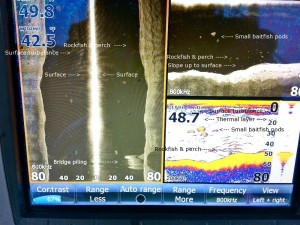 We interrupt this conservation blog with a fishing report. Nah, it's the other way around. Chesapeake Light Tackle will always be first and foremost a fishing-report website. Well, fishing reports along with some occasional good advice about gear and techniques.  Don't worry – I won't be lightening up on Maryland DNR's bad decision to increase rockfish harvest by 14 percent in the face of impending cuts, but I wanted to let you know that I have been lighting up some local fishing spots lately. It's the holidays, and the weather hasn't been great, but there are still some fish to be caught for those who are willing to brave the elements and cast for them. The warm water discharges have been hit-and-miss lately.  Most of the anglers who have visited them have been disappointed, but once in a while, I hear of a good fish or two being caught.  The same goes for the deep holes at the mouths of the rivers and also for my go-to-winter honey hole: Light Tackle University ("LTU"). Read More!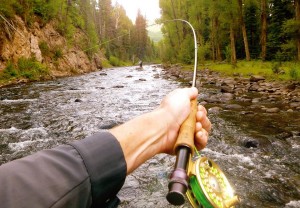 There's nothing better for sharpening your light-tackle skills than scaling down and hitting the fast water in the creeks. Almost all I know about fishing I learned first in East Tennessee mountain streams. Tactics like swimming a lure with the current, casting to the deep side of cover, matching the hatch, looking for the dark water, minimizing terminal tackle, and the importance of stealth are all stream fishing techniques that translate easily to light tackle casting in the Chesapeake Bay. As much as I love the Bay and targeting the many species that live here, there are times when the call of the creeks is so great that I have to drop everything and go. Over the past couple of weeks, I've had a lot of fun stream fishing at some very scenic locations.
I've always had an interest in history and I'm especially intrigued by the Civil War. It's not because of romantic notions about the ante-bellum South, but because it was such a seminal period for our country. I grew up kicking minie-balls around in the dirt near my farm in Mooresburg, Tennessee. Years later I was surprised to learn that the property I grew up on was the camp of General James Longstreet's Army of Northern Virginia in the winter of 1863.
That led me to swinging a metal detector and turning up a nice collection of Confederate relics including some well-presevered belt plates, bullets, and buttons.
When I moved to Maryland, I visited several National Civil War Parks but I somehow missed the Antietam Battlefield near Sharpsburg. One of the most interesting stories from the killing fields of Sharpsburg is the battle of Burnside's Bridge where 12,000 Federal troops were held at bay by 500 determined Georgians perched on the bluffs above the creek. Two weekends ago, I set off  toward Antietam Creek to see if there are any fish below Burnside's Bridge. Read More!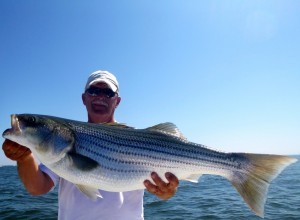 Congratulations to Rich Jenkins, 2013 Champion of the Kent Narrows Light Tackle Catch-&-Release Tournament. Rich fished with Jamie Clough, Jon Griffiths and me onboard my 27 Judge CC Thunder Road and won the tournament with a wide-shouldered 34-inch striper caught about 1:00 PM Saturday afternoon. Coming off the win, I thought it might be helpful to post some recommendations for catching bigger striped bass in Maryland's portion of the Chesapeake Bay in June.
Topwater – Look around high-current points where there is access to deep water. Submerged rocks and other cover are a plus. Set up downstream and fan-cast into the direction of the current starting closest to shore. Look for the rip, that is a change in the waves around the point and work that area hard. On calm days, use a spook. In rougher water, try a big popper. Heddon Super Spooks, Lonely Angler Zipsters, and Stillwater Smackits are great lures for this time of year. Read More!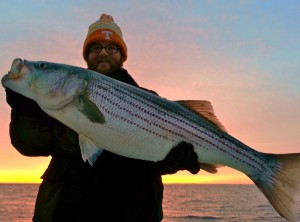 Revisiting my series on the common traits of good fishermen, I keep coming back to attitude and innovation. I recently crossed paths with Chesapeake Bay light tackle guide Dennis Fleming and the subject of "the right stuff" came up. Dennis noted that, regardless of experience level, some fishermen come on his boat with a natural talent for fishing. When I think of talent, I consider my experience with artists and musicians. There is no doubt that creativity comes more naturally to some people than to others. So, how important is natural talent and creativity to successful fishing? Obviously, the most important factor to success is time on the water. In fishing, there's simply no substitute for experience. Still, there must be something to the observation that some anglers get it, and some never will. An important factor is that successful anglers are open to new ideas.
It's been said that 10-percent of the fishermen catch 90-percent of the fish, and that good fishermen think like a fish. Hmm, "think like a fish?" Is that something that can be learned or taught? Embracing creativity and experimenting with innovative techniques is lot of what this website and my book, Chesapeake Light Tackle, An Introduction to Light Tackle Fishing on the Chesapeake Bay is about. I try to pass along good ideas and tactics I've learned once I've had a chance to try them out. It all starts with an open mind. Read More!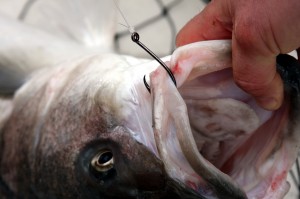 UPDATE: This post originally appeared in March 2013. It has been updated due to recent proposals to require circle hooks year round for bait fishing in Maryland.
It's spring in the Chesapeake Bay and time for big migratory stripers. Some of the biggest striped bass in the world are caught in Maryland in the early spring. A few fishermen are already using circle hooks to catch & release big fish on the points near the rivers using bait such as bloodworms and cut menhaden. Circle hooks aren't just a good idea for bait fishing in the Chesapeake Bay, they're required by law. Maryland fishermen have been slow to see the advantages of circle hooks. I think that's because most of us haven't used them enough, but there's also confusion about what circle hooks are and how they work. I recently had an opportunity to travel to Providence, Rhode Island to attend a FishSmart conference sponsored by NOAA about catch & release techniques. I came away with some interesting information.
According to extension agents working with Florida Sea Grant, circle hooks have been used for decades in their state by both recreational and commercial fishermen who appreciate their ability to efficiently catch fish. The principle behind the hook is simple. After the hook has been swallowed, the fisherman applies pressure to the line, pulling the hook out of the stomach. The unique hook shape causes the hook to slide towards the point of resistance and embed itself in the jaw or in the corner of the fish's mouth. The actual curved shape of the hook is intended to keep the hook from catching in the gut cavity or throat.
The advantage to the fisherman is that hooking is automatic. No hook set required. All we have to do is let the fish swim off with the bait then pick up the rod and start reeling. Circle hooks are a fool-proof way to catch stripers when fishing with bait, but do they work to protect the fish?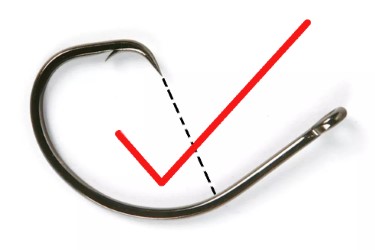 According to Maryland rockfish scientist Rudy Lukacovic, most of the time they do. Most fishermen will tell you that they still see gut-hooked fish occasionally. That's one of the drawbacks to bait fishing, but there's also another problem. There is unfortunately no industry standard as to what makes a circle hook. In fact, some of the hooks you buy off the bait shop shelf may not be circle hooks at all. Just because it says circle hook on the package doesn't mean it is. There are impostors.
On a true circle hook, the tip of the hook points back toward the shank of the hook. If it points toward the eye, it's not a circle hook no matter what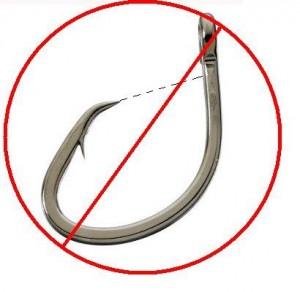 it says on the package. Confused? Then try this: Curve your index finger around the contour of the hook shank and press down a little. If you feel the tip of the hook pricking your finger, it's not a true circle and won't work right. The tip of the hook should curve away from your finger.
Circle hooks can be roughly divided into two types, offset and non-offset. The offset refers to the amount of deviation in the plane of the hook point relative to that of the shank. Most of the hooks you see on the store shelves are offset. That means when you lay them down on a table, they won't lay completely flat. A true non-offset hook will lay perfectly flat on the table. Offset circle hooks are more likely to gut-hook your fish.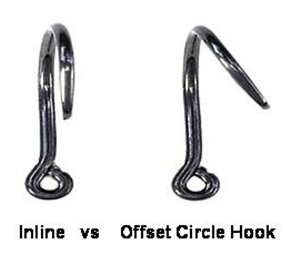 Since there can be confusion about what constitutes a true circle hook, some tournaments are specifying certain brands and types as tournament legal. Unless the industry responds by standardizing descriptions, state resource departments and lawmakers may also have to be more specific. Maryland defines a circle hook as: A non-offset hook with the point turned perpendicularly back to the shank. Circle hooks used in bait fisheries should be "non offset". That is, if the hook is laid on a flat surface, all parts of the hook lie flat on the surface.
---
Here are some tips for using circle hooks to catch striped bass:
Keep it limber – Use a slow, limber fishing rod with a lot of bend in the tip. A stiff, fast-tipped rod is more likely to pull the hook out of the striper's mouth when you pick it up. Ugly Stix fans, this is your cue!
Don't bury the hook in the bait – If you hide the hook, it is less likely to catch the corner of the fish's mouth when you start reeling. If you use live bait, hook the bait through the nose or lips so the hook is completely exposed and the gap isn't blocked. Stripers won't see the hook and your bait will look more natural.
Crank, don't yank – Just set your reel to free spool, wait for the fish to take off and start reeling. If you're live-lining, count to ten before you start. Don't set the hook.
No need to sharpen – Sharpening a circle hook will damage the tip and make less likely to hook the mouth but more likely to hook the fish's stomach.
Stay away from stainless – If a fish breaks off, the stainless hooks don't rust. That means it will stay in the fish's mouth longer. If a fish swallows a stainless hook, it will probably die.
Go big or go home – Don't be afraid to use a big hook. A 8/0 or 9/0 hook is great for stripers. Take a look at the big rockfish in the picture below. It takes a wide-gap hook to get over those thick lips! Hooks with a gap that are too small are more likely to gut-hook the fish. For big fish in the
spring, use 10/0 or even bigger. Also, pay attention to the quality of the hook because you don't want a hook that will bend or straighten.
Catch & Release Tips
Be Prepared – If you aren't used to using circle hooks, it might take a little longer to remove the hook from your fish. Keep your pliers, de-hooker, measuring device, and camera beside you and ready to use. If the fish swallows the hook, just cut the line as close as you can to the hook. Don't try to pull the hook out if it's embedded in the fish's stomach.
Do you really need a net? – It's a lot easier just to reach down and lip the fish with wet hands or wet rubber coated gloves. Nets cause you to lose fish and they injure them by removing slime. If you must use one, find one that has a fine, rubber coated mesh. You might even consider a a cradle net since that will let you measure your fish in the water.
Handle With Care – If you plan to release a big fish, be sure to support the body weight with both hands. If you have to lay it down to remove the hook, do it gently. Try not to drag the fish through the mud or sand because this can injure it and remove slime. Get the fish back in the water as fast as you can.
In a nutshell, circle hooks are good for the fish because fewer stripers are hooked in the stomach or in other vital organs, and they're good for the fisherman because they increase hook-ups and reduce missed strikes. Good for the fish, good for the fisherman – that's a winning combination.
Did you know? Circle hooks have been around for centuries. Archaeologists have recovered stone circle hooks that are tens of thousands of years old from the grave sites of indigenous cultures. J hooks came about relatively recently because they are easier to make. Once again, modern-day anglers are recognizing the benefits of circle hooks for both efficiency and conservation. This fishing technique, like the hooks themselves, has come full circle.
---
Now for a fishing report. Some of the best rockfish of the year are being caught and released right now using jigs. My hottest lure over the past couple of weeks has been a 10-inch BKD in either white, chartreuse, or avocado. I'm still fishing the Bay Bridge area and the warm water discharges although I am just starting to get reports of fish in the rivers, in Eastern Bay, and on the Susquehanna Flats. The yellow perch run is nearly over and was pretty much a miss for Maryland this year. The white perch spawn is in stronger with good catches reported in the usual spawning areas including the Eastern Shore and Upper Bay tributaries. The herring spawn is on, but remember it's illegal to fish with live herring now. Not much happening yet with hickory shad.
I got my biggest fish of the year and I think my biggest striped bass ever this week. I didn't measure or weigh it and, even though I have a good idea of how big it was, I won't speculate publicly. It was a horse! Bay water temperatures are slightly below normal right now in the low to mid-40s with some warmer areas in the rivers. There are plenty of migratory fish moving north up the Bay. Believe it or not, some surface feeding fish have been reported in areas of warmer water. Good luck!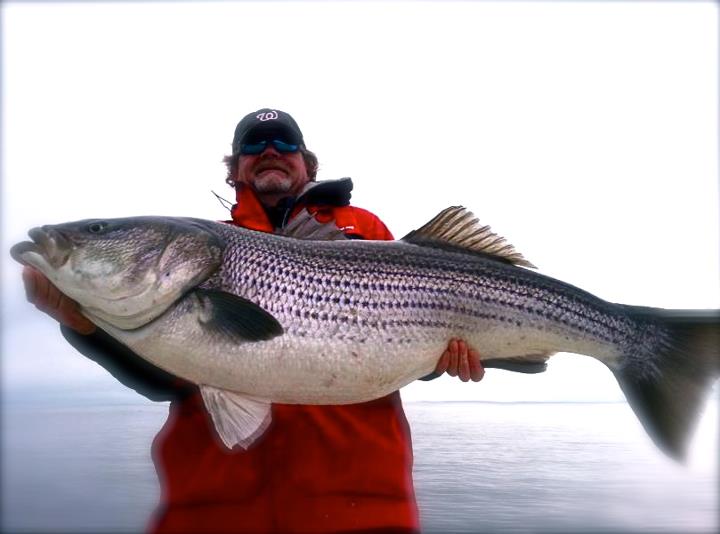 In the fifty years or so I've had to observe the behavior of fishermen, I've noticed a few trends. While collecting thoughts for my next book, I'm forming a list of traits that I think good fishermen have in common. In the book, I'll concentrate primarily on gear and tackle but I also want to spend some time examining habits and attitudes that successful anglers share. You know, the right stuff. One penchant stands out above all the rest – good fishermen like to release fish. Not only do they like to let them go, but they look for ways to insure they survive once they swim away. Accomplished anglers find satisfaction in returning a fish to the water and they enjoy the thought that other fishermen will also have the opportunity to experience the thrill of a trophy catch.
I love to eat fish. I just returned from a week-long fishing trip to the Abacos Islands where my sons and I ate the fish we caught every day. I don't begrudge anyone the opportunity to eat their catch, but every angler has to release fish from time to time. Better anglers can't possibly eat all the fish they catch, nor do they want to. I've written about this in the past, so instead of going into a step-by-step breakdown of best-practices, I thought I'd try to make it a little more fun by turning it into a quiz. Think you have a good handle on how to take care of the fish you plan to release? Check it out: Read More!