eastern bay
Currently browsing articles with a topic of "eastern bay".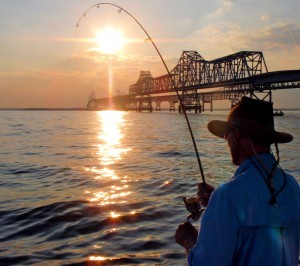 Mmm, July on Kent Island: when the water is savory and smooth and salted with all manner of boats, when tourists flock to the Eastern Shore beaches and bridge traffic backs up for miles while drivers peek over the rail for a glimpse of the sparkling spectacle that is summertime on the Chesapeake Bay.  Summer can be both sweet and sour to Chesapeake fishermen. Sometimes we wonder if it's worth trying to fish in this Hell's Kitchen of boats, everyone jockeying for the single best position from which to make the sweetest cast.  But fish we must, so we line up like line cooks to join the fray, vowing to stay even-tempered when inevitable conflicts arise and deluding ourselves that, when we get there, we'll have that delicious "top-secret" spot all to ourselves.  Mmm, mmm, summertime, sweet summertime. Read More!
Okay, so this entry might be a little heavy on the fireworks and light on the rockfish.  That's because I'm not too good at fishing in crowds, so I spent most of last weekend doing chores around the house.  That's not to say I didn't get some time in on the water.  In fact, I don't think I missed a day, but most of my time on Thunder Road was spent cruising to fireworks shows around Kent Island.  Since this is a fishing website, I'll start with a catching report.  I met Rich at Sandy Point State Park Friday afternoon for a few minutes of piling picking onboard his 19′ Sea Hunt center console.  There was very little wind but plenty of boat wakes, so we took our time getting to the our fishing spots. We had a ripping outgoing current so we rigged up soft plastic lures on three-quarter ounce jig heads.  I was throwing a hotrodded white 6″ BKD and Rich had on some kind of chartreuse lure I didn't recognize. I think we caught keeper size stripers on our first four casts, so we could have had a 5-minute limit.  We stayed with it for two and a half hours and released 27 keepers with plenty of shorts.  We caught on both the east and west sides of the bridge, even sneaking in downstream of some bored-looking live-liners who didn't seem to share our amusement when we pulled nice fish right out from under the pilings where they were anchored.  Read More!
At any given moment there are over 2000 thunderstorms going on around the world.  Lately, it seems like most of those are rolling across the Chesapeake.  I've had several opportunities to fish through the weekend and most of my short trips involved storm dodging.  The fishing has been about as unstable as the weather.  I've taken a couple of complete skunks, had some so-so trips, and finished the weekend with a very successful but somewhat precarious Sunday-evening excursion with Rich and Jamie.  We haven't found a bite in the Upper Bay yet, but the fishing is trying to turn on to the south and east of Kent Island.  Most fish are feeding over humps and ledges in the 16-25 foot range, especially over hard oyster bottoms.  There is also a decent top-water bite in the shallows at places where the current is visibly moving and fish can find quick access to deeper water. Perch and hard-heads are also lighting up the hard bottoms and can be caught with small metal jigs or scented soft plastic grubs. The water remains very stained. Skies are supposed to be unstable throughout this week. Full-moon currents are ripping so light tackle casting should be pretty good if we can dodge the lightning.  Here's a 2-minute photo montage of our thunder-laced trip Sunday evening trip.
Read More!
Radios blaring, airplanes buzzing, stereos thumping, outboards droning, helicopters whirring, sirens wailing – Wow!  I spent a lot of my time on the water this weekend just listening. Boat shows, trolling tournaments, and sailing regattas made the main stem of the Chesapeake very noisy.  The Bay is fully awake from her winter slumber and the crowds are back in force.  While we each enjoy the water in our preferred ways, to my thinking fishing should include elements of solitude and stealth.  I don't know about you, but I'd rather pick up aluminum cans at rush hour along I-95 than try to pick off rockfish in the main channel on a busy weekend.  I prefer to look off the beaten path for places where I can tune-in to something a little more pleasing than the clamorous dissonance of the masses.  At this busy time of the year, I want to listen for the sounds of laughter.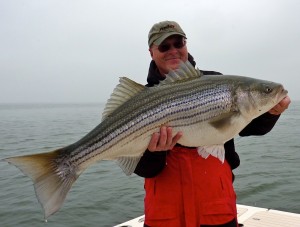 I don't know a single fishermen who hasn't lost the biggest fish of their life. Everyone knows the big one always gets away, right? Nevertheless, anglers are eternal optimists. Most of us aren't out to catch another fish the same size as the last one.  We expect the next one to be a lot bigger. I don't know about you, but I'm forever certain the world record is waiting to swallow my lure on my next cast. Since the strike-outs keep us going, I guess we should plan for them. Here are eight sure-fire tips to guarantee that fish-of-a-life-time gets away. I've tested each one so I know they work!
Tip #1 – Don't retie after a big fish.  It's a waste of time.  Just pat yourself on the back and cast again because it's a sure bet that your next strike will be from a fish twice as big and there's nothing more satisfying than standing on the bow with a slack line watching your world record swim off into the sunset. Read More!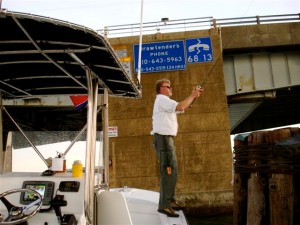 When I first learned I would be moving to the Bay Bridge region of Maryland I read as many books as I could hoping to learn as much as possible about area fishing spots. A recurring theme in everything I read was, there is good fishing around the Chesapeake Bay Bridge. I remember my son Cory saying to me one day as we sat around the dinner table in Knoxville, Tennessee contemplating my move, "Dad, I can't wait to get up there and fish that bridge." I was thinking the same thing. Three years and three hundred plus fishing trips later, I still feel the same way. I can't wait to get out there and fish that bridge!  Fortunately, there are several productive bridges near my house on Kent Island.  Even though the Bay Bridge is my favorite, I like to fish them all.  Here's my list of the seven most productive bridges within easy driving or cruising distance of the Kent Island/Annapolis area. Read More!