Click the Book Covers Below to Buy the Books

Current Moon Phase




Waxing Gibbous Moon




The moon is 11 days old


Distance: 56 earth radii
Ecliptic latitude: -4 degrees
Ecliptic longitude: 321 degrees


Recommendations

Good Information

Wind Weather & Tides

Meta
Okay, so this entry might be a little heavy on the fireworks and light on the rockfish.  That's because I'm not too good at fishing in crowds, so I spent most of last weekend doing chores around the house.  That's not to say I didn't get some time in on the water.  In fact, I don't think I missed a day, but most of my time on Thunder Road was spent cruising to fireworks shows around Kent Island.  Since this is a fishing website, I'll start with a catching report.  I met Rich at Sandy Point State Park Friday afternoon for a few minutes of piling picking onboard his 19′ Sea Hunt center console.  There was very little wind but plenty of boat wakes, so we took our time getting to the our fishing spots. We had a ripping outgoing current so we rigged up soft plastic lures on three-quarter ounce jig heads.  I was throwing a hotrodded white 6″ BKD and Rich had on some kind of chartreuse lure I didn't recognize. I think we caught keeper size stripers on our first four casts, so we could have had a 5-minute limit.  We stayed with it for two and a half hours and released 27 keepers with plenty of shorts.  We caught on both the east and west sides of the bridge, even sneaking in downstream of some bored-looking live-liners who didn't seem to share our amusement when we pulled nice fish right out from under the pilings where they were anchored.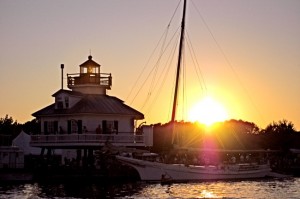 Saturday night, my wife and I launched at Shipping Creek and cruised across Eastern Bay to St. Michaels where we anchored up and enjoyed a nice picnic on the boat.  It turned out to be a pretty sunset and the fireworks were great.  Crockett, my 4-year-old Chesapeake Bay Retriever isn't much of a fireworks fan, but he still enjoyed the trip. 
I've been dealing with some electronics issues and, wouldn't you know it, my lights failed just as I fired the engine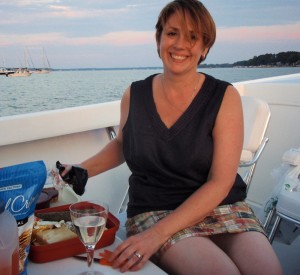 after the fireworks finale.  That made for an interesting trip home.  I've ran 30 miles in four foot seas on a pitch black night in February, and wasn't nearly as worried as I was coming back across Eastern Bay.  For a few minutes there I felt like a sitting duck with all the Cigarette boats and cruisers whizzing by.  Fortunately, my GPS and sonar still worked so I manged to escape via a route that was well out of the way in the shallow water along the eastern shore.
For the Fourth of July holiday, we launched at Matapeake and cruised across to Annapolis.  I stopped along the way to show my wife the Herbert Maxwell wreck on sidescan.  I'm not sure she was as excited about it as I was.  I also found another wreck in the vicinity.  This one also appears to be a large wooden vessel and is located in much deeper water.  I hope to get some time to do some research and I'll report back when I learn more.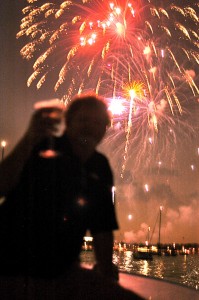 As usual, there was a big Independence Day crowd in Naptown.  We arrived early enough to make the Ego Alley turnaround and timed it just right to hear the Navy band play the national anthem. We didn't see nearly as many big yachts as in years past.  I guess the economy and high fuel prices has taken its toll.  We anchored up in 4-foot of water off Horn Point where we had a great view of the show.  We ran into several friends and neighbors along the way.  There was a big line at the Matapeake boat ramp when we got back, but I was well prepared for the wait.
Tonight I got home from work in time to fish for a little while in the upper Bay.  I found fish in open water over an oyster bar northwest of Love Point.  I also landed a 30-pound cownose ray that ate my Specialized Baits L'ill Bunker lure.  When I hook into a ray I usually try to get it boat side.  For one thing, it's a good way to test out your equipment, knots, hooks, drag, etc.  If you can land a big ray, you should be able to handle a state-record rockfish. I fought the beast to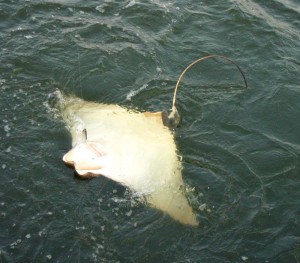 the side of the boat, rolled him over on his back and used my ARC dehooker to get my lure out of its mouth. I haven't tried to eat a ray yet, but I'm working up my nerve for it.  I hear they're pretty good on the grill.
I finished the night casting to the pilings in a surprisingly strong incoming. I moved up to a 1-ounce jig head on a chartreuse BKD and found fish holding close to the bottom, well off the pilings.  Fishing was good and I released 22 keeper size stripers up to 32 inches and kept a wide 26-incher that I fileted for dinner.
Fishing above and around the Bay Bridge has been really good if you know where to look and how to work the pilings, but it's getting a little crowded now with everything from floatboats to big cruisers running their engines against the pilings and sending the bigger fish packing.  A lot of fishermen at the bridge do all the right things except one, they forget to be stealthy. If you want to catch fish, especially summer trophies, you have to be sneaky. I need a change of scenery anyway, so I plan to fish the mid-Bay more in the next couple of weeks.  I may also make a few runs down around Bloodsworth Island because there are reports that some big redfish are showing up.  I'll let you know how it goes.  Here are a few more shots of Independence Day fireworks from both sides of Kent Island.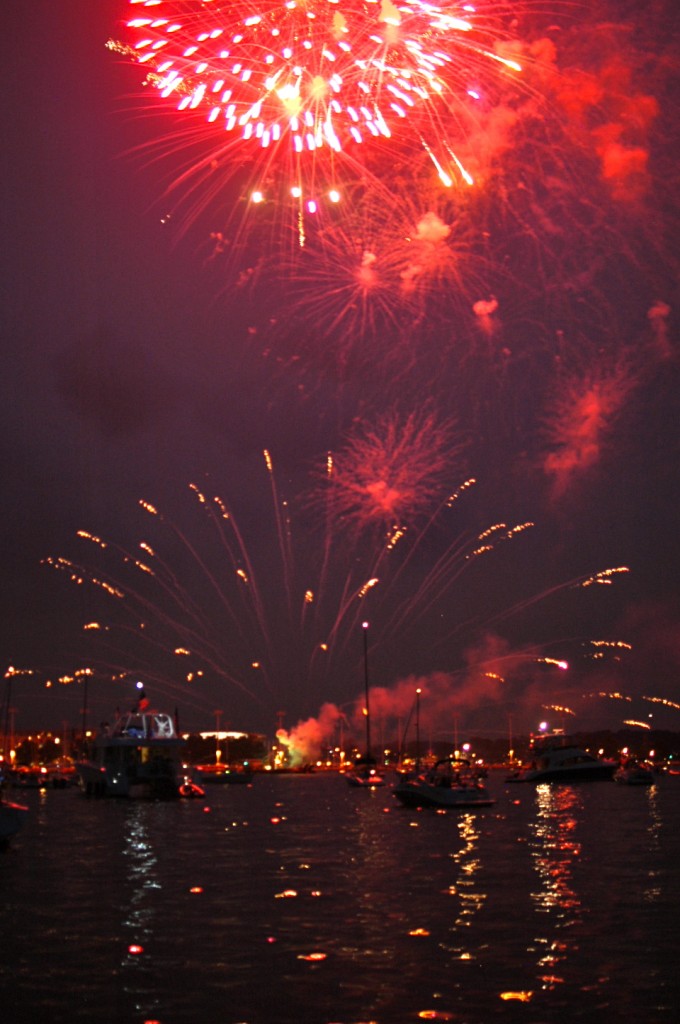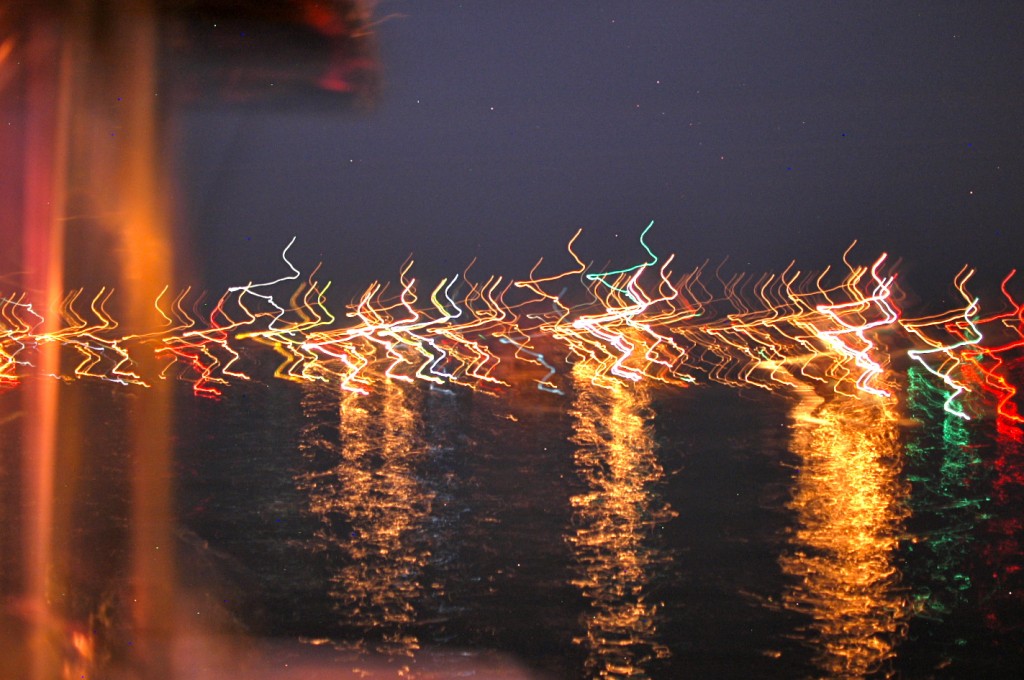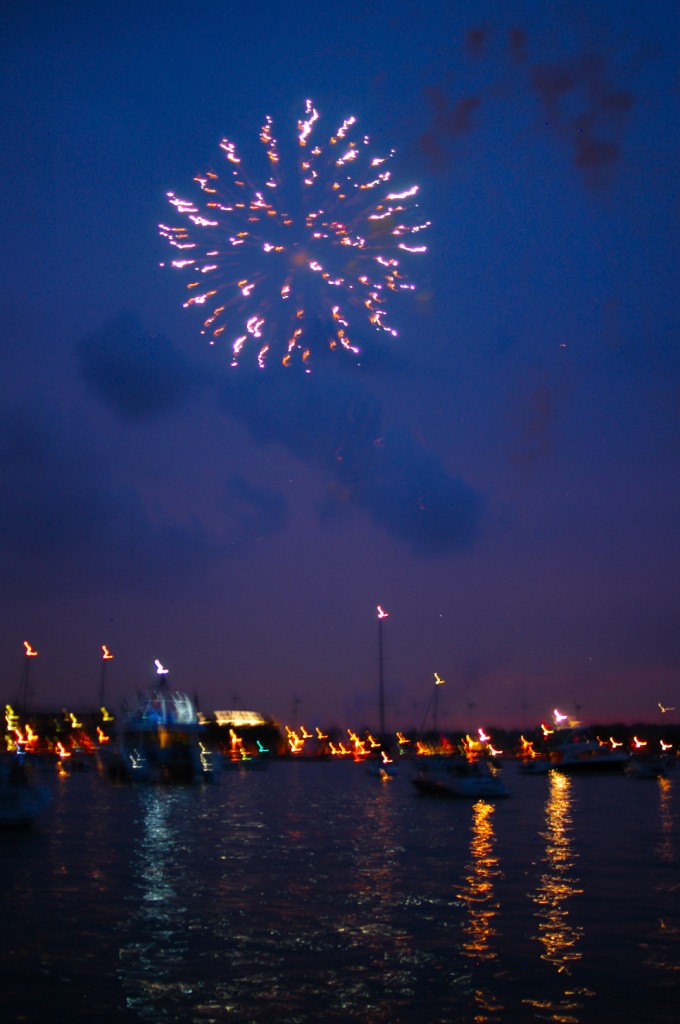 Responses to "Independence Day Weekend"