Click the Book Covers Below to Buy the Books

Current Moon Phase




Third Quarter Moon




The moon is 20 days old


Distance: 63 earth radii
Ecliptic latitude: 4 degrees
Ecliptic longitude: 141 degrees


Recommendations

Good Information

Wind Weather & Tides

Meta
fly fishing
Currently browsing articles with a topic of "fly fishing".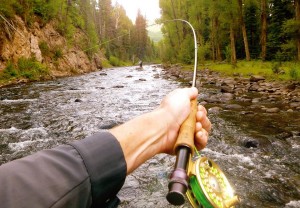 There's nothing better for sharpening your light-tackle skills than scaling down and hitting the fast water in the creeks. Almost all I know about fishing I learned first in East Tennessee mountain streams. Tactics like swimming a lure with the current, casting to the deep side of cover, matching the hatch, looking for the dark water, minimizing terminal tackle, and the importance of stealth are all stream fishing techniques that translate easily to light tackle casting in the Chesapeake Bay. As much as I love the Bay and targeting the many species that live here, there are times when the call of the creeks is so great that I have to drop everything and go. Over the past couple of weeks, I've had a lot of fun stream fishing at some very scenic locations.
I've always had an interest in history and I'm especially intrigued by the Civil War. It's not because of romantic notions about the ante-bellum South, but because it was such a seminal period for our country. I grew up kicking minie-balls around in the dirt near my farm in Mooresburg, Tennessee. Years later I was surprised to learn that the property I grew up on was the camp of General James Longstreet's Army of Northern Virginia in the winter of 1863.
That led me to swinging a metal detector and turning up a nice collection of Confederate relics including some well-presevered belt plates, bullets, and buttons.
When I moved to Maryland, I visited several National Civil War Parks but I somehow missed the Antietam Battlefield near Sharpsburg. One of the most interesting stories from the killing fields of Sharpsburg is the battle of Burnside's Bridge where 12,000 Federal troops were held at bay by 500 determined Georgians perched on the bluffs above the creek. Two weekends ago, I set off  toward Antietam Creek to see if there are any fish below Burnside's Bridge. Read More!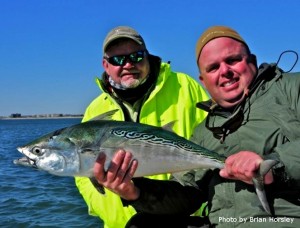 A few months ago, if you told me that I would give up the last weekend in October to drive eight hours and go flycasting for false albacore, I would've said you're crazy.  This is traditionally one of the best times of the year to catch big striped bass in the Upper Chesapeake Bay.  Unfortunately, the stripers aren't where they usually are, and fishing close to Kent Island has been tough lately. Since a man's gotta fish, I hit the road.
I got to know Gary Reich last winter at the Fisherman's Night Out events at Dick Franyo's Boatyard Bar & Grill in Annapolis. Gary is the editor for PropTalk magazine, one of the co-sponsors of those outings. One snowy evening Gary told me about an annual trip he takes down to Harkers Island, North Carolina.  It sounded like fun, and I asked if I could tag along with him next time.  I'd forgotten about it until I got a message from him a few weeks ago asking if I was still interested.  I only had one day available, a Sunday, but I jumped at the chance. Read More!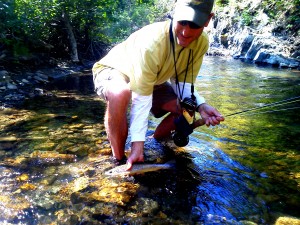 Stream fishing on Labor Day is one of my longstanding traditions. Looking back through the archives of ChesapeakeLightTackle.com, I see that I fished the upper reaches of the Potomac last year, Deer Creek the year before, and the Nolichucky River in Tennessee in 2008. This Labor Day's stream fishing trip took me out to Montana where I fished in some of the most beautiful country in the world.
Dianne and I joined our friends Chris and Paige Montague at their home in Billings late last Wednesday night.  To say these are cool folks would be an understatement.  Chris, who runs his family's jewelry store in downtown Billings, is an avid fisherman, conservationist, and board member of the Montana Land Reliance.  Paige's company,  MyTopo.com, creates custom topographic maps to order.  Both Chris and Paige are bluegrass music fans and outdoor enthusiasts – yes, our kind of people! Read More!