Click the Book Covers Below to Buy the Books

Current Moon Phase




Waxing Gibbous Moon




The moon is 11 days old


Distance: 56 earth radii
Ecliptic latitude: -4 degrees
Ecliptic longitude: 321 degrees


Recommendations

Good Information

Wind Weather & Tides

Meta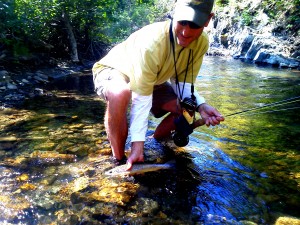 Stream fishing on Labor Day is one of my longstanding traditions. Looking back through the archives of ChesapeakeLightTackle.com, I see that I fished the upper reaches of the Potomac last year, Deer Creek the year before, and the Nolichucky River in Tennessee in 2008. This Labor Day's stream fishing trip took me out to Montana where I fished in some of the most beautiful country in the world.
Dianne and I joined our friends Chris and Paige Montague at their home in Billings late last Wednesday night.  To say these are cool folks would be an understatement.  Chris, who runs his family's jewelry store in downtown Billings, is an avid fisherman, conservationist, and board member of the Montana Land Reliance.  Paige's company,  MyTopo.com, creates custom topographic maps to order.  Both Chris and Paige are bluegrass music fans and outdoor enthusiasts – yes, our kind of people!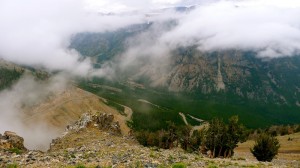 Note:  Click photos to see larger versions.  To see more pictures from this trip click here.
Dianne and I spent a couple of days in Yellowstone National Park before meeting the Montagues and other friends at The Mission Ranch near Livingston.  We left Thursday morning, stopping at Cabela's for provisions and a fishing license, before driving west on US 212 toward Red Lodge and the Beartooth Pass.  Heralded as one of the most scenic drives in the United States, the Beartooth Highway, a National Scenic Byways All-American Road, features breathtaking views of the Ab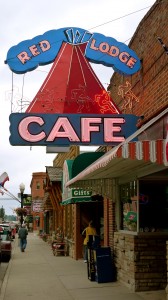 saroka and Beartooth Mountains, and open high alpine plateaus dotted with glacial lakes, forested valleys, waterfalls, and wildlife.  It is also winds through some of the best trout fishing territory in the world.
This might be a good time to point out that I'm not much of a fly fisherman.  I played around with a fly rod in younger days while fishing the trout streams of the Smokies, and I sometimes throw streamers to summer rockfish when they seem too easy to catch on conventional tackle, but a fly rod has never been my first choice of weapons.  I resolved that, on this long weekend in Montana, I would learn to fly fish.  Instead of my usual spinning outfit, I packed a 5-weight Temple Fork Lefty Kreigh casting rod equipped with a G Loomis Venture 5 reel spooled with floating line.
After a quick lunch at the Red Lodge Diner, I sat on a bench outside the Montana Candy Emporium and called my fly fishing buddy Ed Liccione.  In addition to his work as chairman of CCA Maryland, Ed is the most avid fly fisherman I know.  Maybe I was looking for tips or maybe just moral support when I told him I was going to learn to fly fish in Montana, or go to hell trying.  After a few minutes of conversation he finally got around to o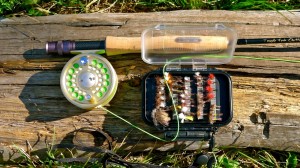 ffering three words of advice.  I laughed out loud at the time, but they eventually served me well.  His words of wisdom: "Don't hurt yourself."
After traversing the Beartooth Pass, our next fishing-related stop was at the general store in Top Of The World, Wyoming – elevation 9,400 feet.  The lady behind the counter showed me the dry flies she had for sale and pointed out some patterns that were recently successful.  "Take plenty of hoppers," she ad
vised.  "They're late this year but starting to jump in the afternoons."  I stocked up my little waterproof tackle box with three-dozen flies, and strutted out the door.  I was armed, but not particularly dangerous.
Not far down the Beartooth Highway from the Top Of The World store, I noticed a lake through the trees, so we pointed our rented Chevrolet Impala up a rutted logging road, past a sign informing us there were grizzlies in the area, and parked beside the clear blue water of Lily Lake.  I got out and kicked a few bushes looking for grasshoppers.  When a few jumped away, I decided that the lady at the store was right and tied a brown and yellow hopper patterned fly on to a number six tippet.
Balancing on some logs at the shallow end, I let out some line and leaned way back for a long hard cast toward the center of the lake.  The line whizzed by my right ear and the hook of the fly pierced the hood of my sweatshirt.  "Okay, don't hurt yours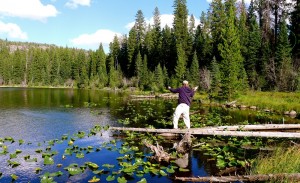 elf," I grumbled.
My next cast brought similar results, so I tried a shorter backstroke and a hard stop; you know that ten and two thing fly fishermen talk about.  Miraculously, the line carried my tiny fly forward.  After duplicating the technique for an hour or so with the fly now sailing well over my head and in the general direction of where I was aiming, I felt like I was out of danger. Even more surprising was that my hopper landed right side up in front of the leader on about every third cast.  I didn't catch a single fish or even see one rise, but the casting practice was enough to call the stop a success.  I triumphantly got back in the car so we could continue our trek.
After an hour of scenic travel, we drove through Silver Gate into the Northeast Entrance of Yellowstone National Park.  It was well before dark, but the high mountains made it appear much later.  Since neither Dianne nor I had been to Yellowstone before, we wanted to do a lot of sightseeing.  I was tempted to stop when I first noticed fishermen casting along Soda Butte Creek and the Lamar River, but Dianne reminded me that we had a 9:30 dinner reservation at the Lake Yellowstone Hotel Dining Room, and a self-imposed 8:30 happy hour in front of the lodge's giant fireplace.  If we managed our time right, there would be plenty of fishing to come.  "Don't hurt yourself." I thought.
On our way to the lake, we stopped at several points of interest, each more spectacular than the one before.  We passed canyons, waterfalls, geothermal springs, mud volcanoes, primordial forests, and mountain meadows where we encountered buffalo, bald eagles, deer, moose, and elk.  I even spotted a wolf (okay, maybe a gray coyote) running through the tall grass on the far side of the river.  Sunset from the Hayden Valley was spectacular.
We enjoyed a delicious dinner at the Hotel.  Dianne had duck risotto and I had a bison fillet.  Before settling into our room for the night, we walked out to the dock overlooking the 136-square-mile Yellowstone Lake.  The light show above us was magnificent.  A waxing crescent moon lit the western sky while the big dipper appeared over our right shoulders and bright Orion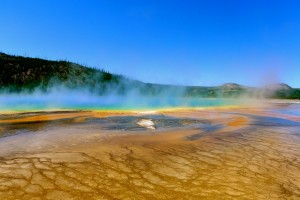 flashed directly overhead.  The only time I've seen the night sky this brilliant was from an island in the middle of Lake Huron a few winters ago.  The far side of the Milky Way galaxy was so brightly reflected in the clear calm waters of the lake that we imagined ourselves space travelers in the center of a universe that whirled around in all directions, not only above our heads but also beneath our feet.
Not wanting to miss a minute of the day, we got up early the next morning.  After a brisk walk along the lake shore, we set off to see more of the sights of Yellowstone.  We stopped at all the geyser basins along the way, fortuitously timing our arrival at Old Faithful so that we walked up five minutes before it erupted.  Seeing Old F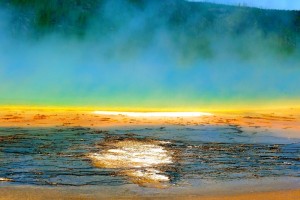 aithful should be on everyone's bucket-list, but I was more impressed by the hot springs farther north along the Firehole River.  I didn't think anything could out-do the night sky above Lake Yellowstone, but I was completely in awe of the Grand Prismatic Spring.
The colors begin with a deep indigo center followed by turquoise and pale blue.  Green algae forms beyond the shallow edge while outside the scalloped rim a band of yellow fades into orange.  Red iron pigment marks the outer border.  Even though air temperatures were climbing toward the 70s, steam rose from the 180-degree water reflecting the brilliant colors.  I've never seen colored steam before.  It reminded me of the smoke grenades I used in the military.  Red, green, blue, yellow; every hue was there.  We took dozens of snapshots but we could never capture all the colors of the steam.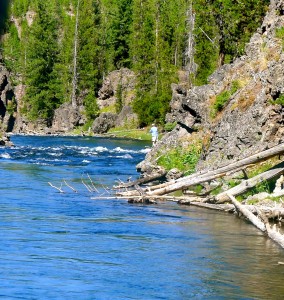 Our drive then took us along the banks of the Firehole River.  Just before the Madison Campground we took the switchback up Firehole Canyon Drive.  I noticed some deep pools above a big waterfall, so we parked the car and I got out my fly rod, tied on my lightly-used hopper, and scrambled down the bank. Since my fishing map showed this as a fly-fishing only area, and that's what I had, I enjoyed my first smug moment as a fly fisherman in an area off-limits to those unclean spin-casters!  My smugness was short-lived.  I made a good long upstream cast and, amazingly, a fish rose to my fly.  I jerked my rod tip up and watch as my slack line floated harmlessly beside my feet.  I had concentrated so hard on learning how to cast the little flies that I hadn't even considered what to do should I actually get a strike.  Before I could consider myself a fly fishermen, I needed to figure out how to set a hook.
"Ah, strip line, that's why they do it," I thought to myself.  I was familiar with stripping to keep my streamers moving in the still water of the Bay, but it never occurred to me that I needed to strip in order to keep slack out of my line as my fly floated toward me downstream. "Let's try that again."  I threw right back toward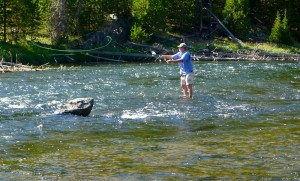 the same little riffle.  Sure enough, another fish took my fly.  This time I was ready with a tight line, so I rared back with a Roland Martin hook-set.  My line came sailing back at me, draping over my shoulders and wrapping around my head with the fly hanging right off the brim of my cap. "Don't hurt yourself," I thought as I uncrossed my eyes and untangled my line.  "Okay, one more try." Another shot into the same pool yielded another surprising strike. This time, I kept my line tight and just waited.  It turns out I didn't have to set the hook at all.  The force of the fish pulling the lure under was all it took to lodge the fly securely in the side of its jaw.
My first Yellowstone trout was an 8-inch cutbow.  Cutbow trout are a cross between native cutthroats and stocked rainbows. The Park Service doesn't stock rainbows any more, but there must still be enough of them in Yellowstone's rivers to crossbreed.  I turned the little guy loose and tried again in the same hole.  I think those trout were tired of teaching me how to fish, because I didn't get any other strikes.  I gave myself only 90 minutes to fish, so I waded on to some other scenic spots in Firehole Canyon and caught three more fish, this time all native cutthroats.  Things were looking up.
After hiking back to the car and spending the rest of the afternoon sightseeing, we left the park through the stone gate named for Teddy Roosevelt.  Yellowstone was commissioned by Ulysses S. Grant in 1872, but dedicated by Roosevelt.  I can't help but wonder why today's politicians seem hell-bent on destroying our environment instead of following the examples of these conservation-minded forefathers.  I noticed a fishing access sign along the Yellowstone River, just south of Gardiner, and I talked Dianne into stopping so I could fish again.  I only had one strike, but it was a beautiful fishing spot and a good place to clear my mind.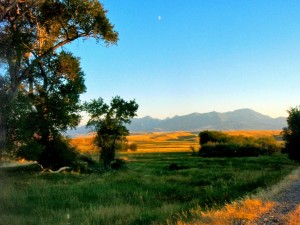 We enjoyed a nice dinner in Livingston before setting off into the Montana darkness to find The Mission Ranch. The Ranch was founded in the early 1900s along the banks of the Yellowstone River beneath the shadow of the Absaroka Mountains.  The working Black Angus beef cattle operation has remained in the same family for three generations.  The ranch is steeped in history:  Lewis and Clark camped in the fields near the river, and the ranch is the site of Fort Parker, a frontier outpost that served as the mid-1800s headquarters for the Crow Indian Agency.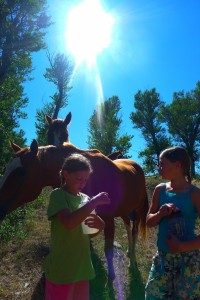 Our gracious hosts at the Mission Ranch B&B were Ben and Darcy LaBeau.  Darcy is the granddaughter of the original ranch founder, and manages the present-day ranch operations with her sister and brother.  Ben is an attorney in Billings.  They're very nice folks who are  working hard to ensure the continued success of the Mission Ranch. The LaBeau's three children – Peyton, Ben, and Olivia – go to school with Chris and Paige's children, Jay and Gigi, back in Billings.  Van and Susan Boyette rounded out the Labor Day crew.  Also friends of Chris and Paige, they live in the D.C. area and have a cabin along the Wise River near Butte, Montana.  The spacious ranch house easily accommodated all 13 of us, with room left over for the Labeau's three dogs, Chloe, Daisy, and Lizzy.  The B&B is available as a vacation rental, though without the personal touches that we received as guests of the owners.
There were plenty of activities to keep everyone entertained throughout the weekend.  There were horses to ride, creeks to ford, rivers to swim, bridges to cross, trails to hike, choke cherries to pick, hills to climb, four-wheelers to spin, steaks to grill, guitars to play, and most importantly wild and free-flowing streams to fish.  And fish we did.  Chris and I talked ahead of time about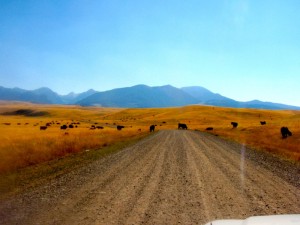 how we wanted to spend as much time as possible chasing trout.  He has guided in the past, and knows the area's fishing patterns very well.  Van is an accomplished fly fisherman and a frequent angler on Montana's trout streams.  Ben grew up with a fly rod in his hand.  I knew going in that I would be the least-experienced fly fisherman in the crew.
Saturday morning, we set off for a spring creek along the lower reaches of the ranch.  We didn't find many fish there, so Ben took us up the Mission Creek Valley.  The road provided incredible views of the mountains.  We drove slowly since we had to wind around through a grazing herd of cattle.  The Mission Ranch raises certified Black Angus beef without hormones or antibiotics.  After seeing those cows and the land they were raised on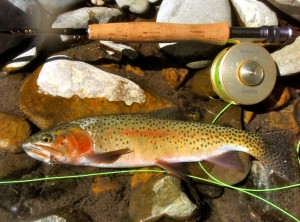 , I vowed that all the beef I buy from now on will come from there.  We eventually turned off the gravel road to follow a tractor path through a hay field, and arrived at a small trail that led down to the creek.  Ben told us to look for bears since he had seen a mother and a cub in the area recently.
When I first saw the creek, I was a little concerned because it was never more than six feet wide and less than four feet wide in the narrows.  I wondered if it could hold very many fish.  I should've known better, as I've seen plenty of little Tennessee creeks hold four-pound smallmouth.  Ben assured us that there were some nice trout there.  We split up, each taking a different section of the creek.  I miraculously landed my hopper in the first hole I came to and watched in amazement as a 15-inch brown trout jumped all the way out of the water after it.  I caught six fish in my first hour on the creek, mostly browns, but I also had a brook trout and a very nice 14-inch West Slope cutthroat.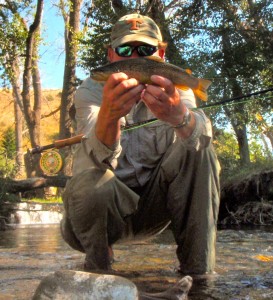 After lunch, we fished the creek again with similar results.  Low overhanging branches and weedy banks made casting very difficult, but every likely looking spot held fish.  The challenge was figuring out how to get my fly into them.  I had to ponder each fishing hole like my next move in a chess match.  I spent a good 10 minutes on some spots before making a single cast, studying exactly where to position myself to get the best casting lanes while staying hidden from the wary fish.  I broke off a couple of nice browns when they wrapped me around roots along the creek banks.  I also hung enough hopper flies in the tree branches to stock a small tackle shop.
I was pretty far away from the rest of the party since I was fishing the uppermost section of the creek.  I became suddenly aware of my isolation when I heard something heavy moving in the bushes ahead of me.  Since I'd noticed plenty of bear tracks and scat along the creek, I decided not to find out if it was a bear or a cow.  "Don't hurt yourself," I thought as I turned around and headed back to the car.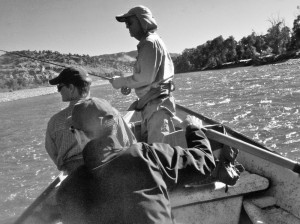 We got back to the ranch house about 4:00.  That left me enough time to run to Dan Bailey's Fly Shop in downtown Livingston to pick up more flies and heavier tippet.  Dinner that night was a surf-and-turf combo of Mission Ranch t-bones, grilled expertly by Chris, and Maine lobster tails.  We had a salad made from tomatoes picked from the Montague's garden, and finished with a homemade choke cherry pie courtesy of Dianne and the girls.  I ate all the steak and pie I could hold, and even thought about going back for more but decided once again to follow Ed's advice not to hurt myself.
We got up early Sunday to launch Chris's Osprey Drift Boat into the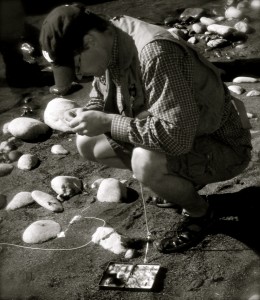 Yellowstone River.  I've never fished on a drift boat before, so I was looking forward to the experience.  I was concerned, however, that four people would make things a little too crowded.  I offered to stay back and fish the creek again, but Chris assured me there would be plenty of room.  He was right.  There were seats for two in the front, one in the middle from which to row the boat, and another in the back.  Chris wisely gave me the back seat so the newbie would have plenty of room to cast.
We fished our way down the river for six or seven miles, stopping occasionally to fish a shoal or creek mouth that looked promising.  There were a few small fish around, but we didn't see any of the big brown trout that the Yellowstone River is famous for.  Van impressed me with his casting stroke – I hope I can learn to be that smooth.  Ben was as accurate with his casts as I've ever seen, while Chris expertly steered us away from some of the faster rapids and downed trees, leftover from a 100-year flood in early spring.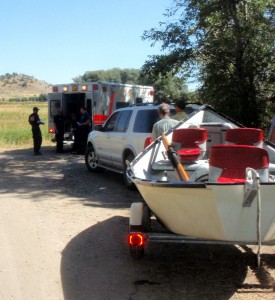 Nearing the end of our drift, we were met at the landing by a sheriff's deputy who asked if we had seen anyone stranded along the river.  A sunken drift boat had been discovered just below the closest shoal.  We had just offered to help them look for the passengers, when some guys showed up on the opposite shore and waved us over.  It turns out the fishermen had hit one of the trees obstructing the rapids and capsized.  Since they were wearing waders, they had a hard time getting out of the swift water.  One of the guys almost drowned and looked to be in shock, so they took him to a waiting ambulance for treatment.  This time the thought came more soberly, "Don't hurt yourself."
We enjoyed another fun afternoon at the ranch house.  I managed to slip away and fish Mission Creek again while the others took the kids down to the river to swim.  I only caught four fish this time, but landed my biggest trout of the trip, a fat brown that would have easily topped three pounds.  He slipped out of my hands before I could get a picture, but I did get a shot of him on the end of my line during the fight.  I finished the evening by driving down to the river where I caught a couple of little cutthroat and one nice Montana whitefish.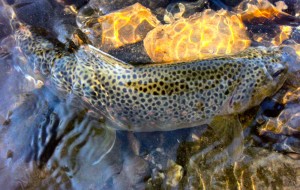 The final morning of our trip brought more fishing.  Chris and I decided to work a stretch of the creek together since it had been so productive for me the day before.  The fish were a little wary, but we finished strong, each of us landing a nice brown on our last cast of the weekend.  Walking back through amber fields beneath the majesty of the purple mountains, I wondered if I could get away with staying the rest of the week in Montana.  Even though I had lots of work and numerous professional obligations waiting for me back home, I was very tempted to chuck it all and spend the rest of the week working on my fly casting skills.  I might have done it too, except I somehow managed to convince myself there would be more opportunities to visit beautiful corners of the world like Yellowstone National Park and the Mission Ranch in the Montana Rockies.
"Don't hurt yourself," I whispered.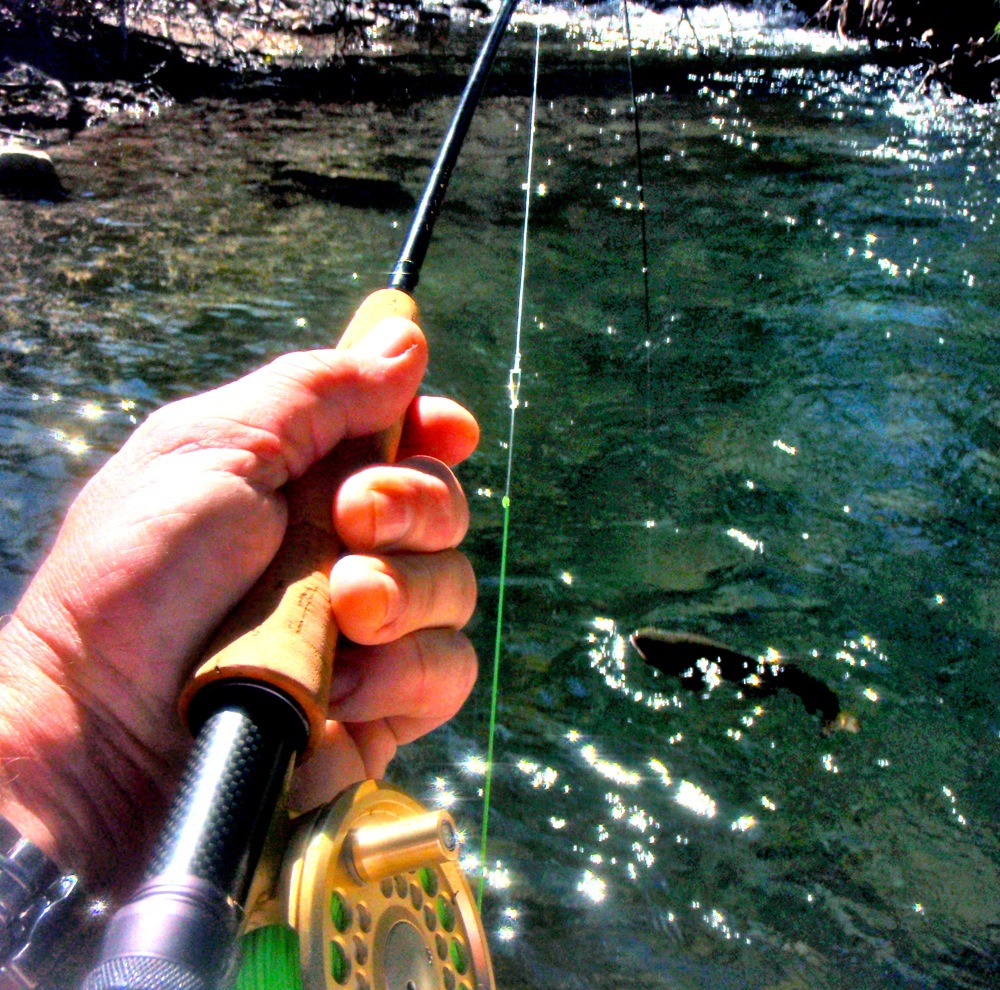 Responses to "Don't Hurt Yourself – Montana Fly Fishing"