Click the Book Covers Below to Buy the Books

Current Moon Phase




Third Quarter Moon




The moon is 21 days old


Distance: 59 earth radii
Ecliptic latitude: 0 degrees
Ecliptic longitude: 103 degrees


Recommendations

Good Information

Wind Weather & Tides

Meta
maryland
Currently browsing articles with a topic of "maryland".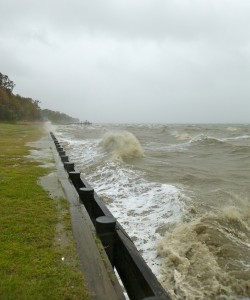 Hurricane Sandy has sped up and will make landfall sooner than expected.  I suspect that's good since she will hopefully move through more quickly.  Unfortunately, the center of the storm has turned slightly southwest, and is now projected to track a few miles north of us. The Bay Bridge is closed after recording three gusts over 55 MPH within 10 minutes.  I'm hearing a few limbs cracking in the woods behind our house and I noticed some trees down when I visited Matapeake a few minutes ago. 
We've seen 8 inches of rain so far and it's coming down harder than ever now. There's been a lot of damage due to storm surge on the ocean side of Delmarva including Ocean City, Maryland, but we still aren't seeing a storm surge this far north on the Chesapeake side.  There is a surge lower in the Bay on the east side and I just heard Crisfield, Maryland has been evacuated with 3-5 feet of Bay water in the streets. Power is still on over most of Kent Island.  Here's a video I just shot at the Matapeake pier.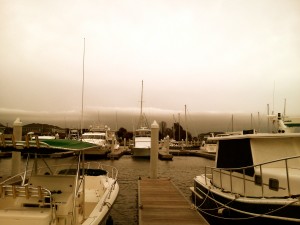 Last year I entertained myself during Hurricane Irene by blogging about the storm, so I thought I'd do it again with Sandy.  While some storm tracks have Kent Island directly in the path of the storm, it looks more likely that it will come ashore about 60 miles north of us.  That's too close for comfort with a storm this big.  As of 3:00 PM Sunday, we are just starting to see the first bands of the hurricane.  It's raining lightly and winds are from the northeast sustained at 29 knots at Thomas Point Light on the Chesapeake Bay. If the storm stays north as projected, I don't expect a strong storm surge. Tides were pretty high last night, but the northeast wind will actually push water out of the Bay.  We might even seen record low water, so I'm standing by with my relic hunting gear just in case some of the colonial sites and shipwrecks are exposed.  Our biggest concern is trees and limbs coming down and flooding from the expected heavy rains. Since this is a fishing site, I'll also report that fishing was not particularly good yesterday although we did catch a few on topwater in the Eastern Bay shallows. Stay tuned and I'll do my best to keep you in the loop about the storm.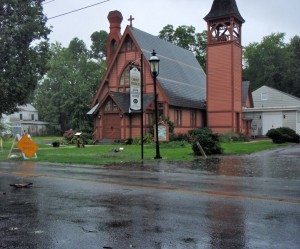 As Hurricane Irene gets closer our biggest issue remains heavy rain.  It comes in waves, sometimes pouring so hard it completely restricts visibility.  At other times it almost looks like the sun could pop out.  The wind continues to build steadily. I've heard of 50-miles per hour gusts in Annapolis.  Thomas Point Lighthouse has reported gusts up to 42 knots.
The strongest wind recorded so far has been atop the Bay Bridge.  They recorded a gust of 53 miles-per-hour at 4:11 P.M. and announced Phase III restrictions.  That means no light trucks or hitched trailers.  They will close the bridge when wind speeds reach 55-miles-per-hour.  I think they expect that soon because I noticed emergency vehicles staging to close the road at any time.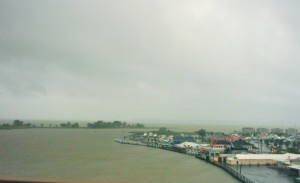 We've had a few limbs come down, but nothing serious.  Just after 2:00 P.M. the hurricane seemed to be taking a more northerly track that would have put it coming right up the Bay toward us, but she's wobbled back east now.  Either way, it's appearing that we might get more of a storm surge than was initially predicted.  Our house sits about 4 feet above sea level on a 2-foot foundation, so we won't be worried unless the surge approaches 6 feet.  On the other hand, there are lots of waterfront homes and business that are much lower.  Some weather sites are predicting a 4- to 8-foot surge.
I looked around a little and the water in the Bay is coming up, but it's nothing more than a high tide right now.  This is also the predicted high tide period for today, so there's still nothing unusual on the water.  It's a new moon, so wider fluctuations are normal. There are some pretty steep waves out there though with reports of some over 4-feet in the Mid-Bay.  That's nothing by ocean standards, but a little rough for the Bay.  We are no where near the full impact of the storm yet, so we'll see what happens.
For now, our major concern is flash flooding.  Most of the storm drains are overwhelmed and there is standing water on all the roads.  We have a long way to go before this one is over.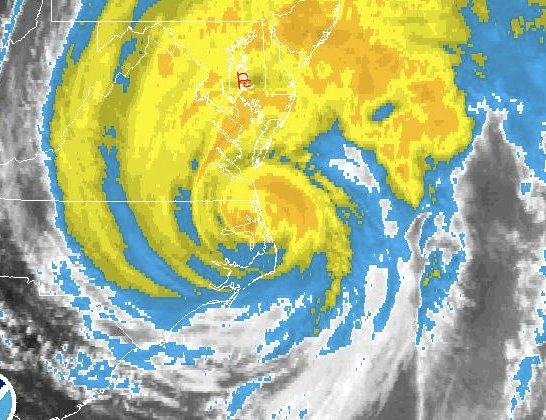 It started raining on Kent Island about 8:30 AM, and has been coming down steadily since. The wind is coming up now, but it's still little more than a rainy day here.  As of 1:00 PM, wind speeds are 22-knots from the northwest at Thomas Point Light House near Annapolis, and 34-knots at Point Lookout at the mouth of the Potomac River.  I got out and drove around in the truck a few minutes ago.  It is weird seeing all the businesses closed and buildings boarded up on what is usually a busy Saturday afternoon.  It may have been a little over-cautious to require everyone to close so early today, but time will tell.  A few more of our neighbors got out of Dodge this morning, but most are still around.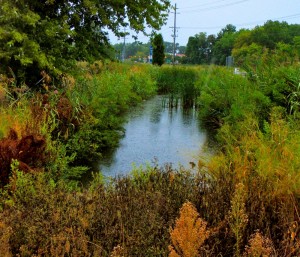 Traffic is light on Rt 50 and flowing smoothly across the Bay Bridge in both directions.  I heard the directional lane signals are out for reasons unrelated to the weather.  At this time, I see no evidence of a tidal surge.  I'm attaching a photo of the tidal stream across the street from our house. (click photos for high rez)  It's my usual indicator of tide height.  The charts show predicted low tide about now, so I'd say things look normal.  I would guess we've had about an inch of rain so far.  The ground is saturated from storms we had earlier in the week, so I expect we will see some flooding in the area regardless of storm surge.
I saw two businesses open as I was driving around.  They are Hong Kong Chinese Restaurant (our favorite) and No Place Bar & Grill (hmmm).  I am taking this as a sign that God is on our side.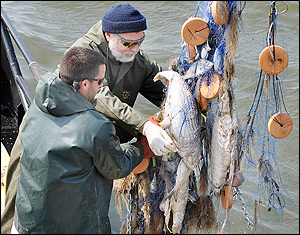 I've had my share of embarrassments in recent years. There was the time at a bluegrass show when, immediately after performing "How Many Biscuits Can You Eat," I choked on a country ham sandwich. I'm the guy who tripped over the curb a while back as I stepped up to shake hands with the Vice President of the United States. I've fallen out of boats, pitched backward off barstools, stumbled up escalators, tumbled down stairs, and spilled enough drinks at public dinners to float the Oxford-Bellevue Ferry.  Some of my hall-of-shame moments have been painful, and others downright funny, but there's nothing remotely entertaining about my most recent embarrassment. In fact, everyone in Maryland shares my latest shame. Last week, Chesapeake Bay anglers found and reported another fourteen hundred yards of illegal gill net containing more than three tons of dead and rotting fish. Add another nickname to the list that includes The Free State and The Old Line State:  Maryland – The Poaching State. Read More!