Click the Book Covers Below to Buy the Books

Current Moon Phase




Waxing Crescent Moon




The moon is 4 days old


Distance: 63 earth radii
Ecliptic latitude: 0 degrees
Ecliptic longitude: 73 degrees


Recommendations

Good Information

Wind Weather & Tides

Meta
maryland
Currently browsing articles with a topic of "maryland".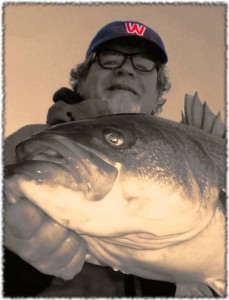 "I only write when I'm inspired," wrote William Faulkner. I'd find that statement comforting if he hadn't followed it with, "and I'm inspired every morning at 9:00 AM." Lately, my every-morning-at-9:00 AM-ritual hasn't included much writing. Oh, I've had plenty to write about, it's just that I've overcommitted myself (again) so that every spare waking minute seems filled with obligation. When I have some spare time, I usually go fishing. Since I bet you'd much rather hear about the fishing than the excuses, I'll dive right in.
If the paragraph above sounds familiar, it's because it's a re-run from an article I posted here on ChesapeakeLightTackle.com in April two years ago. I guess what goes around always comes back, and once again I'm struggling to keep too many plates spinning in the air. I sometimes have to scale down, tune out, and just fish. If I haven't returned an email or phone call recently, I apologize. The good news is that things are starting to settle down and I've found a few minutes for a fishing report and a word or two of advice.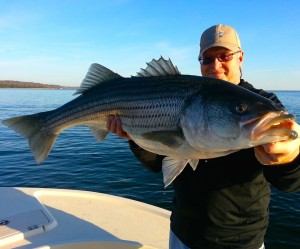 I bet you're aware that the rockfish catch and kill season opens this Saturday in Maryland. While I enjoy seeing people get excited about fishing, I always dread the start of the kill season. Opening Day doesn't mean much to fishermen who are in it for the simple joy of fishing. Most of us have been catching and releasing fish all winter. We fish because we love the sport, not because it puts meat on the table. I like to eat fish too, but you won't see me keeping any big stripers this trophy season. Read More!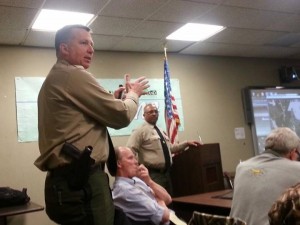 Would you believe in an advanced Doplar-based marine radar system that can detect a 3-foot-square object from 7 miles away?  Well, you better because it might just be zoomed in on you next time you're fishing on the Chesapeake Bay. Last night, I attended a presentation by the Maryland Natural Resources Police (NRP) about a new law enforcement tool called MLEIN. That stands for the Marine Law Enforcement Information Network.  It's a mobile command center consisting of radar monitoring, video surveillance, and advanced software that allows the NRP to keep a very close watch on what's happening on the water.  I was invited to the presentation by Candy Thomson.  Yes, the former Baltimore Sun Outdoors Girl has skipped across College creek to a new position in Annapolis as the Public Information Officer for the NRP.  I first heard about MLEIN a couple of years ago in one of her articles in the Sun Paper.  You can read it here.  http://articles.baltimoresun.com/2010-12-14/sports/bs-sp-chesapeake-security-system-20101214_1_radar-units-mlein-cameras
That article reveals a little more than DNR Special Projects Manager Tim Bowman gave away in his presentation last night.  Nevertheless, his updates for 2014 were extremely informative.  The twenty-something people in attendance – including 8 guys from CCA Maryland – were glued to their seats as Bowman showed real-life examples of how the system worked. Read More!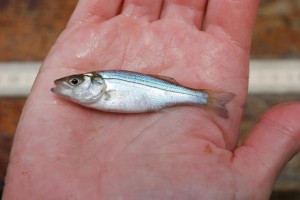 "Let's kill as many as we can before we have to save them." That seems to be the attitude of the Maryland Department of Natural Resources.  Tuesday, just before closing for a five day Thanksgiving weekend, DNR fisheries dropped a turkey on recreational striped bass anglers by announcing a 14% increase in harvest in the Chesapeake Bay.  At a time when striper stocks are steeply declining and states up and down the Atlantic seaboard face impending cuts mandated by the Atlantic States Marine Fisheries Commission (ASMFC), Maryland & Virginia are grabbing more fish.  Here's a link to the press release and a quote:
Determination of the Available 2014 Chesapeake Bay Commercial Striped Bass Quota
For 2014, it was decided  that fishermen could safely harvest 8,652,528 pounds of Striped Bass – without detriment to the Bay  population. The previous year's quota was 7,589,937 pounds and for the first time in many years the quota has been increased in the Bay. This increase of approximately 14% is attributed to a large number of fish from the 2011 year class (fish that hatch and enter into the population in a given year) which are just now reaching the legal minimum size of 18 inches.
I hope you find that as unbelievable as I do.  I've tried to keep fisheries politics out of this blog lately because I want to concentrate on the fun parts of our sport, but when something this egregious comes out, I think it's important to spread the news and let our fisheries managers know just how pissed off recreational anglers can be.   Read More!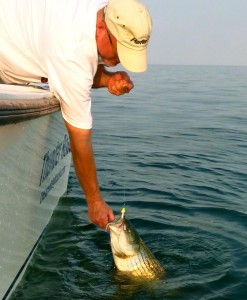 You've probably heard by now that the bottom is dropping out of striper fishing.  The latest Atlantic States Fisheries Commission (ASMFC) stock assessment shows a population in decline.  Don't be fooled by the first few lines of the report when it says, "Stripers are not overfished and overfishing is not occurring."  They've been saying that for years while fishermen all up and down the Atlantic coast have been warning of a crash.  Now we have proof.  Using the current fishing mortality threshold, we have been overfishing for striped bass five out of the last eight years.  If we keep catching at the rate we are now, the fishery will decline rapidly.  Concerned fishermen up and down the Atlantic coast agree that harvest reductions should be implemented quickly.  Check out this article from Captain John McMurray in New York.
Since striped bass is a highly-sought-after species with big money involved on both the commercial and recreational sides, any reductions will be controversial. I get the sense that there may be some within the ASMFC who believe that the commercial striped bass fishing industry has already sacrificed enough.  If that perception spreads, recreational fishing could take the brunt of the reductions.  I won't flesh out the arguments pro and con here, but suffice it to say that I believe cuts are overdue and necessary and should be equal across both sectors.
Commercial fishing aside, disagreements are sure to follow within the recreational community.  They will be especially apparent here in the Chesapeake Bay, where the charter boat industry and some fishing clubs rely heavily on fishing revenues from spawning-class stripers during times of the year when they are easiest to catch.  It's sure to get interesting, and I expect blood letting on all sides. Read More!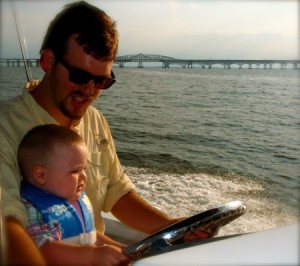 Sounds simple, doesn't it? A right to have fun? That's something we all take for granted. Well, you shouldn't according to some lawmakers in Annapolis. This week, a bill was introduced in the House Environmental Matters Committee that seeks to define one simple thing – that the public has a right to use and enjoy the water. Who wouldn't vote for that? Your delegate probably won't. In fact, the Maryland Department of Natural Resources (DNR) testified against it. Seem odd?
Here's how it breaks out. Some wealthy waterfront property owners got involved in a not-in-my-backyard user conflict over proposed oyster floats in the Chincoteague Bay. The case went to a hearing and the attorney general issued a half-witted ruling that said, "on public waters, the state does not recognize the right to recreate."  Seeking to appeal, the property owners got a few state delegates to help them out and a bill was introduced to make sure the right for recreation is defined in the law. Read more about it here.  I don't think the delegates – all from red districts – intended to do anything more than help out a few rich constituants, but they opened an interesting issue and things got dicey. Read More!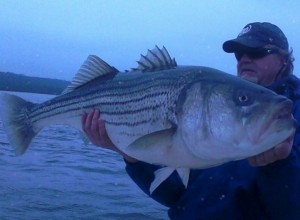 By all accounts, 2012 was an unusual year for fishing.  For me, it was absolutely strange at times. I jigged up my biggest striper of the year on the first day of the year, a 49-incher that might have pushed 50-pounds. It was the only fish I caught.  A few days later I got another 47-incher and another one about that size on the next day. Each time it was only one fish per day.  Is one fish worth five hours or more of casting?  When they're that size, I think so!  Those were some of my biggest fish of 2012, but I've been lucky enough to jig up a few more mid-40s class fish since then including this pretty 45-incher I caught in the snow this week.  Warm water discharge (WWD) fishing was good last spring, but we really had to pick our days.  Our most successful times were early-morning windy weekdays when it was raining or snowing.  The WWD big fish bite is always very specific.  I explain how to get the trophies in my book, Chesapeake Light Tackle, An Introduction to Light Tackle Fishing on the Chesapeake Bay.  Read More!