Click the Book Covers Below to Buy the Books

Current Moon Phase




Waxing Gibbous Moon




The moon is 12 days old


Distance: 56 earth radii
Ecliptic latitude: -3 degrees
Ecliptic longitude: 336 degrees


Recommendations

Good Information

Wind Weather & Tides

Meta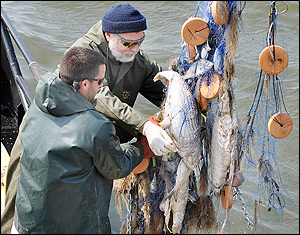 I've had my share of embarrassments in recent years. There was the time at a bluegrass show when, immediately after performing "How Many Biscuits Can You Eat," I choked on a country ham sandwich. I'm the guy who tripped over the curb a while back as I stepped up to shake hands with the Vice President of the United States. I've fallen out of boats, pitched backward off barstools, stumbled up escalators, tumbled down stairs, and spilled enough drinks at public dinners to float the Oxford-Bellevue Ferry.  Some of my hall-of-shame moments have been painful, and others downright funny, but there's nothing remotely entertaining about my most recent embarrassment. In fact, everyone in Maryland shares my latest shame. Last week, Chesapeake Bay anglers found and reported another fourteen hundred yards of illegal gill net containing more than three tons of dead and rotting fish. Add another nickname to the list that includes The Free State and The Old Line State:  Maryland – The Poaching State.
While that discovery of even more nets is reason enough for outrage, the sixteen tons of poached fish found this year is only a drop in the bucket compared to what has been recovered in the last ten years. The total for the decade is closer to a hundred tons, and that's only what we might know about. Here's some simple math: Let's very conservatively estimate that the poachers harvest their nets five times for every one the Natural Resource Police recover. (The real number is probably closer to fifty.) How does five-hundred tons of illegally caught rockfish in the last ten years grab you? How about the genuine possibility of five thousand tons? If that's the real number, we can forget other legitimately concerning issues like culling by North Carolina trawlers, off-shore fishing in the Atlantic Ocean, or the over-harvest of menhaden.  If Marylanders really want to know what's wrong with the East Coast striped bass population, we need only look to our own backyards:  Maryland – The Poaching State.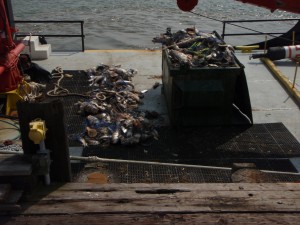 As shamed as most of us are by the poachers in our state, can you imagine how the decision-makers within our Department of Natural Resources (DNR) must feel? All soldiers know that what happens on their watch is ultimately their responsibility, especially when it happens again and again. There's obviously more to managing natural resources than caring for one species, but nothing gets more attention from the citizens of Maryland than the plight of our state fish, the striped bass. As poachers deliver one embarrassing slap in the face after another, fisheries managers have few ways to fight back against the public relations nightmare.  About the only weapon in their arsenal is repeated announcements that the poached fish recovered will be subtracted from the commercial quota. Since poachers sell their fish on the black market anyway, they could care less.  Maryland – The Poaching State.
For the most part, the DNR under the direction of Governor Martin O'Malley and Secretary John Griffin has done an exceptional job. They should receive lasting recognition for progressive initiatives such as advances in oyster management and emphasis on aquaculture.  The progress they've made toward the long-term sustainability of species such as yellow perch and flounder deserves prolonged applause.  They've turned the Maryland Fishing Challenge into a premier regional event and taken meaningful steps toward getting more children involved in outdoor activities.  These are amazing feats when you take into consideration that they are drastically understaffed and critically underfunded. The O'Malley Department of Natural Resources deserves to be remembered for more than gill net poaching. Yet, every net discovered undermines their accomplishments and makes it more likely that the legacy of this administration will boil down to one singular issue:  Maryland – The Poaching State.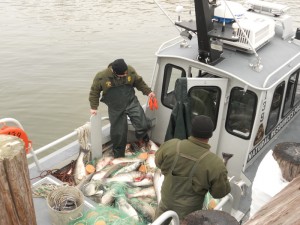 Since February 2011, Maryland Natural Resources Police have recovered more than sixteen tons of striped bass from illegal gill nets.  Remember the song by Tennessee Ernie Ford?  You dig sixteen tons and what do you get? Maryland taxpayers deserve more than another day older and deeper in debt. In the past decade the DNR has spent hundreds of thousands of resource dollars trying to police the gill net fishery. That's tax money that could have, and should  have been spent on more important resource issues.  When a fishery can't pay for itself it becomes nothing more than a welfare program.  Do the people of Maryland owe their soul to commercial gill netting?  How much more  poaching can the Chesapeake Bay tolerate? Maryland – The Poaching State.
The only possible solution is an outright end to commercial gill netting in the Chesapeake Bay.  If nets are outlawed, only outlaws will have nets.  That's real progress because a gill net isn't something you can hide in a pocket or under the dash. Outlawing nets will make poachers markedly easier to find and identify.  Since gill netting takes place in the dead of winter,  Natural Resource Police could easily recognize the poachers because there will be fewer commercial boats on the water. How much more money should be spent maintaining the most embarrassing fishery on the East Coast?  How much longer can we put up with the shame of poaching in our state?  Enough is enough. Let's hope our leaders act soon to ban gill nets. That would go a long way towards removing our new nickname:  Maryland – The Poaching State.
Responses to "Maryland – The Poaching State"