Click the Book Covers Below to Buy the Books

Current Moon Phase




Full Moon




The moon is 16 days old


Distance: 61 earth radii
Ecliptic latitude: 4 degrees
Ecliptic longitude: 92 degrees


Recommendations

Good Information

Wind Weather & Tides

Meta
stevensville
Currently browsing articles with a topic of "stevensville".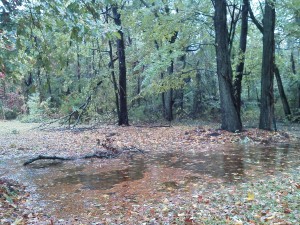 Hurricane Sandy was easy on us here on Kent Island.  Some of my neighbors to the east weren't so lucky.  I've seen several pictures of trees down and houses damaged this morning. Our biggest issue now is flooding due to rain and post storm surging. Most of the creeks are out of their banks and into the roads. There has been some coastal flooding farther down the Bay including in the Taylors Island area and the Choptank River.  High tide at Matapeake was at 5:49 AM and water did over-top some of the local docks.  There hasn't been much outgoing so we'll have to wait and see what we get when the tide peaks again at 6:38 PM.  My guess is that it will be high, but not so much that we get major flooding.  The storm moved through much more quickly than expected so we didn't get a lot of south winds on the back side.
My early assessment of the impact on the Bay and fishing is that Sandy will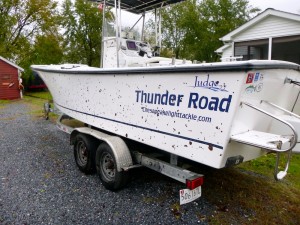 have a punch, but not as serious as the storms we had last year.  We'll get a lot of bad water and debris down from the Susquehanna and other rivers, so the Upper Bay is probably done until late November.  On the other hand, I think we'll be back in action in Eastern Bay and the tributaries in less than a week.  We'll see how that prediction holds up. I'm off to wash the leaves off my boat. Good luck to those who are cleaning up today and let's all send good thoughts and prayers to our friends and neighbors farther north and on the coast who really bore the brunt of Hurricane Sandy.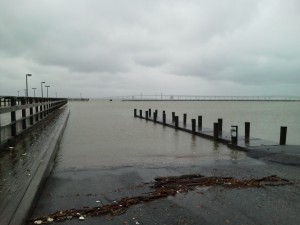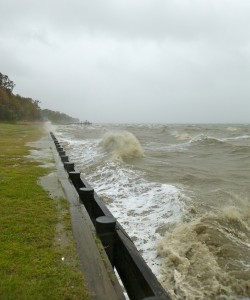 Hurricane Sandy has sped up and will make landfall sooner than expected.  I suspect that's good since she will hopefully move through more quickly.  Unfortunately, the center of the storm has turned slightly southwest, and is now projected to track a few miles north of us. The Bay Bridge is closed after recording three gusts over 55 MPH within 10 minutes.  I'm hearing a few limbs cracking in the woods behind our house and I noticed some trees down when I visited Matapeake a few minutes ago. 
We've seen 8 inches of rain so far and it's coming down harder than ever now. There's been a lot of damage due to storm surge on the ocean side of Delmarva including Ocean City, Maryland, but we still aren't seeing a storm surge this far north on the Chesapeake side.  There is a surge lower in the Bay on the east side and I just heard Crisfield, Maryland has been evacuated with 3-5 feet of Bay water in the streets. Power is still on over most of Kent Island.  Here's a video I just shot at the Matapeake pier.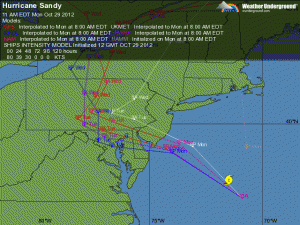 Winds have remained steady at 30 knots overnight, but are beginning to pick up now. A gust of 50 MPH was just recorded at the Kent Narrows bridge.  The Bay Bridge remains open, but I just saw a tweet that it will close at 1:00 PM. Storm tracks are narrowing some, but there is still some question as to whether the eye of the Hurricane will pass north or directly over us here on Kent Island.  Considering the size of this storm, I'm not sure it really matters.  Our biggest issue right now is standing water.  The ground is saturated and it's sure to keep raining for a couple of days.  I haven't heard of any power outages yet on the Island.  Here's some shots of Matapeake and Kent Narrows.  Stay safe.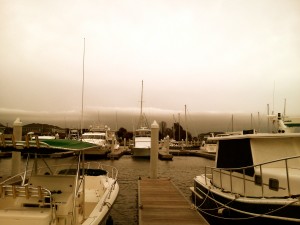 Last year I entertained myself during Hurricane Irene by blogging about the storm, so I thought I'd do it again with Sandy.  While some storm tracks have Kent Island directly in the path of the storm, it looks more likely that it will come ashore about 60 miles north of us.  That's too close for comfort with a storm this big.  As of 3:00 PM Sunday, we are just starting to see the first bands of the hurricane.  It's raining lightly and winds are from the northeast sustained at 29 knots at Thomas Point Light on the Chesapeake Bay. If the storm stays north as projected, I don't expect a strong storm surge. Tides were pretty high last night, but the northeast wind will actually push water out of the Bay.  We might even seen record low water, so I'm standing by with my relic hunting gear just in case some of the colonial sites and shipwrecks are exposed.  Our biggest concern is trees and limbs coming down and flooding from the expected heavy rains. Since this is a fishing site, I'll also report that fishing was not particularly good yesterday although we did catch a few on topwater in the Eastern Bay shallows. Stay tuned and I'll do my best to keep you in the loop about the storm.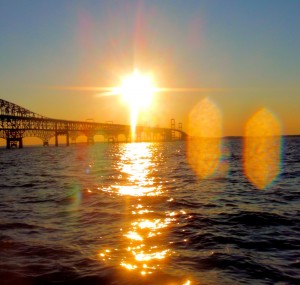 We interrupt this hurricane blog to bring you a fishing report.  Yes, this IS a website dedicated to light tackle fishing, and on most Sunday evenings, that's what I do.  I spent most of the day singing the lumberjack song with chainsaw in hand, cutting up the trees and limbs that fell in our yard.  After seeing all the trees down around Kent Island today, I'm surprised that we didn't have more damage than we did.  We are also fortunate that the only complete tree that was uprooted in our yard fell harmlessly instead of taking out our picket fence or part of the church next door.  We worked on the house and yard most of the afternoon, finishing about 5:00 PM.  That left just enough time to go fishing.
I launched Thunder Road at Matapeake and ran north to the Bay Bridge.  Winds were about 12 knots out of the west when I started, but came down to near zero as the evening wore on.  The water was stained, but not as much as I expected.  Water temperature and air temperature were exactly the same at 76 degrees. That's significant because the water has been well into the 80s.  It means there was a lot of top-to-bottom mixing due to the storm. I did expect the fish to be freaked out and hunkered down, and they were.  I gave the Bay Bridge a good shot, but only caught one little rockfish.  I thought the fish might be deep, so I started my fishing trip looking for more of a winter pattern.  I marked a few fish deep, but I couldn't get them to bite.  I moved to the shallow pilings and there wasn't anything going on there either.  Read More!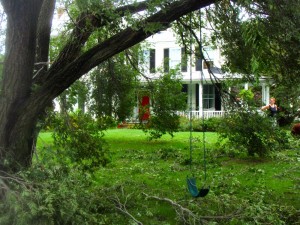 Most of the damage here on the island came from falling trees.  Since the wind is still gusting into the 40 mile-per-hour range, and the ground is completely saturated, more trees could fall.  I've heard of a few houses and stores that were hit by flying debris, tree limbs, etc. but it sounds like most of the island came through the storm fine. UPDATE: 12:36 PM – One confirmed death in Queenstown due to a falling tree leading to a chimney collapse. We lost power here in historic Stevensville at 10:14 PM, but it was back on at 9:00 AM.
Since the storm stayed off the coast and winds have stayed from the northeast, a storm surge never materialized, but there were some very big waves on the Bay. I'm attaching a graph from the Gooses Reef Buoy. A giant 29-foot wave was recorded by First Landing Buoy at the mouth of the Bay near Cape Henry. That may be the biggest wave ever recorded for the Chesapeake.
I will eventually get out and look around,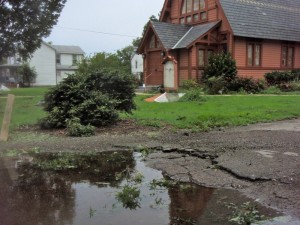 but I think it's wise to keep the roads clear for emergency vehicles and highway crews right now. We still hear sirens from time to time. The Bay Bridge has reopened under Phase II wind restrictions. Here's some shots of our house and the immediate area.