Click the Book Covers Below to Buy the Books

Current Moon Phase




First Quarter Moon




The moon is 7 days old


Distance: 59 earth radii
Ecliptic latitude: -4 degrees
Ecliptic longitude: 264 degrees


Recommendations

Good Information

Wind Weather & Tides

Meta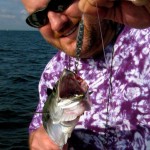 "Too slow!"
That's the two words you're most likely to hear on Crockett's Reel these days.  It means someone onboard has accidentally hooked up a rockfish or a bluefish.  When casting for macs with light spinning gear, the second most successful cast is one that doesn't catch a thing.  Mac casting is one of my favorite summer pastimes because it takes Chesapeake Bay fishing to another level.  For spaniards, you first have to find the blitzing schools of bluefish and stripers, then turn loose of everything you've been doing all year, and try not to catch them. 
Spanish move up the coast from Mexico and Florida in summer months as water temperatures rise.  Much more common and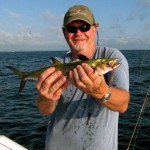 easier to catch down south, they reach the Chesapeake Bay in July and August. Some years they come up farther than others, but the Bay Bridge is usually the northernmost edge of their migration.  It's normally Mid-August before they reach the fishing grounds around the Eastern Bay.  This year, a few fish showed up early, but the bigger schools have just now arrived in force.
The most successful method for catching macs is fast-trolling with multiple rods.  Trollers use in-line planers to keep the lures deep.  If you want to put meat in the boat, that's the way to go.  But if you like a challenge and want to experience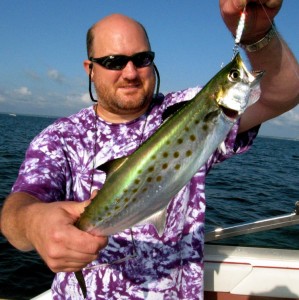 light tackle action at maximum intensity, limber up your elbow and start casting.
Mackerel are extremely aggressive and great fun.  Often you can see them streaking through the water, cutting through the feeding frenzy and zipping past other fish as they pursue your fast-moving lure. Once they're on, look out!   First they're screaming away from the boat, taking drag and peeling line.  Then, in a a split second they've turned on a dime and they're racing back toward you leaving you with so much slack in your line you may never catch up.  Hooking a spanish mackerel is one thing, landing one is something else entirely.
When casting, the object is to get the lure moving so fast that macs are the only fish that can catch up. I start with a 6'6″ to 7′ spinning rod with a reel that will allow a very fast retrieve.  Long limber rods make it easier to cast farther. Spinning reels are usually faster than baitcasters. I use ten pound test braided line. Over-spooling the line on the reel will help because it allows faster line take-up and accelerates the retrieve.
Macs have great eyesight, so I attach 25 pound test fluorocarbon leader and  a small flashy lure that is heavy enough to easily cast.  Often, a 3/4 ounc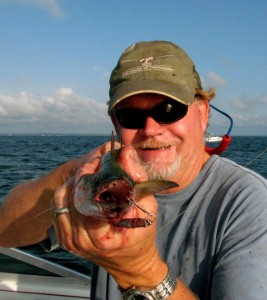 e inline sinker dressed up with some flash-tape with an attached hook is all you need.  Macs will see swivels or snaps, so always tie the leader directly to the lure.  If you need a swivel to prevent line twists, put it on above the leader.  I simply cast into the breakers, or toward a mackerel I see jump, and reel like mad.
The last couple of days I've fished with my brother-in-law Mitch.  We took his boys Fred & Milt out last night.  We threw for mackerel while they caught bluefish and an occasional small striper.  We got back out this morning to specifically target macs, and had better success.  Water temperatures south of Poplar Island are about 79 degrees, down from the low 80s we had earlier in the week.  We had slack tide most of the morning and the best bite was right after sunrise.  We moved around through several schools of breakers looking for the pods that held the highest concentrations of spaniards.  By 9:00 AM the bite had died and we were home by 9:30 AM with a cooler full of fish.
Spanish mackerel are absolutely delicious.  They may be my favorite table fish in the Bay.  Since their time in the area is relatively short, they usually don't pick up a lot of toxins and bacteria from these waters.  They're the only fish from the Chesapeake that I'll eat raw.  We decided to bring some home for a sashimi lunch.   Here's how I prepare them: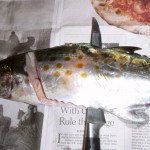 Starting just behind the pectoral fin, make a slightly diagonal cut down to the center bone.  Use a very sharp filet knife. Make sure you don't cut all the way through the backbone.  When you reach the bone, turn your knife towards the tail and continue cutting along the top of the bone until you reach the tail. Don't worry about rib bones, you won't feel them.
Some sushi chefs leave the skin on mackerel and seer it with a blow torch, but I like to take
it off. Lay the filet skin-side-down flat on the cutting board.  Start at the tail and move your knife back up toward the front slicing just above the skin.  The skin is thinner than most fish, but don't worry if you cut through it.  Just turn the filet over and slice it off.
Spanish mackerel have a row of very thin bones along the lateral line.  You can see where they are easily because the meat is red.  Cut along both sides and remove both the red meat and the bones.  You may also want to remove the belly section at this time. This is Crockett's favorite part!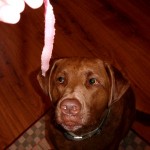 You're now left with two strips of beautiful white boneless meat.  Don't do anything else.  Don't salt, wash, dry, soak ,season, or otherwise dress them in any way.  They're pefect just like they are.
I like to make sushi rice by adding a little sugar and rice vinegar to short grain white rice.  I add a little more water than normal so it comes out sticky.  I chill the rice with the fish for about an hour.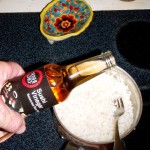 I form the rice into small bite size pieces, then cut the filet strips into chunks.
Mix up some wasabi and get out the soy sauce, and enjoy!
Responses to "Casting for Spanish Mackerel"