Click the Book Covers Below to Buy the Books

Current Moon Phase




First Quarter Moon




The moon is 7 days old


Distance: 59 earth radii
Ecliptic latitude: -4 degrees
Ecliptic longitude: 264 degrees


Recommendations

Good Information

Wind Weather & Tides

Meta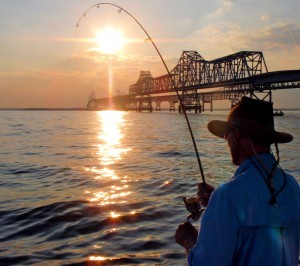 Mmm, July on Kent Island: when the water is savory and smooth and salted with all manner of boats, when tourists flock to the Eastern Shore beaches and bridge traffic backs up for miles while drivers peek over the rail for a glimpse of the sparkling spectacle that is summertime on the Chesapeake Bay.  Summer can be both sweet and sour to Chesapeake fishermen. Sometimes we wonder if it's worth trying to fish in this Hell's Kitchen of boats, everyone jockeying for the single best position from which to make the sweetest cast.  But fish we must, so we line up like line cooks to join the fray, vowing to stay even-tempered when inevitable conflicts arise and deluding ourselves that, when we get there, we'll have that delicious "top-secret" spot all to ourselves.  Mmm, mmm, summertime, sweet summertime.
The best recipe I know for summer success is to season our trips so they are as much about the experience of fishing as they are about catching fish.  For most fishermen, a two-fish-and-you're-done excursion isn't much fun. A meal that's all about the meat can be way too bland.  So we try to spice things up by chasing other species, exploring new locations, and working on different fishing techniques.
My recipe usually depends on who I'm fishing with.  If it's my regular fishing partners, we'll probably look for places where we think our chances are best for landing 30-inch-plus fish.  If I have friends and family on board who are new to the Bay, I want to cruise past scenic locations towar
d areas where I hope to find concentrated breaking fish.  With close friends who live nearby, or when it's a special night with just my my wife along, an evening cruise to a dockside restaurant is frequently the best formula, with maybe just a stop or two along the way to drop a jig or cast a top-water plug.  Fortunately, it isn't too hard to come up with a tasty recipe for summer fishing in this Chesapeake country we call the land of pleasant living.
This past weekend I fished with my brother-in-law Mitch and his friend Jim.  Jim lives in New Mexico and Mitch is from Michigan.  They stopped by on their way to a conference in Rhode Island.  (Maryland isn't really on the way, but you know.) Since both are experienced fishermen, I hoped we could combine the best of both worlds by finding bigger fish while covering enough water to give them a good taste of summer fishing in the Chesapeake.  Their Friday evening arrival gave us enough time after dinner to share a few drinks beneath the ferns in the white wicker chairs on the front porch where we swapped recipes for homemade whisky, exchanged fishing stories, and made plans for the next day.
Breakfast Saturday morning was also on the porch – steaming Eight-O'clock coffee and sweet, fruity pastries from Peace of Cake, our down-the-street neighborhood bakery.  After stopping at Kent Island Depot for ice, drinks, and freshly made sandwiches, we launched Thunder Road about 10:30 AM at the Shipping Creek Ramp.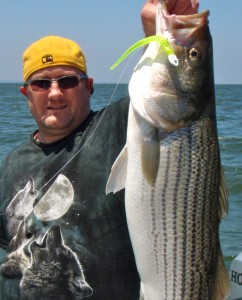 We rounded Long Point and headed south across the Bodkin Sands to look for fish on the ledges along the channel.  It took a couple of stops, but we eventually saw good marks on the fish finder and started jigging.  Not long after we dropped our jigs, Jim noticed breaking fish off to our right – mostly stripers but there were some snapper blues in the mix.  We roared upwind of the blitz and Mitch showed the power of his three-wolf-moon t-shirt by being the first to hook up with a hefty thirty-inch plus striper on a chartreuse BKD and a half-ounce jig head.  It didn't take Jim long to follow with a nice fish of his own.  The school went down, so we moved back over the ledge and waited.  Sure enough, they came right back up again.  We pulled a few more fish out of the blitz before they disappeared.
We might have stayed around and waited for another feeding frenzy, but I thought we should see more territory so we motored south past Sharps Island Light and caught up with the live-lining fleet on the north side of the False Channel.  We sneaked a half-dozen drifts in between the anchored boats, catching fish on every pass, then moved south to the solitude of the other side of the channel where we found more nice fish and even a few good-sized croakers waiting.  A couple of the charter captains – guys I know – spotted our bent rods and moved over to join us.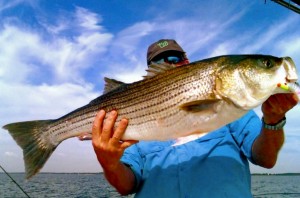 The current slacked, providing us with the opportunity to enjoy our sandwiches.  The deli at the Depot was originally designed by a french chef. Bruce, the new owner, has kept up the fine gourmet tradition. It's the only place I know where you can get bloodworms, biscuits & gravy, and fine french wine. After lunch, we cruised up to the southern tip of Poplar Island, where we spotted a few least terns diving over some small splashes that turned out to be tiny bluefish feeding on glass minnows.
Once we figured out what was going on, we cruised on north up the windward side of Poplar Island, stopping along the way to jig beneath the pods of bigger bait we could see on the surface.  Mitch and Jim are both chemists, so they used the time to compare a few of their professional formulas using a language I've never heard before. Mitch is a very good cook in his own right, but I don't think the ammonia recipes they discussed were edible.
I wanted to finish the evening at the Bay Bridge, so we ran north across Graveyard and Brickhouse bars.  As expected. there were boats on nearly every piling when we arrived.  I observed some of the rudest behavior I've ever seen at the bridge, but managed to keep a fairly cool head and left the over-wound idiots to the pilings they were so keenly guarding.  It turned out that the better fish were well off the bridge anyway.  We found plenty in the keeper range, enough to make me move up to 10-inch lures at least, but all the fishing activity had most of the bigger stripers hiding out. We still managed to catch the blue-green reflections of a few hefty fish in the freshly-polished hull of Thunder Road.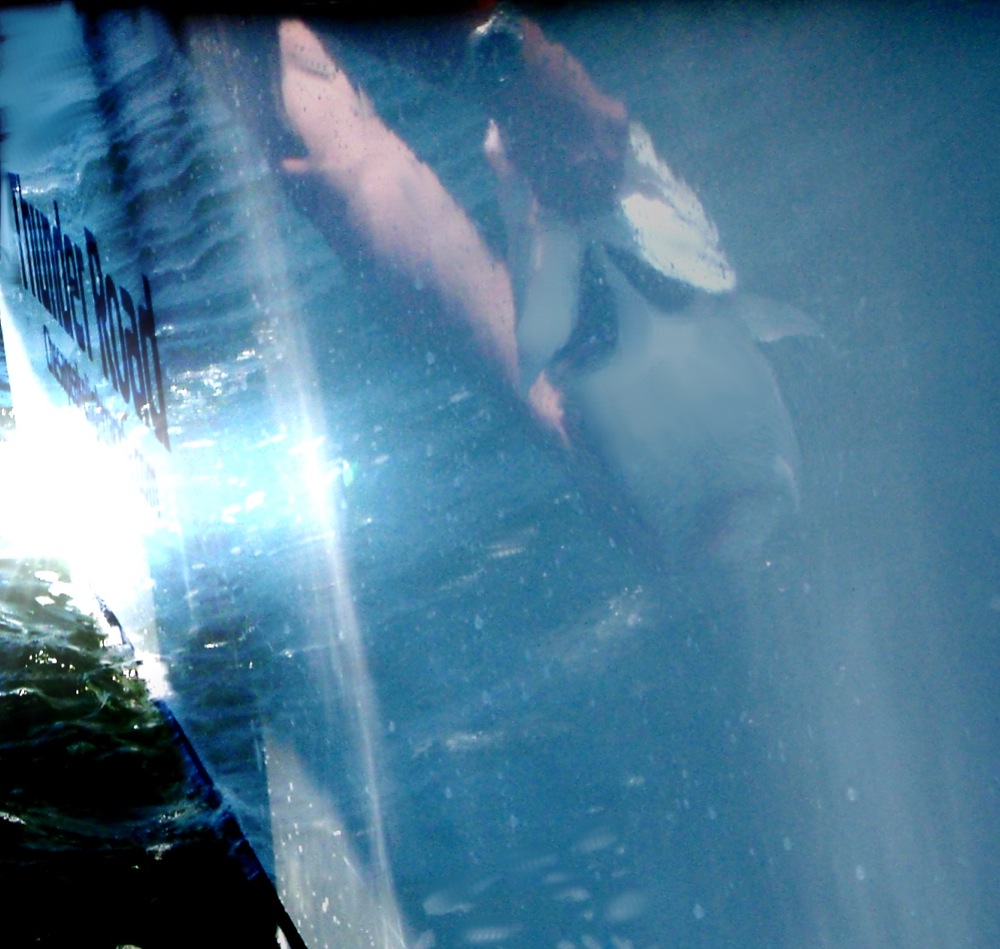 After sunset, we ran north around Love Point then up the Chester River to Kent Narrows where we docked the boat and met my wife for dinner at Bridges restaurant.  As usual, the drinks were cold, the menu was interesting, and the food was great. I ordered red snapper. It was prepared so deliciously that I resolved to try and duplicate the technique with rockfish.  After a leisurely dinner, we completed our circumnavigation of Kent Island by gliding south beneath a bright and waxing quarter moon across dish-calm seas through Parson's Straits, back around Bodkin Sands, then due west to Shipping Creek.  I thought our plan worked out very well, and we went home happy with our successful day on the water.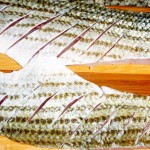 Speaking of recipes for success, here's my striped bass version of the snapper dish I enjoyed at Bridges.  I doubt it bears much resemblance to their technique, but it's still pretty darn good!
Crackling Rockfish
Catch and filet one striped bass.  Scale both filets but leave the skin on.  Make diagonal slits in the skin about a half-inch apart.
Sprinkle both sides with sea salt and black pepper, then sprinkle the skin side with a very light dusting of flour.
Heat up a frying pan and crisp three or four strips of bacon.  Fry it until it's very well done and crumbling.
Once the bacon is fried, move it away from the heat and add some sliced polenta to the grease. Warm the polenta in the hot grease on both sides.  You don't need to cook it long. (You can get polenta in the ethnic foods section of most grocery stores.)
Remove the polenta and bacon crumbs from the pan.  Drain the crumbs on a paper towel and save.  You'll use them later.
Heat the remaining bacon grease so that it's very hot, just short of smoking.  Put in the rockfish filets skin side down.
Grab a spatula and move the filets around frequently so they don't stick, but don't turn them.  Cover the pan and let them cook until the skin side is very crispy and the filet side is white but not translucent.
Make a sauce out of equal parts sweet red chili sauce, soy sauce, and vinegar.  Bring to simmer.
Plate the rockfish skin side down.  The skin should turn out crunchy with a flavor similar to pork cracklings.
Pour the sauce over the rockfish and polenta, then sprinkle with crispy bacon crumbs.   Garnish with scallions and serve with a vegetable of your choice.
Mmm, mmm, summertime sweet summertime.
Responses to "A Recipe For Success"