Click the Book Covers Below to Buy the Books

Current Moon Phase




Waxing Gibbous Moon




The moon is 12 days old


Distance: 56 earth radii
Ecliptic latitude: -3 degrees
Ecliptic longitude: 336 degrees


Recommendations

Good Information

Wind Weather & Tides

Meta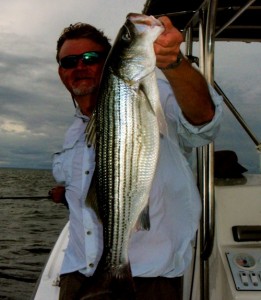 We've enjoyed a pretty good spring of light-tackle fishing on the Chesapeake Bay.  Water temperatures warmed early, then leveled off through the end of April into May.  Top-water casting is good right now at some places.  Some anglers are even sight-casting surface lures and flies to cruising fish on shallow oyster bars near the mouths of the rivers.  The water in some parts of the Upper Bay is clearer than I've ever seen it.  While that makes surface fishing enjoyable, it also makes jigging tough since it's easier for stripers to distinguish the difference between our lures and baitfish. The clear water looks nice,  but there's a big problem lurking below the surface: Low dissolved oxygen (DO).  Measured in milligrams per litre, dissolved oxygen levels were recorded at 1.04 on the bottom beneath the Bay Bridge in April.  That's lower than they've been in twenty-five years. Look out for big algae blooms coming soon. Salinity also peaked to record levels in April.  Last spring, Bay Bridge salinity was 4.20 ppt.  This year, it's more than twice that at 10.50 ppt.  DO levels are also low in Eastern Bay, although salinity there is closer to normal.  What does this mean for the fishing?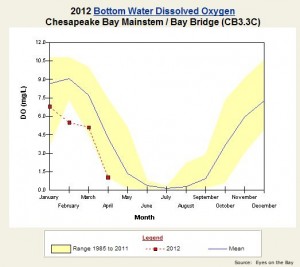 Low dissolved oxygen levels have historically been related to the amount of fresh water coming down from the Susquehanna and other upper Bay rivers.  Usually, more fresh water entering the Bay in the spring means higher DO.  For example, spring runnoff was very high back in 1993, and that was a year when DO levels were also very high.  But wait a minute, this year we had a mild winter with very little snow in the Susquehanna basin, so there hasn't been as much freshwater flow.  Also, the water is clear indicating there aren't as many nutrients as in years past and fewer algae blooms.  Why is the oxygen so low?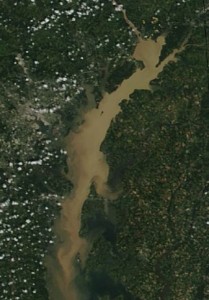 Ed Liccione, president of CCA Maryland, recently asked Maryland DNR scientists this question.  Apparently, it's somewhat unclear, but according to the experts, warmer water is partially responsible.  We may also still be seeing the results from last year's Hurricane Irene and Tropical Storm Lee.  Even though these storms temporarily flushed the dead zones out of the Bay, they also brought down thousands of tons of nutrients and bay-grass-killing sediment from the northern rivers.  Just after the storms hit, scientists told us we'd have to wait and see what the negative effects might be (see link).  It's  been eight months, are we seeing them now?
The unfortunate effect of low DO on fish is that it reduces their habitat.  That means places that were once prime fishing spots may no longer be.  A good example is the deeper pilings around the Bay Bridge. According to some of the old-timers I've talked to, there was a time when you could easily catch rockfish and trout in depths of forty feet or more on the bottom around the pilings.  That doesn't happen anymore.  Now if fish hold around the deep pilings, they're always suspended because they can't survive down deep anymore. Fishermen have to look in shallower water for a more consistent bite.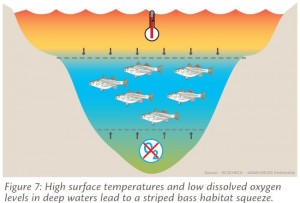 If you've read my book Chesapeake Light Tackle, An Introduction to Light Tackle Fishing on the Chesapeake Bay, you know that fish would rather eat a little in water they find comfortable, than a lot in conditions they don't like.  I fished the past couple of evenings and found that striped bass in the main stem of the mid and upper Bay are tightly squeezed into a feeding zone between eighteen and twenty-four feet deep.  Due to an early hatch of May worms, the fish are feeding on or near the bottom.  That means we have to look for productive ledges at that very specific depth, and we have only a six foot strike zone in which to jig. Tough!
Fortunately, the water gets better once you get away from the main stem and there are some fish feeding on top now along the shore near the mouths of the rivers.  The necessary ingredients are clean water, moving current, baitfish, and deeper water close by.  Just like with jigging conditions, that can be a difficult combination to find, but there are enough places like that around to make looking for them worthwhile.  Spooks are producing better than chuggers for me right now.  The most productive topwater lure I've seen this spring has been a white Lonely Angler Zipster Spook.  My buddy Jamie Clough fished circles around me a couple of times with this lure before I finally had the good sense to look into my tackle box and pull out one of my own.
Things are getting better at the Bay Bridge but the bite is still somewhat inconsistent.  My friend Kevin Keno from Rockville, Maryland has pulled out some nice piling fish recently using his old-school bucktail and pork rind technique.  Sometimes the tried and proven methods are the best. Expect fishing at the bridge to pick up over the next couple of weeks.  I hope to get out some this coming weekend and I'm also planning a speckled trout trip soon down around the islands of the Tangier Sound.  I'm collecting more information about those low DO levels and I'll keep you posted. If you'd like more infomation, check out Maryland DNR's comprehensive Eyes On The Bay website or sign up for their Facebook or Twitter feeds.  In the mean time,  let's hope DO levels start heading back in the right direction and that the fish get a little easier to catch!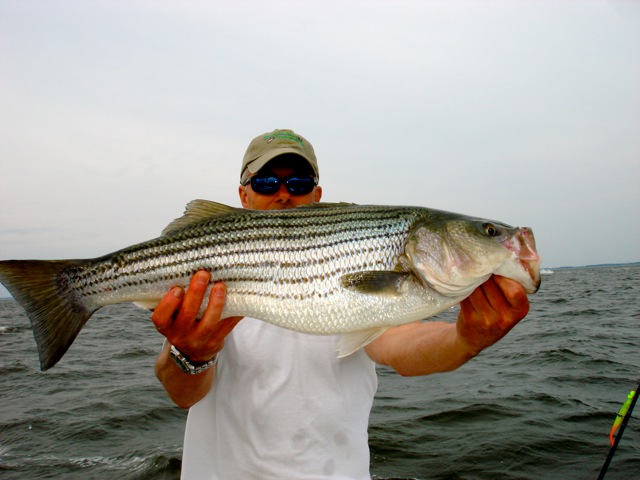 Responses to "Low Dee Oh!"