Click the Book Covers Below to Buy the Books

Current Moon Phase




Full Moon




The moon is 16 days old


Distance: 61 earth radii
Ecliptic latitude: 4 degrees
Ecliptic longitude: 92 degrees


Recommendations

Good Information

Wind Weather & Tides

Meta
I got out about 7:00 PM this evening launching off the east side of Kent Island at the Shipping Creek ramp. I owed Crockett a trip and I was hoping the new moon would bring good current. It did. Some of the crab traps were almost pulled under the dish-calm water. I found working birds on the 10 to 20 ft ledge just south of Romancoke Pier, and played with a few bluefish.  The schools were running back and forth between Romancoke and Hooligan's Snooze. I could probably have stayed there all night, but I was hoping to find a few rockfish.  I pointed Crockett's Reel southwest and found birds and breakers within a few miles. I started out bouncing soft-plastics off the bottom, then tried throwing a red-head Super Spook hoping to it would be too big for the smaller rockfish and blues. I got a few better fish but usually the dinks got to the lure first. I moved out closer to the shipping channel and found a school of mostly bigger fish so I decided to drag my fly rod out of the cabin.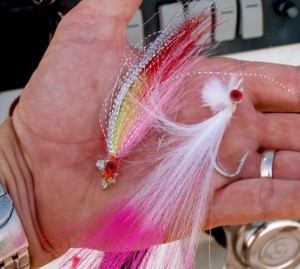 To say the fish need to be jumping in the boat for me to catch them on a fly isn't much of an exaggeration. I think I could've wrapped a buzzard feather around a coat hanger and caught fish tonight, but I'd recently tied up a couple of clousers that I wanted to try out. As usual, I had fast-sinking fly line wrapped around my feet, my neck, and every possible protrusion on the boat. Somehow, on one out of about every ten casts, the line actually pulled tight enough for the fly to land in the water. I needed to bring a few fish home so kept a couple of 20 somethings along with a few blues.
Fishing is really good now no matter where or how you fish. Best depths are between 10 and 20 feet. There were a few birds but also occasional pods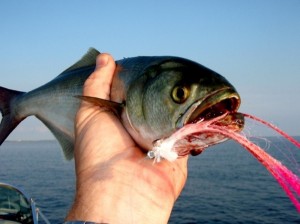 of breaking fish without a seagull in site. We had a late dinner tonight; bluefish cakes Tattoo Charlie's recipe, and homegrown tomatoes courtesy of Der Fischadler.
Responses to "Kent Island Fly Fishing"