Click the Book Covers Below to Buy the Books

Current Moon Phase




Waxing Gibbous Moon




The moon is 12 days old


Distance: 56 earth radii
Ecliptic latitude: -3 degrees
Ecliptic longitude: 336 degrees


Recommendations

Good Information

Wind Weather & Tides

Meta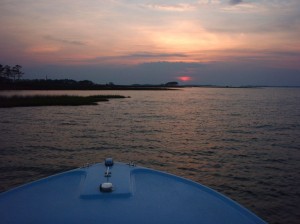 As the old saying goes, if we caught fish every time we went out, they'd call it catching instead of fishing.  So, I guess my Friday evening/Saturday morning over-nighter to southern Maryland was a fishing trip, because there wasn't a lot of catching involved.  Striper fishing has been pretty good around the Bay Bridge and Poplar Island this week.  We've been landing our share of mid-20 inch rockfish on light tackle with an occasional 30 incher mixed in, but I was hoping for more of a challenge.  Friday afternoon, I launched out of Shipping Creek and pointed Thunder Road south though Poplar Narrows, past Sharp's Island Light, around the Jame's Island Horn and down past Hooperstown to the area just north of the Virginia Line that has been producing big red drum. It's a 60 mile run – two hours in perfect conditions – but it took me a little longer.  One reason is because I crossed the Bay for a visit with Mike at Buzz's Marina, another reason is because I hit a pound net, but my biggest challenge was the wind. Here's the story.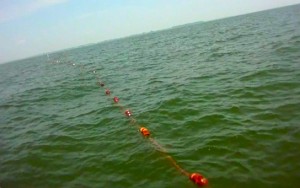 Just south of Taylor's Island there is an area where there are dozens of pound nets.  I tried to stay in the deeper water outside them, but there are places where the nets stretch right out to the channel.  I slowed down to keep a sharp lookout.  Complicating matters were the many crab pots in that area.  The commercial crabbers are working depths of 16 to 20 feet right now.  In some areas crab pot floats are so thick it's like navigating through a mine field.  Just northwest of the lower Hooper's Island bridge I noticed a line of floats in front of me.  My first thought was that I was approaching more crab pots, but it quickly became apparent that I was coming up fast on a floating net.  With no hope of stopping in time, I pulled back the throttle, killed the engine, and started trimming up the outboard motor.  I almost made it across but my prop caught the top of the net.
The prop wasn't fouled too badly, but because the motor is on an extension bracket, I couldn't reach it with my hands or even a boat hook.  My only choice was to get in the water.  It's never a good idea to go into the water when fishing solo, even on summer days when there's little chance of hypothermia.  The biggest danger is that strong Chesapeake currents can cause the boat to drift away faster than one can swim.  I'm a strong swimmer, but I knew I could have problems getting back to the boat once I got the prop free of the net.  To be safe, I tied a rope to the stern cleat and put it though my life-vest.  It only took a few seconds to disentangle the prop from the undamaged net and I was back in the boat and on my way.  I filmed the entire episode with my video camera.
While navigating around the many nets I noticed something floating in the water so I motored over to take a look.  Sadly, it was a huge sea turtle, probably a loggerhead.  According to scientists, there is overwhelming evidence that accidental capture in fishing lines, hooks, nets and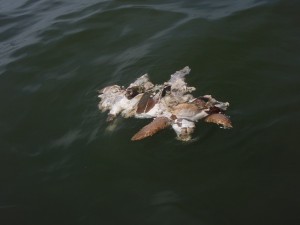 dredges is the main culprit in the decline of this endangered species.  A little farther down the Bay I noticed another big floating turtle.  I remembered to take a picture this time.  I'm not making any assumptions that these turtles were killed by nets, only pointing out that they were floating in an area where there are many pound nets.
With late afternoon temperatures approaching 100 degrees, I pulled into Buzz's Marina on St. Jerome's Creek near Point No Point in southern Maryland.  On the way through the buoys I dialed up Michael the dock owner on my cell phone and he met me at the gas pumps.  Mike has been successful in catching red drum by jigging this year, so I had a lot of questions.  He was very generous in response, pointing me in right direction and even showing me the lures (BKDs), rods, and reels he has been using.  I'd like to spend more time at Buzz's Marina.  Located in a rural corner of Southern Maryland, It reminds me a lot of the docks where I worked as a kid back in Tennessee.
The Chesapeake was flat and calm through most of my trip, but things changed once I got south of the Potomac River.  This time of year, the Bay makes its own weather. Convection windstorms occur when there are very warm temperatures over dry land while water temps remain relatively cool.  Hot dry air rises quickly and the Bay compensates by producing rapidly increasing updrafts. Conditions can be quite severe. Waterspouts and tornadoes are not unheard of.  In fact, Mike told me about a waterspout in St. Jerome's Creek on a sunny day earlier in the week. Boats caught in this situation are at the mercy of the elements. I've seen this phenomena previously on a small scale, but nothing like what I saw off Smith Island Friday night.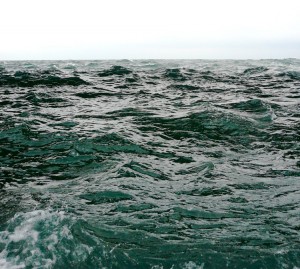 The wind came up fast and hard with gusts stronger than twenty knots and increasing as the evening wore on.  The Bay is wide open here with no land in sight, so there's plenty of room for the waves to fetch up and get big. By sunset, I was wet and beat up.  It made fishing tough.  I located a small school of four to six pound bluefish in depths between fifteen and seventeen feet and started jigging a red and white BKD on a one ounce  jig head.  Unfortunately, the wind and fast tide wouldn't let me stay on them but for a few seconds at a time.  In order to catch drum I would have to keep the lure on the oyster shell bottom, but my fast drifting boat made that almost impossible.  Every time the lure pulled up even a few feet it was annihilated by a ferocious blue.  I stayed after them by frequently repositioning the boat, hoping they would eventually come up and start breaking so I could more easily work beneath them.  By 9:30 PM, well after dark, I decided to call it a night.
On most nights I would've just anchored up and slept in the open Bay, but the high winds were causing the boat to bounce so much that I knew it would be hard to sleep.  I decided to run northeast into the Holland Straights and anchor in the lee of South Marsh Island.  Here, I was thankful for the wind because the area is notorious for mosquitoes and biting flies.  Fortunately, they left me alone.  I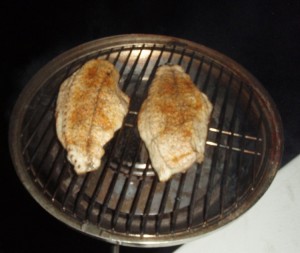 brought along a stainless steel propane grill which I secured into a rod holder before putting a couple of bluefish fillets skin-down on the grate.  Other than some fresh-picked homegrown tomatoes, I didn't bring anything else to eat.  I had the foresight to pack some salt, pepper and Old Bay seasoning though, so before long I had a Chesapeake summer meal that would make any chef in Baltimore proud.  Topping things off, I remembered a bottle of George Dickel I have been keeping in the first-aid kit. With temperatures still over 80 degrees, there was no need for a sleeping bag.  I hung up my wet clothes on the t-top and settled down on a bean bag chair to ponder the constellations and let the marsh frogs sing me to sleep.
The wind was still whipping when I woke up at 4:30 AM.  I was determined to be on the fishing grounds by first light so I pulled anchor and pointed the bow into the chop.  It took me a good thirty minutes to navigate the ten miles back out to the oyster beds.  When I arrived I was surprised to see another boat already fishing in the 3-4 foot waves.  Try as I might, I couldn't find the fish, not even the blues of the night before.  I stayed until 8:30 AM, then decided my mission was hopeless and started off on the long wet ride home.  The wind came down north of the Potomac, so I ended up making better time than I expected.  This time I stayed well clear of the nets.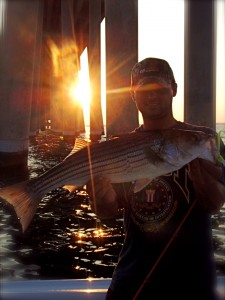 So, the score is now red drumfish 3, Kimbro 0.  With plans the next four weekends in a row, it will be a while before I can get back down south after them.  I'm not giving up though, I'll get one someday!  I'm concerned about the rockfish in the Chesapeake this year.  Although I'm stil getting some pretty good fish around the bridge (here's a picture of Dave G. with a nice piling striper he caught on Thunder Road Wednesday evening), and there are breakers in the mornings and evenings around Poplar Island, I never saw a single pod of working birds over breaking fish on my 120 mile round trip.  Three years ago, it would've been impossible to make that run without seeing actively feeding fish.  It's alarming to see miles and miles of empty water disturbed only by a few scattered bait pods.  Let's hope it's just a lean year and not a sign of bad things to come.
Responses to "That's why they call it "fishing""