Click the Book Covers Below to Buy the Books

Current Moon Phase




Waxing Gibbous Moon




The moon is 12 days old


Distance: 56 earth radii
Ecliptic latitude: -3 degrees
Ecliptic longitude: 336 degrees


Recommendations

Good Information

Wind Weather & Tides

Meta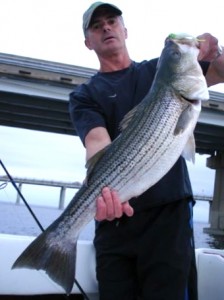 Big fish are rare in mid-September, so it's somewhat surprising that we're turning up a few.  I've had at least one fish over thirty inches long in each of my last six jigging trips to the Bay Bridge. As long as that's happening, there's no need to fish anywhere but right here at home.  I made it out to the bridge the past three evenings. The water has cooled to the mid-70s and the recent unsettled weather has the fish thinking about feeding up for the winter.  Tuesday, my friend Rich was nice enough to pick me up below the bridge on my way home from work.  The tide was slack when we started, but picked up to a strong flow just before dark. We broke the 30 inch mark on two fish, lost a couple more when they wrapped around the pilings and broke off,  and I hooked into something huge and slow. It might have been a skate, but it felt more like a fish, possibly a big drum.
I had very high hopes for Wednesday. My buddy Jon met me at Mattapeake. I always enjoy fishing with Jon, he's a heck of a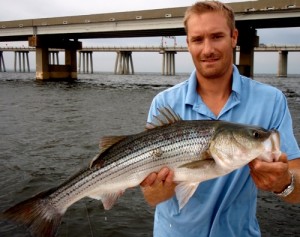 fisherman. We haven't fished together since a shad fishing trip on the Potomac back in the spring. We were hoping for rain, but got a strong NE wind instead. It was pushing the outgoing current so it was very hard to drift slowly enough to keep a jig in the strike zone. Added to our problems was a bad battery on my boat.  I just got it out of the shop after some routine maintenance and I guess they ran the auxiliary battery down.  I couldn't use the fish finder and I was afraid to shut the engine off.
I predicted on my Facebook page that Wednesday could be the best evening of the year for fishing the Bay Bridge.  It was close, but my engine problems hurt us a little. You have to be stealthy to get bigger fish at the bridge. They wouldn't bite if we drifted through with the engine growling, so we just stayed way back and casted up-current to the pilings. If we got four rod snaps with our jig touching bottom per drift, we were lucky. Fortunately, the fish were pretty aggressive.  Five or six inch hot-rodded soft plastics were the ticket with either 3/4 or 1 ounce jig heads. It was important to bounce the lure off the bottom every time you jig it and snap it up quickly.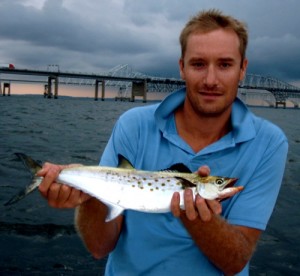 I didn't measure any fish, but I think we had 4 over thirty inches with the biggest about 34 or 35″.  I lost at least two more that would also have broken the thirty barrier.  When the action slowed we ran north looking for birds. Jon got bit off on his first cast by a bluefish, but threw the nub back at the fish anyway and popped a nice above-the-bridge Spainard.
Saw Kevin Kevlar Tuesday and Wednesday evening.  He fishes the bridge about as much as I do.  He is usually old-school pig & jigging by himself, but he was out with some friends on another boat Wednesday.  Kevin's been smacking some good fish lately. Funny, I didn't recognize the blue Regulator  from a distance, and thought it unusual to see anyone else out given the conditions. Jon asked me if I knew the boat. I told him I didn't, but I could tell by how they were lining up on the pilings it was some good fishermen.  I think one of 'em writes an outdoors column for some little newspaper somewhere, little like the Washington Post that is.
Tonight, Mark joined me on Crockett's Reel.  I replaced the battery that gave Jon and I trouble on Wednesday.  Wi
th a working fish finder and an engine I could turn off and restart, I thought we'd surely have a good evening.  I started the trip off with a 32 incher, but the incoming current waned and the fish got lockjaw.  We managed to get through the slack tide by moving to some deep pilings and bouncing jigs off the underwater cross-bars.  The water finally started moving again just before dark.  Mark popped the heaviest fish of the evening on a pearl and chartreuse Strike King then followed it up with another nice one on the next cast.
The fishing around the bridge is getting better and should continue to improve.  As one hot-spot fades, another will take its place. The great thing about the bridge is that its self-policing.  When the crowds come out, the fish go away.  Most people leave discouraged. But for for the light-tackle guys who know how to be sneaky and fish the rough-weather days,  September has been a pretty good month with some very nice fish turning up on the jig.  My bet is that October will be perfectly fine!
Responses to "Closer to Fine"