Click the Book Covers Below to Buy the Books

Current Moon Phase




Full Moon




The moon is 16 days old


Distance: 61 earth radii
Ecliptic latitude: 4 degrees
Ecliptic longitude: 92 degrees


Recommendations

Good Information

Wind Weather & Tides

Meta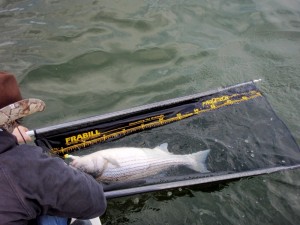 Gone are the fair-weather boaters with their blaring radios and boats bristling with broomsticks.  No more planer-board trollers claiming 300 foot right-of- ways, or obnoxious broadcasters insulting everyone with a VHF radio within 50 miles.  Catch & release season is the time of year when the one-man-one-rod concept reigns supreme.  It's when you can run on-plane for miles in the wide-open Bay and never see another fishing boat.  A time when there's very little competition for prime fishing spots, and a small but tight fraternity of hard-core fishermen brave the elements to jig the cold-weather hotspots.  I anticipate the start of C&R season like a kid waits for Christmas.
My sons Jacob and Daniel are visiting from Tennessee this week.  We've been trying to work a fishing trip into our schedule, but we couldn't get it all together until today.  Fortunately, Mark invited us to join him for a trip on his Parker Pilothouse out of Queen Anne Marina on Kent Island.  We met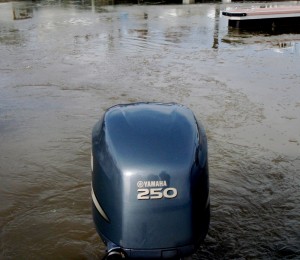 him at the dock about 1:00 PM and had to break ice to get out of the harbor.  Following the winter strategy of looking for warmer water, we pointed the boat south toward some favorite mid-Bay fishing spots.  Since I haven't been out in a while, I wasn't sure what to expect.  On the way, the boys asked me what I thought our odds were.  I put it about 60/40 against catching any big fish, but 80/20 in favor of finding schoolies.  The only other boats we saw on the Bay were freighters and duck hunters.
After tying on some 1.5 ounce kandy-korn jig heads (courtesy of Fischadler Lures), we hotrodded 7″ bass assassins with orange or chartruese garlic dye, and started jigging.   Jacob hooked up on his first cast and followed it up with another low 20s schoolie.  Mark positioned the boat perfectly on the next drift and Daniel quickly called out "fish on!" landing another striper in the same class.  After a few more fish, Mark suggested we try another nearby location.   We knew he'd made the right call when I felt a light bite and set the hook into something solid.   A few deep rod dips followed by a screaming drag made it obvious I was fighting a good fish.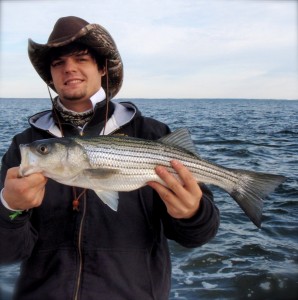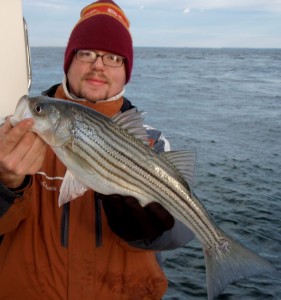 My Christmas gift from my wife this year was a 60 inch muskie cradle.  It's a soft mesh stretcher-type net that allows the fish to be measured and released without ever leaving the water.   I christened my net with a fat 38 inch striper that would've gone well over 25 pounds.  I've posted a video of the muskie net in action on the video section of CLT.  We followed that fish with several more before we had to leave in order to bounce back up the Bay in 15 knot winds with a following sea.  We were all thankful for the shelter afforded by the pilot house as freezing spray coated the boat with slippery ice.
Adrenalin kept us warm while we were catching fish, but finding the Marina iced back in, we realized temps had never risen above freezing all day.  Overall,  I considered it a typical winter trip and a welcome break from the hustle and bustle of the holidays.  A few big fish is about all we can expect until mid-February, but there are usually schoolies around to be caught and released thoughout the winter.  I was happy to have beaten the odds with the bigger fish.
Few sportsmen experience the pleasures of cold-weather Chesapeake Bay fishing, even though it often produces trophy stripers.  Even when the fish don't bite, the winter waterfowl and overall solitude of the Bay is well worth the trip.  If you have the chance, I strongly suggest you gear-up and get out.
Responses to "Catch & Release Season"