Click the Book Covers Below to Buy the Books

Current Moon Phase




Waxing Gibbous Moon




The moon is 12 days old


Distance: 56 earth radii
Ecliptic latitude: -3 degrees
Ecliptic longitude: 336 degrees


Recommendations

Good Information

Wind Weather & Tides

Meta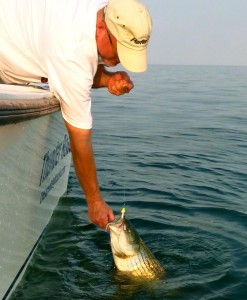 You've probably heard by now that the bottom is dropping out of striper fishing.  The latest Atlantic States Fisheries Commission (ASMFC) stock assessment shows a population in decline.  Don't be fooled by the first few lines of the report when it says, "Stripers are not overfished and overfishing is not occurring."  They've been saying that for years while fishermen all up and down the Atlantic coast have been warning of a crash.  Now we have proof.  Using the current fishing mortality threshold, we have been overfishing for striped bass five out of the last eight years.  If we keep catching at the rate we are now, the fishery will decline rapidly.  Concerned fishermen up and down the Atlantic coast agree that harvest reductions should be implemented quickly.  Check out this article from Captain John McMurray in New York.
Since striped bass is a highly-sought-after species with big money involved on both the commercial and recreational sides, any reductions will be controversial. I get the sense that there may be some within the ASMFC who believe that the commercial striped bass fishing industry has already sacrificed enough.  If that perception spreads, recreational fishing could take the brunt of the reductions.  I won't flesh out the arguments pro and con here, but suffice it to say that I believe cuts are overdue and necessary and should be equal across both sectors.
Commercial fishing aside, disagreements are sure to follow within the recreational community.  They will be especially apparent here in the Chesapeake Bay, where the charter boat industry and some fishing clubs rely heavily on fishing revenues from spawning-class stripers during times of the year when they are easiest to catch.  It's sure to get interesting, and I expect blood letting on all sides.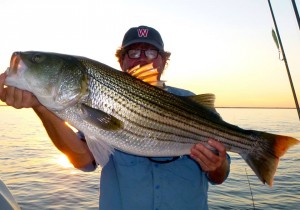 If this were any other part of the country, I'd say that the only aspect of recreational fishing that is really safe is catch and release.  Fisheries managers in almost every state move to catch and release management when they start to see overfishing. Unfortunately, that conservation ethic hasn't taken hold in this region, and judging by past experience, a proven stewardship principle like catch and release fishing could be in real jeopardy.  This is partly because Mid-Atlantic fishermen struggle with proper catch and release tactics.
Organizations like the Coastal Conservation Association (CCA) and the Chesapeake Bay Foundation (CBF) have worked hard over the past decade to promote good catch and release practices.  Unfortunately, old habits die hard.  You can still get an argument in Maryland against proven, scientifically-verified techniques like using circle hooks with bait, avoiding twine nets, not targeting juvenile fish, or not fishing in extremely hot weather.  We're making progress, but there is still work to do — the ASMFC recently increased it's estimate of how many fish die after they are released from 8 to 9 percent.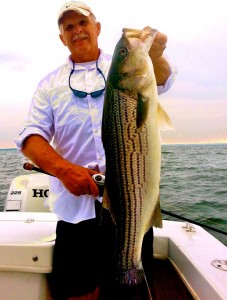 Despite it's shortcomings, catch and release fishing has far less impact on the species than any other approach.  Nine percent isn't much compared to the 100% mortality of commercial and meat fishing.  I have nothing against keeping fish and will certainly do so from time to time, but by using good catch and release practices, we can reduce the number of fish we kill drastically – to way lower than 9 percent. Let's hope resource departments in the Mid-Atlantic region work to promote catch and release striper fishing as the best solution for protecting the fish. Short of a full moratorium, catch and release should be the last aspect of striper fishing to be cut.
I'll do my best to keep you informed as things move forward on the striped bass front.  CCA Maryland is currently leading the charge in the Mid-Atlantic toward better striped bass stewardship.  I'm paying close attention to its website, news releases, and Facebook page.  I'll also add my personal updates and observations on Facebook and Twitter whenever I can.  If you have questions about best practices for catch and release fishing for striped bass, take a look at CarefulCatch.com.  There you'll find tips for how to take the best care of the fish you catch along with the science to back them up.  Let's take a stand for the fish!
Now, how about a fishing report?  I've spent most of the month of September chasing redfish. (If you guessed I think it's time to start diversifying our targeted species, you guessed right.)  Fishing for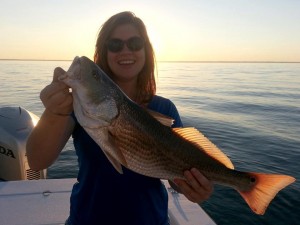 reds continues to be good both in Maryland and Virginia.  Look for them now in shallow water, especially in the afternoons on a high tide. They aren't too selective about baits, but most fishermen are casting scented 4″ paddle-tail jigs on quarter-ounce jig heads. Check out this video I shot last weekend of a trip I took to the salt marshes of Virginia's eastern shore casting for tailing redfish in shallow water.
Striper fishing is nothing like it's been in autumns past, but there are still quite a few fish being caught.  All the stripers in the above photos were caught in the past couple of weeks.  Even though things are relatively tough, there are nice fish being caught in the Upper Bay now on hard bottoms where you can find ample schools of peanut bunker.  The live-lining fleet is still working the North Poplar Island area pretty hard.  There are small breakers around the mouths of the western shore rivers and down toward Sharps Island Light.  There are some nice fish being caught on topwater in the shallows, especially on high current points inside the rivers.  That's where I'll be concentrating for the next month or so, but I'll also be checking out the open Bay ledges when conditions are right.  This is the time of year to think patterns, not places.  Bait is moving out of the rivers so that's a good place to start.  Find a pattern that is working in one spot, and it will almost always transfer to similar locations.  Cheers to tight October lines!
Responses to "Catch & Release – Now More Than Ever"