Click the Book Covers Below to Buy the Books

Current Moon Phase




Full Moon




The moon is 16 days old


Distance: 61 earth radii
Ecliptic latitude: 4 degrees
Ecliptic longitude: 92 degrees


Recommendations

Good Information

Wind Weather & Tides

Meta
I've mentioned in previous reports that there are an extraordinary number of striped bass in the Bay this winter.  It's never been unusual to find a few big fish here and there during cold weather, but each year there seem to be more nice fish wintering over.   I've managed a couple of trips this week with very good results as you can see in the photos below. Curious about why there are so many January rockfish, I put the question to Maryland Department of Natural Resources Senior Fisheries Biologist "Rockfish" Rudy Lukacovic when I ran into him at the Boatyard Bar & Grill in Annapolis one evening this week.  Rudy thinks it's all a part of changing migration patterns.  He also noted that there have been fewer fish in the usual wintering grounds off the coast of the Carolinas in recent years.
I believe the changing patterns are a result of a gradual warming of the Chesapeake Bay.  This has been a relatively cold winter here on Kent Island, but don't confuse current weather patterns with overall climate.   According to peer reviewed scientific research presented in a 2004 American Fisheries Society Symposium, average water temperatures in the Chesapeake have risen 2 degrees since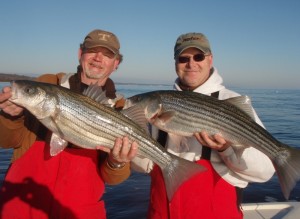 the 1960s. Twenty years ago it was not unusual for the main stem of the Bay to freeze over, but despite this year's record-setting nor'easters and the snowiest Mid-Atlantic winter in recent memory, water temps are holding above freezing.  Our neighbors to the north are reporting that their snowmobiles are sitting idle.
Warmer water has changed the behavior of  many mid-Atlantic wildlife species.  Consistently milder winters are affecting duck hunters since many species stop short of their usual Chesapeake winter habitat in favor of more suitable areas farther north.  Native Canada geese populations are booming as fewer see the need to migrate south.  Last January, I even saw pelicans perched on the rockpiles beneath the Bay Bridge.
The trade-off for good winter fishing in the Bay is surely poorer water quality in the summer.  Warmer water contributes to worsening dead zones and harmful algae blooms, enhances diseases such as mycobacteriosis, and encourages the expansion of harmful invasive species. In short, it ruins the water our fish swim in.  I'm not sure what fishermen can do to slow the rising temperatures, but there is something we can do right now to improve the water quality in our beloved Bay.
On October 20, 2009, Senator Ben Cardin and Congressman Elijah Cummings introduced the Chesapeake Clean Water and Ecosystem Restoration Act in Congress to reauthorize Section 117 of the Clean Water Act. This bill is the most important legislation for the Chesapeake Bay since the Clean Water Act was enacted 37 years ago.  The bill is staunchly opposed by big industry and corporations that want to keep polluting as they always have.  Our representatives in Washington are divided.  In short, we're looking at the biggest fight for clean water this nation has ever seen.  It's time for fishermen to step up and have our say.  Our children deserve clean water to fish in.
The best way I know to get involved is simply to write to your Senator or Representative and ask him or her to support Senate bill S. 1816 and House Bill H.R. 3852 to reauthorize Section 117 of the Clean Water Act.  The Chesapeake Bay Foundation has simplified the process with its Online Action Center.  There's also some great information about other avenues on their Action Alert website.  It's totally free, and anyone can participate.  The pictures in this report are from an early morning trip I made this week with my friend Jamie from Easton, MD.  That's Dennis hooked up with a 40 inch fish in the first photo. My big fish came on a 10″ hotrodded BKD with a 2 ounce Kandy Korn jig head in 42 degree water.  Please join me to help preserve the year round catch-and-release of trophy stripers like these by supporting a cleaner Chesapeake Bay!
Responses to "Trophy Fish Wintering Over"