Click the Book Covers Below to Buy the Books

Current Moon Phase




Third Quarter Moon




The moon is 20 days old


Distance: 63 earth radii
Ecliptic latitude: 4 degrees
Ecliptic longitude: 141 degrees


Recommendations

Good Information

Wind Weather & Tides

Meta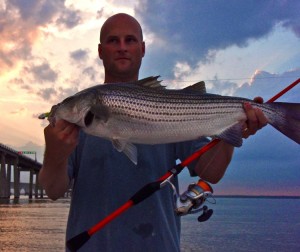 We've seen some dramatic weather in the mid-Chesapeake Bay over the past couple of weeks.  Extremely warm temperatures spawned strong low pressure systems that buffeted our region with storm after severe summer storm.  The challenge around Kent Island has been less about locating fish and more about fishing around the weather.  There are still some summer trophies around the Bay Bridge, and we're starting to see breakers including bluefish and Spanish mackerel off the beach at Matapeake and across the Bay at Hackett's Bar.  My fishing time has been limited.   In one recent trip I got out with a couple of Navy guys, Mark & Mark off Kent Island for a bridge jigging excursion. Tossing multi-colored lures to match the sky, we managed three fish over 30 inches and had at least three more hooked up in that size range.  That's good fishing for summertime in the Chesapeake.  Yesterday I managed a trip out with my fishing buddies Jamie and Mark.  If we were fishing for keepers, we would've had a limit in the first ten minutes.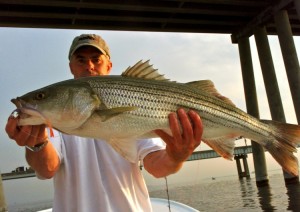 We found birds and breakers within 200 yards of the boat ramp including a few Spanish arching gracefully through the blitz.  I quickly tied on a flashy jig and started casting as far as I could and reeling fast hoping for mackerel.  I only had one chaser but at least I felt like I had a chance.  It's way too early and much too far north to effectively cast for Spanish in early August.  It won't be long though.  For the next couple of weeks it's going to be tough for me to decide how to fish.  Should I chase breakers trying to retrieve my lures fast enough to avoid rockfish and blues in order to catch a few macks?  Or maybe I should stay after the few-and-far-between Bay Bridge trophies?  It probably depends more on the weather than anything else.  As long as these fronts keep moving across the Bay, I'll probably stay close to home.  But, if things change and our kaleidoscope skies fade to bright blue, I'll be chasing colorful Spanish macs in the Mid-Bay.  It's a tough choice but I like the position we're in.  The pics tell the story of the tackle and techniques.  Casting for stripers is pretty easy right now, so either way we'll probably catch fish.  Stay tuned! 
Responses to "Kaleidoscope Skies"