Click the Book Covers Below to Buy the Books

Current Moon Phase




Waxing Gibbous Moon




The moon is 11 days old


Distance: 56 earth radii
Ecliptic latitude: -4 degrees
Ecliptic longitude: 321 degrees


Recommendations

Good Information

Wind Weather & Tides

Meta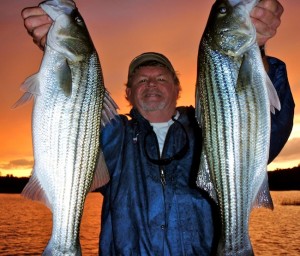 There is a harmony in autumn, and a luster in its sky, which through the summer is not heard or seen, as if it could not be, as if it had not been!  ~Percy Bysshe Shelley
Is there anything more dramatic than an October sky? If I had my way there would be an eternal high tide, a full moon every night, and the skies would always glow like they do in Autumn. There's a chill in the Chesapeake air tonight, signaling that fall is here and October fishing has begun. Just like they have the past three years in a row, bigger fish have arrived in the shallows of the mid and upper Bay. The pattern hasn't changed from last week:  topwater plugs in the shallows are still producing, but the exciting difference is that now there are significantly more 30-inch rockfish in the mix. Nothing beats big stripers exploding on surface plugs beneath the technicolor skies of October.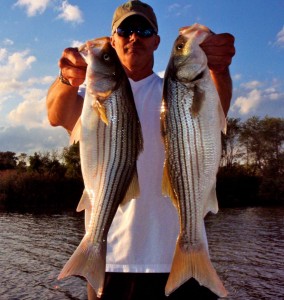 I got out to fish with my Kent Island neighbor, Mark for a few minutes one evening this week.  We launched off the back side of Kent Island and looked first around the mouths of local rivers for bigger fish on the humps and ledges.  Finding nothing more than breaking bluefish and small stripers, we moved to the shallows to cast surface lures.  On a hunch, I decided to check a bank that has produced on this same week for the past three years.  Mark was rewarded with a 24-inch striper on his first cast with a Bomber spook.  After that, it was one fish after another.  We didn't break the 30-inch mark, but we had several fish in the high 20s and saw some bigger fish chasing our lures.  These weren't the skinny, sickly fish of weeks past, but clean, broad-shouldered stripers.  The sky that night was as vivid as I've ever seen it.  When I got home and downloaded the pictures, I found that I only had two pictures of fish and two dozen of the sky at sunset.  Simply beautiful.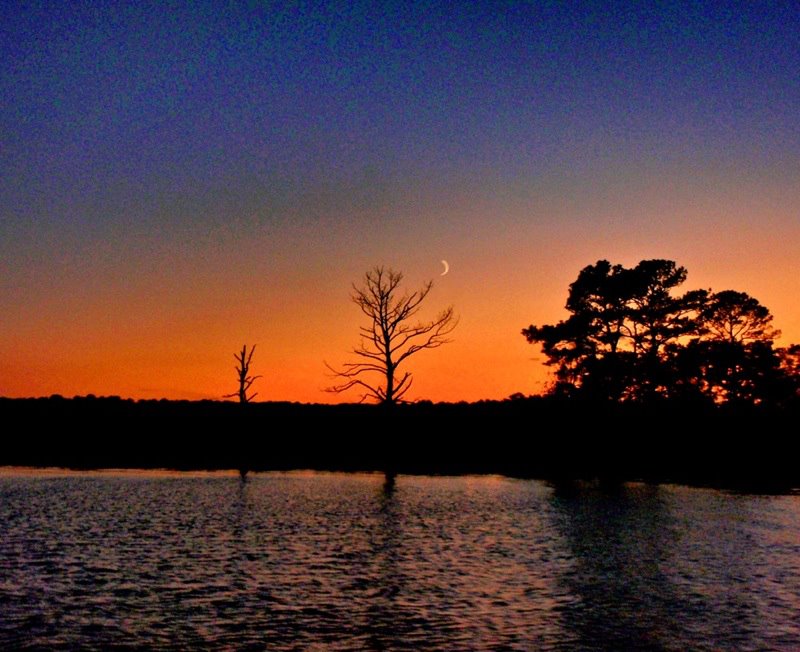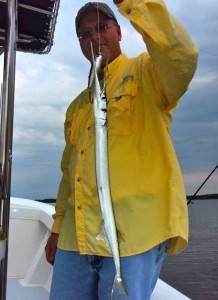 On my next chance to fish, I launched at 4:00 PM with my regular fishing partners, Jamie and Rich.  We ran into Virgil Poe on the way south. Virgil was my neighbor when I lived on the other side of the Bay on the Broadneck peninsula, and I know him to be one of the best shallow water fishermen in the region.  It's always a good omen to see Ol' Virg out there.  After talking with him for a little while, we headed off toward the banks that had produced the night before.
We saw some blues and dink rock breaking in the open water, but we knew we had a good incoming on the way so we hurried to grassy banks where we had at least 3 feet depth and good current.  Except for the first place we stopped, the fish were right where we wanted them to be.  We worked some spots where there were
little creeks going in through the marsh grass looking for stripers that were chasing menhaden and needlefish right up against the banks. It wasn't a blowup on every cast, but more like one every fifth or sixth cast. That's usually a lot more fun, especially since there were 30-inch class fish in the mix.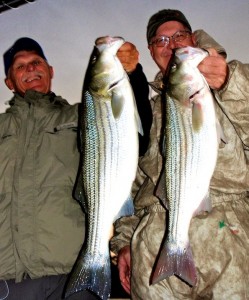 The rain that started about 5:30 PM didn't slow things down a bit. Most of the banks we fished were sheltered from the wind.  Jamie broke my boat record for longest needlefish when he landed a 32-incher on a popper. Rich didn't want to be outdone, so he caught a rockfish that was longer.  Jamie hooked a good fish at the same time and the two came over the rail together.  After a quick photo, those fish went right back into the creek.  The sun broke through the rain before dark, providing us with a beautiful rainbow over the Delmarva Peninsula and illuminating the Kent Island marsh in hues of bright orange and yellow.  The fish kept biting until we couldn't see our lures.
I had a weekend afternoon trip planned with my friend Marty Welch and his father-in-law.  Marty and I have been talking about fishing for a while, and his wife Monica helped me set up this trip as a belated Father's Day present for her well-known dad.  Mark Russell is the first man I ever saw wear a bow-tie with a business suit – I've been working up my nerve to try it ever since.  I was in his high school when Mark's show started airing.  I watched a lot of public television back then because the transmission tower for our local PBS affiliate was up on the mountain above our house and Channel 2 was the only clear station we could get.  I didn't understand all his political humor, but I liked the satire and sarcasm, and especially his musical parodies.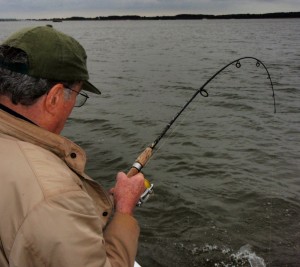 We fished on a very windy and rainy afternoon.  The north wind pushed a lot of water out of the Bay, causing the banks I usually fish to be dry. I didn't want to run too far out into the Bay due to the weather, so I set up on some secondary ledges off the same banks where I've been finding fish in the shallows.  By secondary ledge, I mean the first ledge you encounter when you are moving off the bank toward deeper water.  In this case, it was a very slight drop-off from 2- to 4-feet. The primary ledge for fall topwater fishing is usually the bank. I positioned the boat on the shallow side in water where we could see the bottom, and we threw our topwater lures back out toward the ledge.  I made the first cast so I could show my guests some casting techniques and tips on how to work the lures.   I popped the lure once over the drop-off, and a big fish blew up on it.  The fish didn't come tight, so I handed the outfit to Mark.  He popped the lure twice more and the fish hit again.  This time it stuck.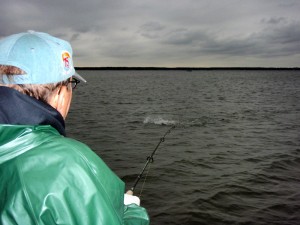 Mark's first fish was well over 30-inches, but it came off beside the boat. Even though we didn't get a picture, I imagine Mark will get a lot of mileage out of that big one that got away. He followed that fish right away with a couple of keepers, and we were off to the races.  The skies grew darker as the day wore on and catching was pretty good.  At times we caught fish on every cast, but more often it took a few throws before we'd see a wake behind our chuggers and brace for the inevitable topwater explosion.  Marty was steadily catching as well.
The tide slacked before dark so we sat back and took a few m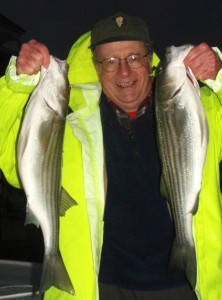 inutes to celebrate our successful day on the water.  Marty reached into his backpack and produced some good cigars.  We hid under the console to strike a match, but once we got them lit we sat back to enjoy a good smoke in the pouring rain.  We talked about music and the pitfalls of performing and Mark shared some entertaining stories of his years performing in Washington, DC.  It was getting dark, and I had some straightening up to do in the boat, so Mark took the helm and piloted Thunder Road back to Bridges Restaurant where we met the girls for dinner.  We finished our fun October evening with big, delicious soft crabs and even more good conversation.
This week I expect to see more strong-shouldered fish show up in the Mid-Bay.  It's also time for a few migratory fish to sneak in through the Chesapeake and Delaware Canal.  We should have quality stripers all over Maryland before you know it.  I saw six 40-inch-plus fish caught last year on light tackle in October, so I'm oiling up the drags on my reels, pouring some candy corn jig heads, and sorting out my 10-inch BKDs in anticipation.  Here's to even more unsettled weather and to celebratory cigars in the rain. Is there anything more dramatic than an October sky?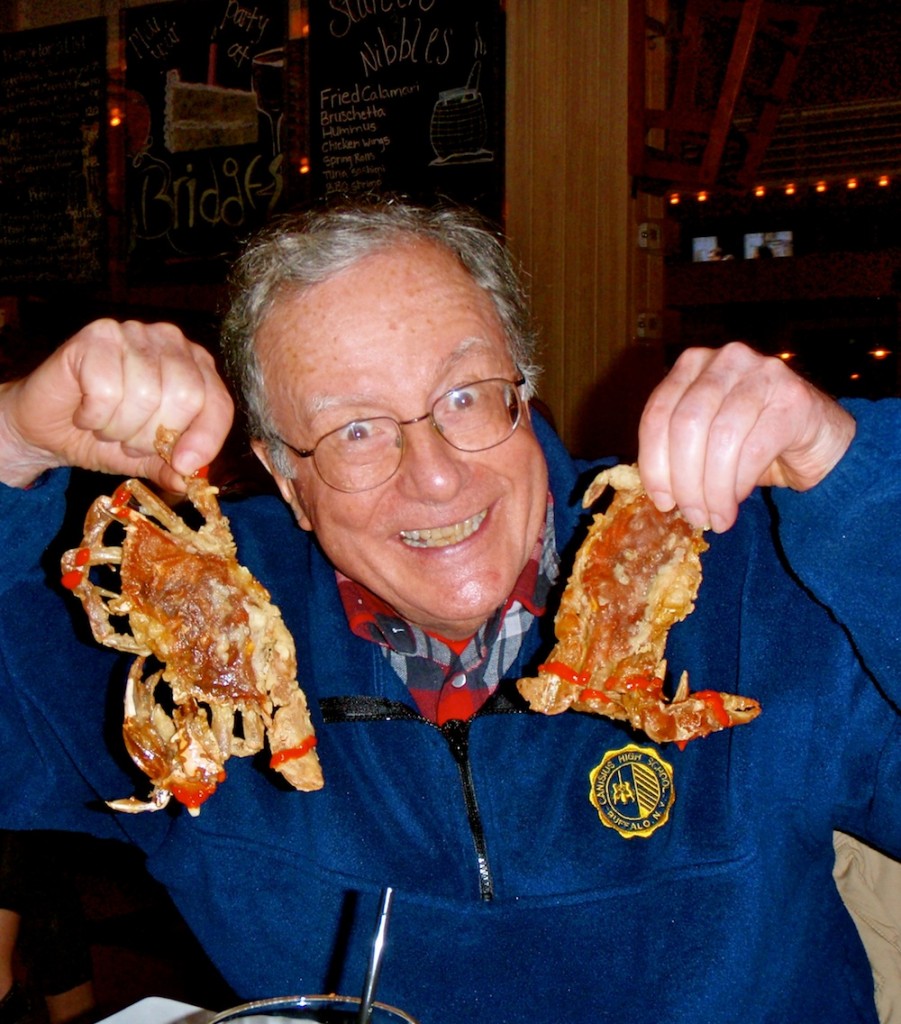 Responses to "October Skies"