Click the Book Covers Below to Buy the Books

Current Moon Phase




Full Moon




The moon is 16 days old


Distance: 61 earth radii
Ecliptic latitude: 4 degrees
Ecliptic longitude: 92 degrees


Recommendations

Good Information

Wind Weather & Tides

Meta
Top-water fishing in the mid-Bay shallows has been nothing short of amazing lately, but I've had other pursuits in mind. This past weekend was not a good time to fish the Chesapeake Bay. Sailors, cruisers, tourists, kayakers, fishermen and excursionists of all kinds flock to the Bay by the thousands for Labor Day's last long taste of sweet sweet summer.  This week, there's a hint of fall in the air. Local marinas are running winterization specials as many boaters put their rides away until next spring. Early flocks of migratory waterfowl are taking flight toward the south.  The Spanish mackerel are high-tailing it toward the capes.  The female ospreys are almost gone while the smaller males make a few final dives before starting their trans-continental journey toward the Amazon.  For many, this is a depressing time of year, but for the light tackle angler it's the start of the most productive season of all.  To celebrate the impending fall and avoid the holiday crowds, I like to head north toward the mountains. The green flash of a smallmouth bass leaping into the blue sky out of a sparkling stream is more spectacular than any Labor Day fireworks.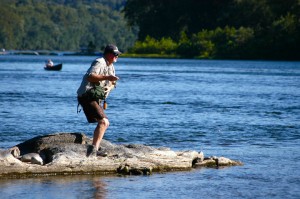 Last year on Labor Day I fished some of the tributaries to the Susquehanna River, so this year my wife and I decided to drive north toward West Virginia to explore the Potomac.  Considering the holiday traffic, I wanted to get far enough above Washington DC so there wouldn't be so many people around.  That turned out to be harder than expected. Our first glimpse of the river was just above Point Of Rocks, Maryland, but the crowded parking lot made it immediately obvious that we needed to drive farther north.
Fortunately, the Potomac is easy to fish because the C&O Canal National Historical Park runs 184 miles up the Maryland side of the river.  While there's lots of private property on the Virginia side, any stretch of the river in Maryland is accessible for fishing.  We drove farther north through the cradle of the Civil War, past the Maryland landing of  Harper's Ferry and on up to Antietam Creek where we turned back south and found an isolated pull-off with a trail leading toward the towpath.  This part of the Potomac was much less crowded. There were no cars here and only an occasional bicyclists on the trail. 
When the trees cleared and I saw the river I was somewhat disappointed because it looked like we had come in near a long stretch of still water.  I wouldn't mind fishing that stretch from a boat, but since I was wading, I needed to find shallows.  About a half mile north I could see what looked like a shoal, so we set off in that direction.  Crockett, my 3 year old Chesapeake Bay Retriever led the way pretending like he knew exactly where he was going even though he'd never been there before.  He just likes to be in the lead anytime we're hiking. There wasn't anyone else around so I didn't feel bad about letting him run off the leash.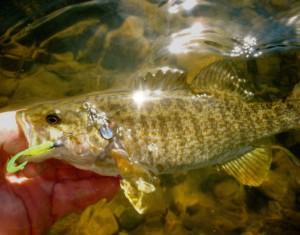 When we reached the shoal he was first in the water.  That's a no-no, and he's been trained to stay behind me when stream fishing, but in the excitement of the moment, he forgot.  I let him splash for a minute while I attached a chartreuse twister-tail grub to a 1/8 ounce saftey pin spinner, then called him back before I waded out toward the shoal.  I think I hooked up on my first cast.  This stretch of river was full of feisty little smallmouth.  I worked the lower side of the shoal first, then made my way toward the shallower water above the rocks.  The river was low so there was no problem wading all the way across.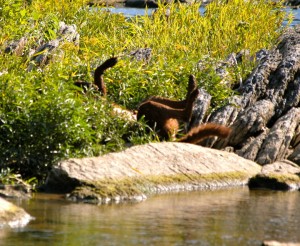 I found the river clear and relatively clean.  Judging by all the green algae, I think it's just a touch overly fertile but there is lots of underwater grass where fish can hide. Every cast resulted in lots of small minnows chasing my lures.  I didn't find any bigger smallmouth, but there were plenty of fish to keep me entertained.  So many in fact I wished I had brought along my fly casting outfit.
I remembered to bring my hat-mounted video camera so I got some nice footage while Dianne got a few still pictures from the shore.  I'll let the video and photos tell most of the story.  It was overall a very pleasant fishing trip.  The only drawback was when Crockett waded across to a little island where he found a dead fish to roll in.  Even though we made him swim to try and get some of the stink off, it was a long 80 mile trip back to Kent Island.  After two baths, he still smells like dead fish!
We have some cold-fronts rolling through the area bringing lots of wind to the Chesapeake, but there's a new moon this week so we should have good current and excellent striper fishing over the next couple of days.  I'll post reports when I get out there.  Hope you enjoy the smallmouth video:
Responses to "Potomac Smallmouth – Video"