Click the Book Covers Below to Buy the Books

Current Moon Phase




Third Quarter Moon




The moon is 20 days old


Distance: 63 earth radii
Ecliptic latitude: 4 degrees
Ecliptic longitude: 141 degrees


Recommendations

Good Information

Wind Weather & Tides

Meta
I had to pull a night shift at work this week, so I decided to reset my circadian clock with an early morning of smallmouth fishing on the Susquehanna river.  Last July, I invited Bill Montgomery to join me for a Chesapeake Bay top-water striper trip near Poplar Island. Bill and I hit it off after finding we shared interests in both fishing and acoustic music. Bill returned my fishing favor by inviting me up to Pennsylvania to see one of his favorite bass spots.  He fishes occasionally with his friend Dennis Mongold who is a smallmouth bass guide specializing in this section of the Susquehanna.  I met them near Harrisburg where we loaded up in Dennis's custom made aluminum jon-boat.  The boat is specially outfitted for fishing this section of the rocky river.  Dennis has his jet-drive outboard mounted on a hydraulic lift so he can adjust the draft for very shallow water.  The bottom of the boat is coated with hard plastic so it can easily skim over the rocks.  I've done a lot of river fishing, but this is the first time I've been on a boat running thirty miles per hour in four inches of water.  I admit I was a little unnerved!
As the sun rose over the Blue Mountains, Dennis lined us up over a deep hole below a shallow shoal and showed us his favorite cold-water technique.  He likes two-inch long brown or black tubes on a one-eighth ounce homemade black weedless jighead worked against the current with a very slow retrieve.  His idea is to simulate the look of a hellgrammite – the aquatic centipede-like larvae of a dobsonfly – crawling slowly across the rocky bottom.
Following the instructions of my guide, I made a forty-five degree angle cast upstream and kept a tight line as the jig moved down the river.  Once my line began to straighten out downstream, I picked up the retrieve and reeled at a snail's pace against the flow, all the while watching my rod tip for anything that looked like a strike.  Sometimes I didn't reel at all but just barely raised my rod tip as I felt the lure creep across the rocks.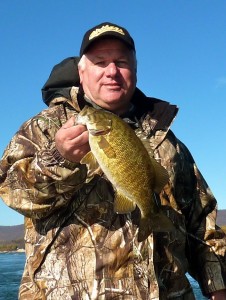 Cold water smallmouth aren't likely to take an artificial lure aggressively.  Instead, they just barely pick up the bait and carry it away upstream.  It takes a very alert angler and a sensitive rod to detect the strike. I felt disadvantaged because all my best rods are baitcasters which were useless for casting light jigs against the twenty knot winds that were blowing from the north down the river.  I switched over to my less sensitive spinning outfit that was rigged with fourteen-pound-test Fireline and a ten-pound fluorocarbon tippet.
With more experience on the river, Bill was tuned in from the start.  Even though I caught the first fish – a skinny half-pounder – Bill showed me how it's done by catching and releasing a trio of sixteen and seventeen inch bronzebacks right off the bat.  It was immediately apparent that I had my work cut out for me.
When it comes to lure sensitivity, Chesapeake Bay striper fishing has me spoiled.  It's one thing to feel an ounce and a half lure ricocheting like a pinball off oyster shells, but something else entirely to tune in to a one-eighth ounce tube sliding slowly over moss covered rocks.  I turned my back to the wind and did my best to think down the line.  It took me a couple of hours, but I finally got it.
Susquehanna river smallmouth have been in the news this week.  Vicky Blazer, a fisheries biologist with the U.S. Geological Survey, presented a study in which she found that more than ninety percent of the male bass in the river had female egg cells.  This condition has previously been documented on the Potomac river, but not in any other major tributary of the Chesapeake Bay.  Scientists think that intersex fish may be linked to contaminants found in the rivers. They suspect chemicals like those found in herbicides, birth-control pills and the hormones found in cow and chicken manure.
It would be a shame to see a fishery like this wiped out due to poor water quality. The Susquehanna river is functioning at only about one quarter of its potential, and portions are officially listed by the U.S. Environmental Protection Agency (EPA) as "impaired." There is a glimmer of hope on the horizon. After years of broken promises and unfulfilled commitments, we have a once-in-a-generation opportunity to get the river and ultimately the Chesapeake Bay on a path to recovery.  The Chesapeake Clean Water Act (CCWA) is a bi-partisan, historic step forward in protecting the Chesapeake Bay and its rivers and streams. This is the strongest legislation to protect a single body of water in the history of our country and gets us back on track to cleaning up the tributaries to the Chesapeake Bay.
Unfortunately, time is running out.  The American Farm Bureau (AFB), influenced by large donations from corporate farms,  is working hard to shoot down any legislation that affects tributaries to the Chesapeake Bay.  I was once a fan of the Farm Bureau.  Along with my brothers, I own and manage a small independent Appalachian farm.  I no longer support them because I'm deeply disappointed that the Bureau has been swayed by big money.  I don't think they represent the interest of small farmers, especially not farmers who care about water quality.
Back on the boat, I was finally tuning in as my lure crawled across the Susquehanna rocks when I felt a very slight twitch in my line as it lifted off the bottom.  I set the hook and was immediately rewarded with the head shakes of a three and a half pound bass.  In my book, a smallmouth of that size equals at least a thirty inch striper, both in rarity and in the strength of the fight.
As the morning wore on, Bill landed and released several more quality fish.  I got lucky and finished the trip with a nineteen inch four and a half pounder, one of the fattest bass for its size I've ever seen.  It's been a while since I've consistently caught smallmouth of this quality. Thanks to Bill and Dennis for a great morning on the water.  Despite tough conditions, we caught some nice fish.  If you're thinking of hiring a good smallmouth guide for the Susquehanna, I highly recommend Dennis.  He can be contacted at 717-580-3525. His email is: bass47@comcast.net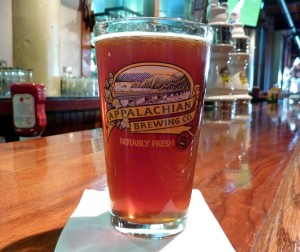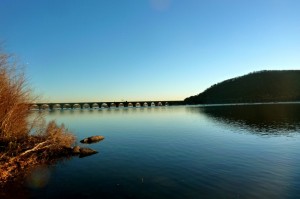 Bill hurried off to catch a Punch Brothers concert and I topped-off my trip with lunch at Harrisburg's famed Appalachian Brewing Company.  I ordered one of their fabled micro-brews with my meal and noticed the railroad bridge graphic on the pint glass looked familiar.  I took my digital camera out of my pocket and reviewed the pictures I took on our morning trip.  It turns out I had a shot of the same scene.  The Rockville Bridge completed in 1902 remains the longest stone masonry arch railroad viaduct in the world.  Good friends, excellent fishing, well-crafted beer, and interesting history – how could it get better?
It does. On January 1, 2011 the Pennsylvania Fish and Boat Commission (PFBC) will designate this section of the Susquehanna river as a catch & release only, no-bait fishery.  Smart managers know that implementing catch & release measures improve troubled fisheries.  My friends Dennis and Bill are looking forward to the already-good Susquehanna river smallmouth fishery becoming extraordinary in a couple of years.  I can't wait to see it, and can't help but wonder why Maryland fisheries managers can't come around to the same understanding? Maryland is actually considering the removal of black bass catch & release restrictions on a critical section of the Potomac river between the Mouth of the Monocacy and the Seneca Breaks in favor or catch and kill.  What are they thinking?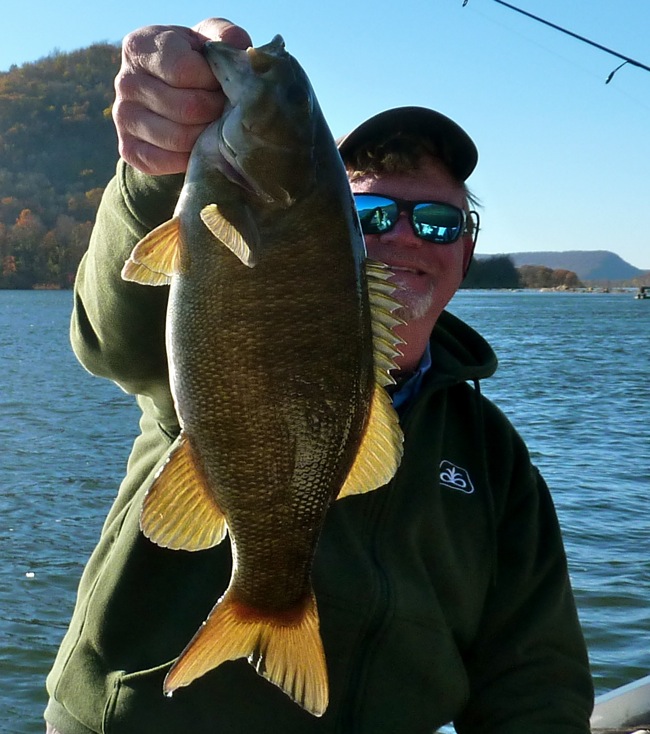 Responses to "Think Smallie"