Click the Book Covers Below to Buy the Books

Current Moon Phase




Waxing Gibbous Moon




The moon is 11 days old


Distance: 56 earth radii
Ecliptic latitude: -4 degrees
Ecliptic longitude: 321 degrees


Recommendations

Good Information

Wind Weather & Tides

Meta
What has been will be again,
What has been done will be done again;
There is nothing new under the sun -Ecclesiastes 1:9
Since Candy Thomson published an article about my favorite jigging technique in today's Baltimore Sun, I thought I might talk about it a little more.  First, thanks to Candy for the nice write-up.  She had originally planned to fish with us, but unfortunately broke a finger in a kayak accident a couple of days before.  She decided to come along anyway and it was great having her, Joe, and Colin on Thunder Road for a fun evening of catching.  I'm a big fan of Candy's Outdoors Girl blog.  I don't always agree with her, but I never miss an entry.  There's no question that, despite the splint she's wearing lately, she has her finger squarely on the pulse of outdoor issues in Maryland.
I'll start this article by stating the obvious in that casting artificial lures for stripers using outfits made for freshwater black bass is nothing new – my father taught me to catch stripers using bass lures when I was very young.  I had never heard of using heavy duty saltwater trolling gear for rockfish until I moved from Tennessee to Maryland.   I was amazed and somewhat amused the first time I saw a twenty-five rod planer board trolling spread.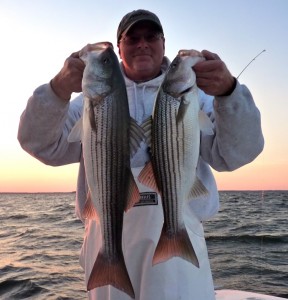 Light tackle has been used on the Chesapeake Bay for decades.  A fishing partner recently suggested I read Chesapeake Stripers by Keith Walters.  In a chapter called "The Tin Boat Years, 1958-1963" Walters describes successful fishing around the Bay Bridge and Love Point casting jigs, bucktails and top-water lures.
I've heard of several local champions of light tackle in more recent times.  In the decade just after the moratorium, Pete Dressler, also known as "Superfish," lit up the internet listserves with talk of a method he called "Force" fishing.  Coining the term "light tackle jigging (LTJ)," he popularized the use of spinning tackle and soft plastic jigs introducing  freshwater equipment to a new generation of tech-savvy saltwater anglers.  Twelve years later, many of Dressler's disciples still fiercely defend his systematic approach and catch plenty of Chesapeake stripers using the specific technique he prescribed.
There are some exceptional light tackle guides on the Chesapeake Bay who specialize in spin casting and fly fishing for striped bass.  I've had the pleasure of fishing with and around some of these guys and I can say for certain that they are real pros.  If you really want to learn artificial lure techniques there is no substiture for the experience that can be gained from a day on the water with a light tackle guide.
Let me be clear that I don't think I'm introducing any techniques that are particularly innovative.  Maybe I've combined and updated a few tried and true methods and showed some fishing friends the advantages of using 21st century technology like low-profile baitcasters, side scan sonar, hotrodding soft plastics, etc., but like the Good Book says, there's nothing new under the sun.  Still, I think it's worthwhile to say a little about my Tennessee freshwater "cracking the whip" technique that Candy highlights in today's Sun paper.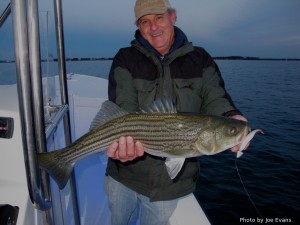 The first and foremost objective in light tackle fishing is finding the fish.When rockfish in the Chesapeake Bay are schooled up and feeding, almost any lure or technique will catch them.  I once bragged that sometimes the fish bite so well they can be caught with a coat hanger and a buzzard feather.  A friend challenged me to prove it, so I did.  But what about the times when fish are around but they aren't particularly inclined to bite?  These are the days when specialized techniques make the difference between hero and zero.
Cracking the whip isn't the only way to get finnicky fish to bite, but it will often work.  The rod action in the "cracking the whip" technique is just one part of the equation.  It's not that hard to do, just a slight downward movement then quick snap of the rod tip the instant the lure touches the bottom.  It can be done with a spinning outfit, but it's a lot easier with a baitcaster.  The idea is to simulate the look of a bolting bait fish or eel while stirring up mud and other debris on the bottom.  The other important aspect of the technique is alternating colors.  I get this by painting a candy corn pattern on jig heads, and dipping my soft plastics in lure dye.  I started calling that hotrodding a couple of years ago and the term stuck. Here's why I think it works: when a frightened bait fish bolts, its gills flare and flash red.  I believe the bolt combined with the flash of color stimulates the strike instinct in bass, even the ones that aren't particularly hungry. Cracking the whip combined with alternating colors on the lure can be an irresistible combination, especially for older and bigger fish that are more leery than the more careless juveniles.
The strong northwest winds of the past week have kept me fishing pretty close to home.  It's been a very windy fall, so I've been looking first for sheltered waters.  Fortunately, there have been some respectable fish very close to Kent Island.  They've been finicky, so I've had to pull out all the tricks in the box to get them to bite.  I've had some fish over thirty inches long, but most are clean, strong mid-twenty inch four-year-olds back in the Bay after their first migration cycle up the Atlantic Coast.  Big birds circling high over live oyster reefs have tipped me off.  I've just been setting up on long drifts, facing the wind, and jigging six or ten inch hotrodded BKDs with either three quarter or one ounce jig heads.  I've been fortunate to fish this weekend with some of the best light tackle anglers on the bay including my frequent partner Jamie who is pictured in the first two photos of this entry. As predicted, there have been a few gannets spotted south of Poplar Island, but so far no sign of the really big migratory fish.  It could be any day and I'll report here as soon as I hear about them showing up.  If you get out there, please let me know if you find them and while you're at it, try cracking that whip for a few minutes.  You never know what you might turn up!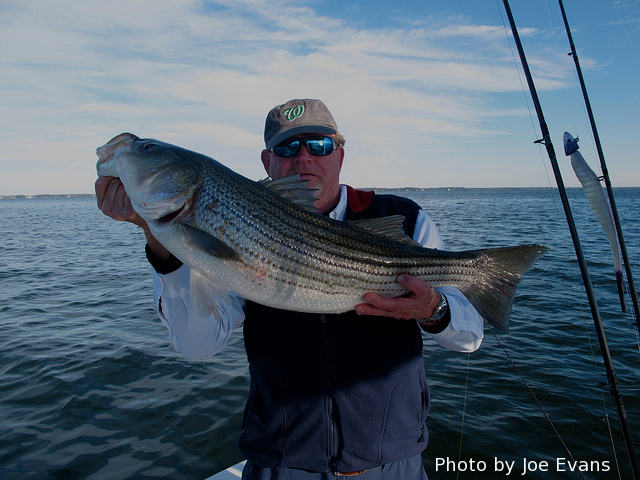 Responses to "Cracking the Whip"