Click the Book Covers Below to Buy the Books

Current Moon Phase




Full Moon




The moon is 16 days old


Distance: 61 earth radii
Ecliptic latitude: 4 degrees
Ecliptic longitude: 92 degrees


Recommendations

Good Information

Wind Weather & Tides

Meta
Whenever someone asks me how I feel about making striped bass a gamefish in Maryland, my answer is always the same – they already are. Light tackle anglers fish for striped bass almost the same as we would for black bass, trout, crappie, or walleye.  Most of us use the same equipment. The only real difference I can see is that a few influential people in the mid-Atlantic find it profitable to commercially harvest stripers. I never  heard of striped bass on a restaurant menu until I moved to Maryland.  In fact, people in other parts of the country don't consider them particularly good to eat.  I cook them occasionally, but is any fish tasty enough to deserve all the controversy that surrounds striped bass?  The biggest thing they have going for them is that they're fun to catch and they're pursued by more recreational anglers than any other species. In my book, that spells gamefish. Last week the Atlantic States Marine Fisheries Commission (ASMFC) voted down several amendments which would have increased the commercial harvest of striped bass. Maryland voted for no increase. That's a positive sign from a state that traditionally harvests and sells more than its fair share, but it's no reason to celebrate. Maintaining the status quo is just more bad news for the fish.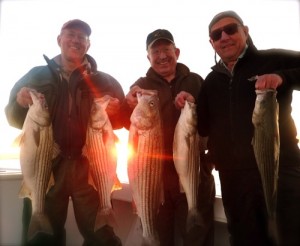 Don't expect Maryland stripers to be officially recognized as gamefish anytime soon.  Although our newly reelected governor has a pretty good track record on fisheries issues, his statements to the Baltimore Sun seem to indicate he doesn't see the need.  Equally as unfortunate is that many influential individuals and even some conservation groups see Maryland's commercial striper fishery as a historic and romantic way of life warranting preservation.
For the record, those people have never really been there. I've done my share of hard time working on the water, and I can tell you for certain that there is nothing romantic about the blood, gore, and slime involved in commercial fishing.  I like seeing the old classic workboats out there as much as anyone, and I don't mind some of my tax dollars going to preserve the waterman's lifestyle. But since we're subsidizing them anyway, why not pay them to do something beneficial on the Chesapeake, like say, help clean it up?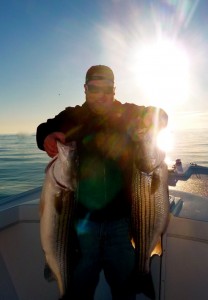 That's not to say we don't have plenty of problems on the recreational side – almost too many to list. There's the spring "trophy season" that routinely opens at the height of the Chesapeake striped bass migration and intercepts and kills thousands of fish before they have time to spawn.  Then there's the big money catch and kill tournaments with their stated goals of hanging pre-spawn cows up like dirty laundry on the scales at the docks.  Throw in the hot months of summer when Maryland allows catch & release fishing using live or cut bait even though almost every deep-hooked fish will surely die. Then consider the rampant poaching from both the recreational and commercial sides.  Taken all together it adds up to a recipe for disaster.
This ASMFC decision amounts to a public acknowledgment that there are problems with the striper population.  Concerned fishermen and conservationists from all over the east coast are calling for changes in the way we manage our striped bass fishery.  The stakeholder scramble over allocation percentages has already begun.  Every user group on the Chesapeake will be pointing bloody fingers in every direction but backwards.
Whether you consider it fascinating or horrifying, there's no denying that striper wars are intensifying on the home front. This week the Maryland Saltwater Sportsfishing Association (MSSA) posted a letter asking the governor to reduce commercial harvests.  I won't be surprised if it is followed by a proposal from the Maryland Charter Boat Association asking for restrictions on tournaments.  Hot on their heels, the commercial fishing industry would like nothing better than to see a delay in the start of the trophy season. Even though I don't expect fisheries managers to do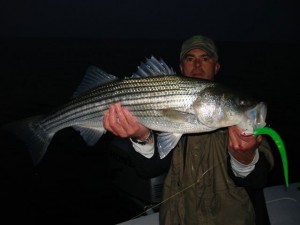 much, here's a clink of the glass with my light tackle friends to all three groups getting exactly what they want. I'd doubt any of the them would be happy with that outcome, but if all three proposals were adopted, the real winners would be our rockfish.
Fortunately, there are still enough fish around so light tackle anglers can find respite on the water.  Despite the dwindling stock, we are still seeing a nice fall run as hungry stripers from the Atlantic Ocean funnel into the Chesapeake Bay. I've managed to get out some mornings and a few evenings lately depending on my work schedule.  Sometimes, I've had to fish at night. We kept fish one day, a donated trip with some guys who don't get to fish very much, but otherwise it's been all catch & release.  Fishing has been good but there aren't that many schools around.  With tournaments slated for this weekend and people getting more and more desperate to find fish, most fishermen I know are justifiably tight-lipped about their hotspots.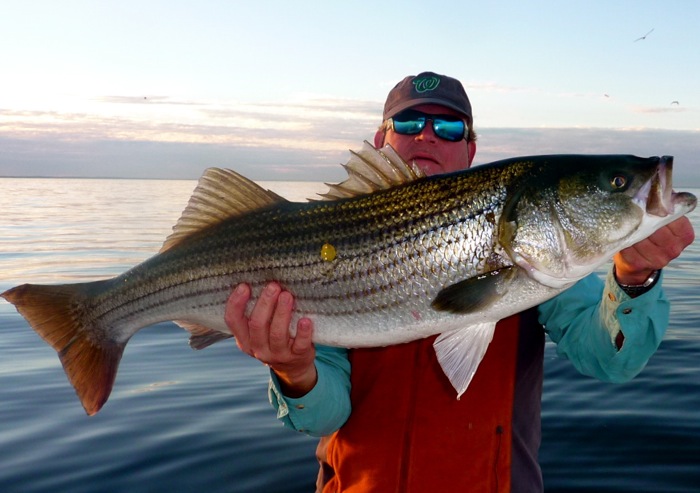 My strategy has been the same as in the past couple of reports. I'm running the deeper ledges near the mouths of the major rivers looking for big birds and big bait.  I haven't had to look far. Even a few gulls or gannets flying way up high will give away the bait. One bird plunging toward the water is reason enough to cruise over, shut down the engine and watch the fish finder for a while. Once I locate fish I start jigging six or seven inch hotrodded BKDs or other soft plastic baits.  If the fish turn out to be 25 inches or better, I quickly move up to ten inch lures or larger.  Water temperatures are holding in the low 50s and salinity is relatively high.  Here's a video montage of some recent pictures. I've released two fish over 40 inches long so far this fall and I expect the biggest stripers of the season to appear this weekend.  Hold on!
Responses to "Striper Wars – The Home Front"