Click the Book Covers Below to Buy the Books

Current Moon Phase




Waning Gibbous Moon




The moon is 17 days old


Distance: 61 earth radii
Ecliptic latitude: 4 degrees
Ecliptic longitude: 104 degrees


Recommendations

Good Information

Wind Weather & Tides

Meta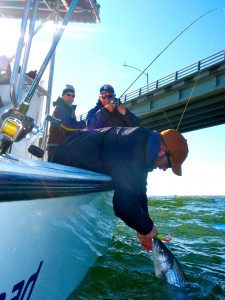 I've just spent an extra long, extra fun weekend at the Chesapeake Bay Bridge Tunnel (CBBT). Connecting the Delmarva Peninsula with Norfolk and Virginia Beach, the CBBT is 23 miles of high-current structure that is prime habitat for striped bass. Rich Jenkins and I trailered my Judge 27 center console Thunder Road down Rt 13 to Cape Charles late last Friday.  My son Daniel and my brother-in-law Mitch flew into Norfolk to meet us. We had a great time and found some fine fishing.
In Decembers past I've stayed at hotels in the Kiptopeke area but this time I decided to look into renting a vacation home for our four night stay.  After calling and emailing several places, I settled on a house in historic Cape Charles called "Southern Comfort on the Bay."  A recently remodeled Victorian with three bedrooms, two baths, a kitchen, game room, washer and dryer and a driveway large enough to park my boat in, it was the perfect base for our five days of fishing.  It's very nice to come off the water and have a roomy place to kick back, dry our clothes, watch football, play cards, and enjoy good food and drink. Better still was the price.  I've paid more for a single hotel room.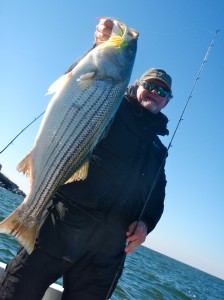 Launching out of Kiptopeke State Park, we fished almost all day every day.  It was very windy so we were knocked around some, but we managed to find fish on each trip.  Mitch had to leave Sunday night, so Jamie Clough from Easton, Maryland drove down to join us for our Monday and Tuesday outings.  Fishing with Rich and Jamie on the boat is always an adventure.  Those guys are constantly joking and cracking around on each other.  Daniel and I just stood back and listened because we like to be quiet and respectful on the water. Since we like for everyone on the boat to catch the same amount of fish, we don't participate in that sort of sarcastic competitive behavior, no sir. It got so bad Monday afternoon that I found it necessary to pull off one fishing spot because Rich was catching fish on every cast and the rest of us were not.  That's just not fair. After all, it's part of my job as the captain to keep things equitable, right?
Rich looked dejected when we left his hotspot, but I explained that I was doing it for his own good and we named that area Rich's corner in hopes of making him feel better.  The rest of the day he kept asking to go back to Rich's Corner, but in the interest of fairness, we took a vote and kept far, far away.
Tuesday morning, Jamie got hot on another corner of one of the rocky islands.  For a while there all we could hear were his hook sets cutting through the air. Since nobody else could fish with all that racket, and it wasn't fair for just one person to be catching all the fish again, I hurried up and left that spot too.  Jamie wanted to know if we could name that corner after him, but I told him he was one fish shy of the necessary number.  He seemed a little upset, but I quickly pointed out that I don't make the rules, I just enforce them.  I thought to myself that it sometimes takes tough love to keep those guys from being so competitive. A little later, I took a chance and piloted us back over to Rich's corner.  He didn't catch as many this time, so we changed the name to Rich's Has Been Corner  just to keep things fair and non-competitive.
I wanted everyone to catch the same size fish, but somehow Rich managed to catch the biggest one of the trip.  After a valiant fight, he got the mid-forty-inch-monster up to the side of the boat. Daniel reached down to lip and land it for him but it somehow came off the hook.  I think Rich was sad since he couldn't get his picture taken with his big fish, but we all laughed and laughed in hopes of making him feel better. It just wouldn't have been fair for one person to catch a bigger fish than the others. I'm glad we're not competitive like that.
Our evenings were fun too. We played a couple of non-competitive poker games while we watched Sunday and Monday night football. Since I'm not competitive, I let the other guys win my money. Another great thing about the house we rented in Cape Charles is that it is walking distance from Kelly's Pub.  Kelly's is one of my favorite bar/restaurants on the east coast.  We ran into a lot of friends and fellow fishermen there.  Mark Nichols joined us for dinner one evening.  He had a successful day Monday fishing with light tackle guide Mark Galasso.  If you want to learn the best ways to fish the CBBT, I highly recommend going out with a light tackle guide.  Even if you have a boat and know the area it's still a good idea to save the money you would spend on fuel and tackle and avoid the hassles of long-distance trailering by chartering a guide.
I took a lot of pictures, so I put together a photo montage of the action and attached it to the bottom of this report.   The video features an original song Daniel wrote.  It's available for download on iTunes and Amazon.com.  Daniel also performs an original tune about Cape Charles, but he hasn't recorded it yet.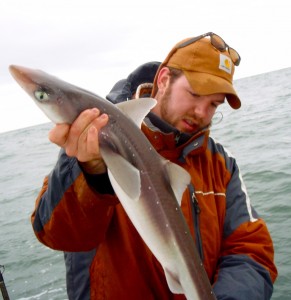 Closer to home, the Mid-Bay trollers are still dragging 20+ rod spreads with broomsticks and planer boards and picking off a fish every once in a while. Light tackle fishing is limited, but there are fish to be caught around the Bay Bridge rockpiles, and a few are starting to show up in the warm water discharges.  There are still some small fish breaking around the mouths of the rivers.  Tomorrow marks the beginning of catch-and-release season in Maryland and the start of my favorite time of the year to fish.
I also need to post a quick note about my book Chesapeake Light Tackle.  We were back-ordered for the last couple of days due to better-than-expected sales, but more books are scheduled for delivery today.  We will be mailing them Thursday and Friday for delivery early next week.  I should also have books in the tackle shops by the end of next week and look for some book signings coming up the week after Christmas.  Thanks for all your help in making our pre-release campaign such a success, and remember – keep it fair out there!
Chesapeake Bay Bridge Tunnel – December 2011
Responses to "Fair Weekend at the Bridge Tunnel"