Click the Book Covers Below to Buy the Books

Current Moon Phase




Waxing Gibbous Moon




The moon is 11 days old


Distance: 56 earth radii
Ecliptic latitude: -4 degrees
Ecliptic longitude: 321 degrees


Recommendations

Good Information

Wind Weather & Tides

Meta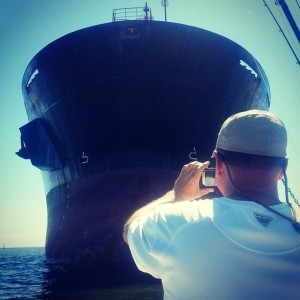 1.  It was still a beautiful day on the water.
2.  That's why they call it fishing, not catching.
3.  I don't go to catch fish, I go to relax.
4.  It was a nice day for a boat ride.
5.  I just needed to run the engine.
6.  There was a good band playing at The Jetty, so we came in early.
7.  It's not how many fish you catch, it's how good you look fishing.
8.  I just wanted to work on my tan.
9.  I enjoy bird watching as much as catching fish.
10.  I didn't get skunked, I ran out of time.
Any fisherman who tells you he never gets skunked is lying. It happens to all of us and to some of us a lot more than others. There's a lot we can say to make ourselves feel better about a bad day on the water, but I don't like any of it. That thing about how it is just always great to be out there, I don't play that.  No one will ever confuse me with one of those zen anglers who goes out on the water to enjoy the experience.  When I get my butt kicked by the fish, I get mad!  Madder than a box of bull frogs.  I curse at children.  I rip up flowers.  I kick small animals.  Then, I sit around moping and thinking about all the things I did wrong.
I'm still thinking about all the things I did wrong last weekend.  My fishing partners Jamie and Rich and I entered the Kent Narrows Light Tackle Catch & Release Tournament.  This is, in my opinion, the premier fishing tournament in Maryland.  There's no trolling or bait fishing allowed –  just one man, one rod, some of the finest anglers in the region, casting artificial lures.  I've always done fairly well in this tournament and frankly, I really liked our chances this year.
The reason I was relatively confident is because I've been catching nice fish for the past couple of weeks. Better yet, the fish have been very close to home, in some cases, just a five-minute-run from a Kent Island boat ramp.  Last week, I fished a couple of evenings after work and one morning before, and the fish were always right where I wanted them to be.  In fact, Rich and I got out Friday evening for two hours before dark.  Along with some other nice fish, we caught and released four stripers over 30-inches long.  Fishing was really good!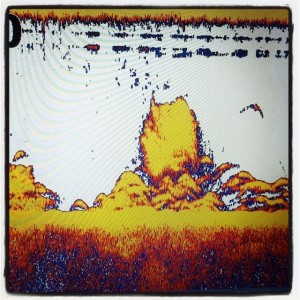 June and July can be tough months to fish for rockfish in the Chesapeake Bay.  Most of the migratory fish have moved on down the Bay and up the coast, and there are food sources such as mayworms and amphipod blooms that keep the resident stripers fed up and happy. The Chesapeake ecosytem gets very complicated in late spring.  Frequent water temperature fluctuations  and stratification as a result of sediment-laden freshwater runoff can make some areas of the Bay uninhabitable for most fish.
Nevertheless, spring 2014 has been a pretty good year to cast for stripers.  There are a few spots in the Upper Bay that I especially like to fish this time of year.  When things go as usual, the Bay stratifies in late May around the mouths of the rivers leaving a very comfortable layer of salty water at just the right depth to draw in stripers.  They're quality fish too, some small males, but enough larger females to make things interesting.  Most of the females are three- and four-year-old unsuccessful spawners.  If you clean them, you'll find immature egg sacks.  A few of these fish will approach and exceed the 30-inch mark.   In my opinion, these fish haven't totally given up on spawning, but they just don't quite know how to do it. They school up on the rocks near the mouths of the rivers like teenagers standing around the gym floor at a high school prom.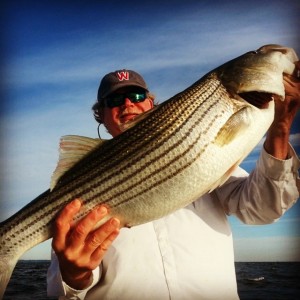 In addition to the rock piles and oyster humps in the upper Bay, nice fish are starting to move onto the Bay Bridge pilings.  Since Norfolk spot are still scarce, the live-lining fleet hasn't started fishing the pilings in force yet, so it hasn't been too hard to find fish no matter where you cast along the bridge.  Also, white perch have moved onto the flats just south of the bridge on the east side and there are sometimes really big stripers hanging around waiting to eat them.
All those factors add up to what has been two very nice weeks of fishing.  When we were making the decision about where to fish in the tournament, we decided to stay close to home even though we knew there were still a pretty good suspended fish bite farther south. Apparently, somebody told the fish we were coming.  Here's how it went.
At 5:30 AM Saturday morning we are sitting right where we want to be, drinking coffee and waiting for the fish finder to light up.  I figure it won't take long to put three big fish in the boat, and I'm looking forward to going home and getting a nap before the post-tournament party.  At 6:00 AM, I am still drinking coffee with no fish on the finder.  By 6:30 AM, we decide to run to some other spots a little farther north, all places where we caught fish consistently during the two weeks before. When we get there, we find nothing but more blank sonar screens – no bait, no fish, and no signs of life.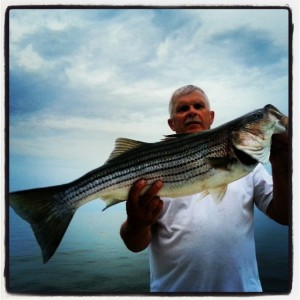 No problem, we still have Plan C, that is jigging the pilings at the Bay Bridge.  That's gotta work. When I'm fishing the bridge, I feel like I have home court advantage because I've fished it easily over a thousand times and I know it better than I know my own backyard.  Since the fish were there Friday night, I figure it's a sure thing, right?  Once again, almost complete failure with just a few little ones to show for our efforts.  Darn!
I'm thinking we're still okay though.  Those fish we've been catching can't be too far away, and they have to eat sometimes.  We retrace all our tracks from earlier in the morning with exactly the same results – a big fat zero.  Now, it's getting close to noon and I'm in full blown panic mode.  We leave the game plan altogether and start checking places that I haven't even visited this year.  The results are all the same.  No fish.
We consider putting the boat back on the trailer and driving to a ramp farther south, but lines out for the tournament is 3:30 PM and our time is short.  I hit all the places I can think of, both above and below the bridge.  I even try jigging the lighthouse rockpiles, little fish spots but maybe we'll get lucky.  No fish.  At 3:00 PM there's a glimmer of hope when we find a lot of bait down near the mouth of the Severn River.  Maybe we'll get lucky and pull out some fish at the last minute.  All we need is one school of decent fish to turn our luck around, right?  It never happens.  3:30 PM comes and goes.  Ten hours of fishing and, other than one 20-inch fish Rich caught at the bridge and two small white perch, we are skunked.  I've been skunked before plenty of times, but since we fished so hard for so long, let the record show that this is the single worst day I've ever had fishing the Chesapeake Bay.
What happened?  Who knows.  I blame bad water, but I could just as easily use any one of the reasons listed above.  It's not all bad news though because three of my favorite fishermen caught fish Saturday, and they won the Kent Narrows tournament.  Representing a new generation of light tackle conservationists, congratulations to Ron McMorrow, Craig Sheridan and Joey Cover for the Kent Narrows Light Tackle Catch & Release tournament win with a very strong 93 3/4″ total.  I've had the good fortune to stay in the loop with these young men all through the winter and spring and I know how hard they've worked to stay on the fish.  The tournament couldn't have worked out better.  There is also some better news on the fishing front too because I'm getting good reports from both above and below the bridge today from some fishermen who are out there dodging the thunderstorms.
As for my state of mind after getting my butt kicked by the fish, I'm still mad, bro!  It's probably a good idea to keep your children and pets indoors for awhile, and my neighbors on Kent Island might want to pick whatever flowers that have left.  Yep, all the pictures in this report are of fish caught in the past two weeks, but they WERE NOT caught Saturday! There wasn't a cloud in the sky, but unlike the picture below, IT WAS NOT a beautiful day on the water.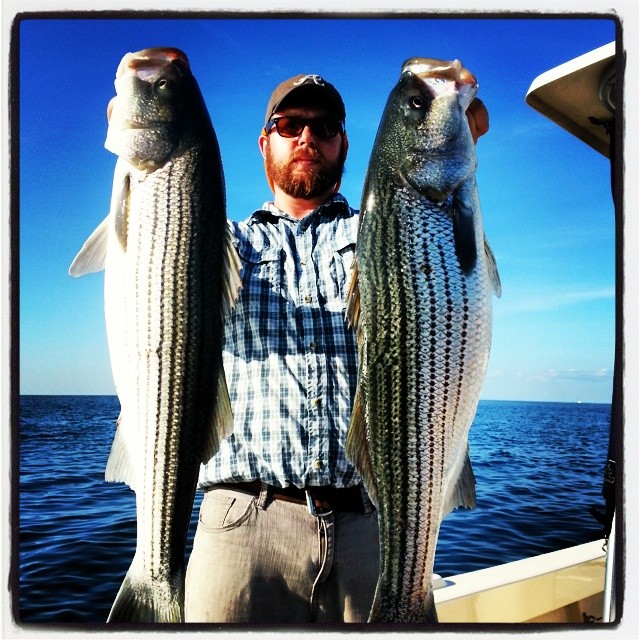 Responses to "Ten Things Fishermen Say When They Get Skunked"