Click the Book Covers Below to Buy the Books

Current Moon Phase




Third Quarter Moon




The moon is 20 days old


Distance: 63 earth radii
Ecliptic latitude: 4 degrees
Ecliptic longitude: 141 degrees


Recommendations

Good Information

Wind Weather & Tides

Meta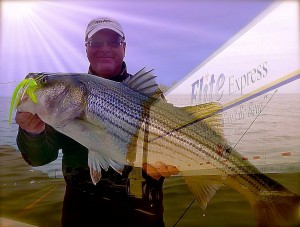 Tell someone where to catch a Chesapeake Bay striped bass and you may help them for a day, but teach them how to identify specific seasonal patterns, and you've put them on the express route to becoming an elite fisherman. The fall migratory run is on.  This is the time of year when the learning curve drops significantly and stripers feed voraciously. They aren't too picky about the kind of baits they'll take and they aren't as choosy about lure presentation. It's a great time to learn how to cast lures for big fish.  It's also the time when I step up on my "think patterns, not places" soapbox.  Ask any accomplished angler their secret to repeated success and they'll tell you it's the ability to identify specific feeding patterns.  I believe that you can drop a good fisherman into any body of water in the world and he'll catch fish as long as you give him enough time to recognize prevailing patterns.  Pattern recognition is especially important on the Chesapeake where conditions change quickly.  Fortunately, fish are creatures of habit and we can identify predictable characteristics in their behavior.

I fished this past Saturday with a new fishing buddy, Jeff Little.  You may have heard of Jeff because he's well-known in the kayak fishing world for his instructional DVDs and videos about smallmouth fishing. Fortunately for Chesapeake Bay fishermen, he's been bit by the striper bug. I've teamed up with him to produce some videos that illustrate my most successful techniques.  Stay tuned because we'll soon be posting one we shot Saturday about striper fishing in the fall on the Chesapeake Bay. We'll launch a short preview first.  If you like it, you can watch the action-packed 30-minute version for just $2.49.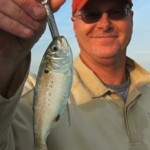 The favorite baitfish of big rockfish in the Chesapeake Bay is Atlantic Menhaden. There's only one problem.  Because of too much commercial harvesting, menhaden stocks are dwindling.  There are usually only small pods of menhaden (or bunker as they're commonly called) scattered across the Bay in the fall.  The days of mile long bait schools in the Chesapeake are long gone. Jigging under isolated menhaden schools can occasionally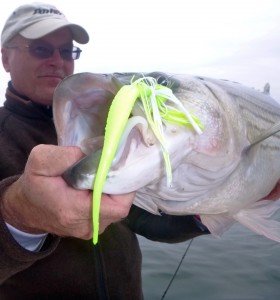 produce, but in the fall when migratory fish are traveling in tight schools and moving quickly from place to place, it's important to find the heaviest concentrations of  2- to 4-inch menhaden.  Since that's about the size of a peanut, we call them peanut bunker.  How do you find them?  Follow the patterns.
Like most fish, bunker behave predictably.  They spawn in the tributaries of the Chesapeake Bay in the fall, then head south toward warmer water. Striped bass know they can cut them off at the pass by staying close to the mouths of the biggest rivers. Rockfish also love alewife and blueback herring.  Collectively known as river herring, they spawn in the spring. The young of the year spend the summer in the rivers. When water temperatures drop in the fall, they migrate toward their parents who are already back in the Atlantic Ocean. These herring add to the striper smorgasbord at the mouth of the rivers.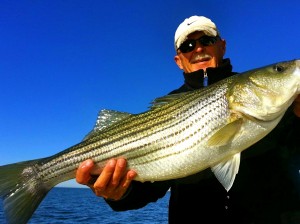 Birds recognize the migration patterns as well.  Gulls and terns look for schools of rockfish ambushing bait because they can score free meals when the stunned and mangled bunker float to the surface.  Remember though, it takes a big bird to scarf down big bait.  In addition to big gulls, I frequently see loons and even an occasional bald eagle diving into striper blitzes this time of year.
There's not much point in fishing under the huge flocks of the juvenile gray-winged gulls that are so plentiful this time of year. The same goes for diving terns. Terns have very small beaks and they prefer tiny bait.  Those little birds will only be over little fish. Just like the juvenile stripers beneath them, the young seagulls are polishing their foraging skills over small bait like rain minnows and bay anchovies.  You might get lucky and get a keeper beneath small gulls and terns once in a while, but if you're looking for bigger fish, find the birds that are big enough to eat the larger bait.
Like our prey, fishermen are also creatures of habit.  It's normal human behavior to go back to the same spot where we've been successful in the past.  Unfortunately, the fish aren't always there.  Changing weather and current conditions make things especially volatile in the fall.  Despite changing conditions, you've probably noticed that some elite fishermen are consistently successful.  That's because they're thinking patterns, and not just running toward a spot where others are successful.
The pattern I'm fishing now is jigging 5- or 6-inch soft plastic baits near the mouths of the rivers.  There are a lot of fish around the bigger rivers where they enter the main stem of the Bay, but don't pass by the mouths of smaller tributary streams, even way upstream in the big rivers.  Schools of both resident and migratory fish are setting up near drop-offs and ambushing bunker.  Sometimes there are smaller fish on top with bigger fish deep. Small baits are working well right now, but keep those big soft plastics handy.  Schools of much bigger ocean fish are right around the corner.  When they get here, they'll be looking for the biggest bite they can get.
Fishing is good and a lot of anglers are catching the light-tackle buzz this fall. All the pictures in this report were taken in the last couple of days, most on Jamie Clough's boat. I'll let you know as soon as the videos from my partnership with Jeff Little go live. Last but not least, don't forget that our Chesapeake breeding stock is in steep decline.  Do yourself and the fish a favor and let the big breeders go. Anyone can kill a cow, but it's cool to set them free.  A picture is worth a thousand fish. Good luck this fall.  Hope you find time to get out and get on the elite express!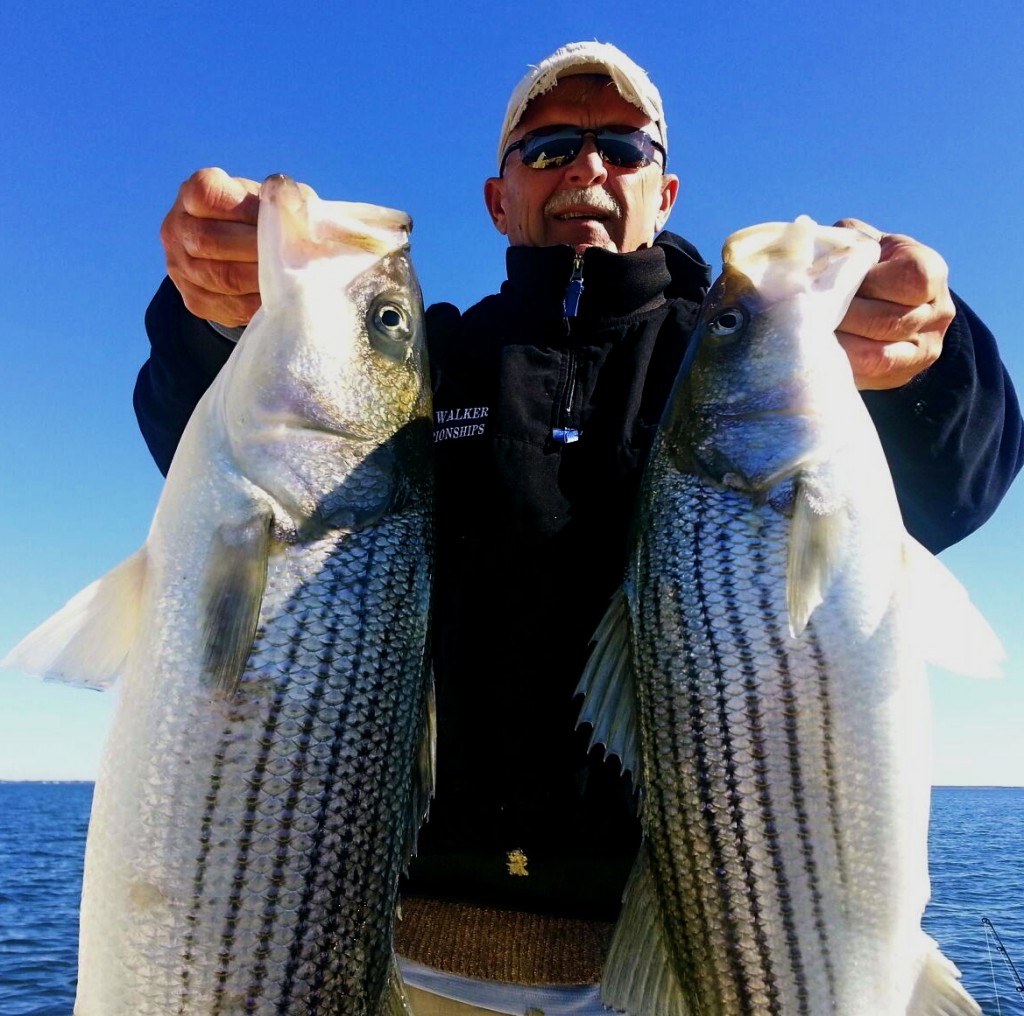 Responses to "The Elite Express – Fall Patterns"