Click the Book Covers Below to Buy the Books

Current Moon Phase




Full Moon




The moon is 16 days old


Distance: 61 earth radii
Ecliptic latitude: 4 degrees
Ecliptic longitude: 92 degrees


Recommendations

Good Information

Wind Weather & Tides

Meta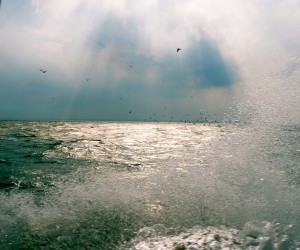 "I see birds."
I could hear the excitement in my fishing partner, Jamie Clough's voice as he scanned the cloudy Chesapeake horizon with his binoculars."
"Big birds!"
I slammed my 27′ Judge Center Console into gear and Thunder Road was off to the races. Up ahead, through the misty rain, we could see big herring gulls as they swooped and circled high over the water. As if on cue, a group of six or eight birds plunged toward a swirl on the surface. A savage fight ensued and the victor flew away erratically as the other gulls gave chase. In the lead bird's beak was a 6-inch long silver fish.
"They're on big bunker. That's what we're looking for," shouted Jamie.
We bolted toward the spot where the birds were diving with our rods and reels at the ready. Before the boat came to a complete stop, we were both hooked up.
"Fish on!"
How was your fishing this fall? By most accounts, it's been a great season for light tackle casting on the Chesapeake Bay. One of the reasons why we're catching more fish than ever this year is that, thanks to recent harvest reductions, there is a lot of bait around, especially menhaden. In the Chesapeake, anglers refer to menhaden as bunker or sometimes (incorrectly) LYs. They've famously been called, "the most important fish in the sea." That's because menhaden are such a critical link in the Atlantic's food web. At one time, menhaden made up over 70% of rockfish diets. Now, that number has dwindled to something like 8% because there just isn't enough menhaden to keep the rockfish fed. In fact, the population of menhaden in the Atlantic Ocean is at less than 10% of historic levels. That's a big drop and a huge problem, not only for recreational fishermen, but for anyone who makes their living in and around the Bay.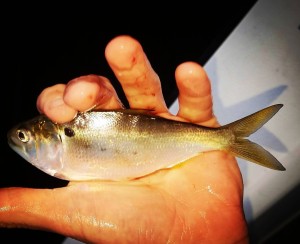 There aren't too many issues in fisheries management on which almost every sector in Maryland can agree, but when it comes to managing bunker, most commercial, charter, and recreational fishermen feel the same way. If we don't have enough bait fish, we won't have enough rockfish, or enough crabs, or enough eels, or enough clams, or enough oysters or enough, well, anything! Menhaden are critical to the Bay's ecosystem not only as forage for bigger fish and birds, but also because they are filter feeders eating phytoplankton and zooplankton. When there's more bunker, there are fewer oxygen-depleting algae blooms. When menhaden thrive, everything thrives.
Now, menhaden need our help. In May of 2015, the Atlantic States Marine Fisheries Commission (ASMFC) initiated Amendment 3 to their Menhaden Management Plan to establish ecological-based management. If approved, that means menhaden will be managed with the entire ecosystem in mind instead of how they are currently with imprecise harvest quotas for every state. As fishermen and stakeholders in the Chesapeake Bay, we now have our first opportunity to speak out on the importance of ecological management. The ASMFC is considering several options, but let's be clear, we want them to use the best available science to look out for the needs of the ecosystem.  It's obvious that the current single-species approach isn't working, not for the fish, not for the fishermen, and not for the businesses that depend on the fishing industry.
The ASMFC's Public Information Document (PID) is long and drawn out, so to simplify things, here's what you need to know:
We need ecosystem management and we need it now using the models we currently have available. We can't afford to wait.
Option D is the most comprehensive solution. It would use the existing best scientific guidelines for managing forage species until menhaden-specific ecosystem reference points can be developed.  
More fish should be allocated to the bait sector. That's right, that's the fish caught by our Chesapeake Bay pound netters and used for, among other things, our blue crab fishery. See, I told you we are all on the same side here.
It isn't equitable for one state (Virginia) to take 85% of the available fish. That's just nuts. Conservation measures should not discriminate between residents of different states. 
We should count all the catch. Currently, there are bycatch loopholes that allow several million (yes million) pounds of fish to go uncounted.
Another reason why this is such an important issue to Chesapeake Bay fishermen is that the Bay is the primary nursery for the coast-wide menhaden population, and the area where the majority of the catch is concentrated. If you're fishing the Chesapeake, you are fishing at ground zero for the most important fish in the sea. If we, the Chesapeake Bay stakeholders don't take action, who will?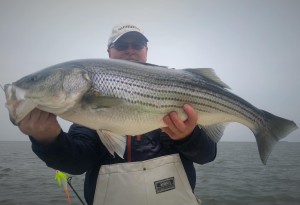 So, here's the deal:  I'm asking all of you, my friends and neighbors in the Chesapeake Bay, to relay the points I listed above to the ASMFC. It doesn't matter if you're a private angler, a charter boat captain, a crabber, a hook-and-liner, a pound netter, or an oysterman, we're all on the same side because we all need menhaden.
Your first chance is December 7 at 6:00 PM at Calvary United Methodist Church, 301 Rowe Boulevard, in  Annapolis, Maryland. If you can't make that meeting, you can easily email your comments. Send them to comments@asmfc.org and put "Menhaden" in the subject. Send your own thoughts or, if you agree with me, just cut and paste the bullet points above. You have until 5:00 PM on January 4th to email your comments. You can read the entire Public Information Document here:  http://asmfc.org/files/PublicInput/AtlMenhadenAmend3PID_PublicComment.pdf
Thanks for your help on this one. Let's keep those big birds diving over big rockfish in the Chesapeake Bay.
Fish on!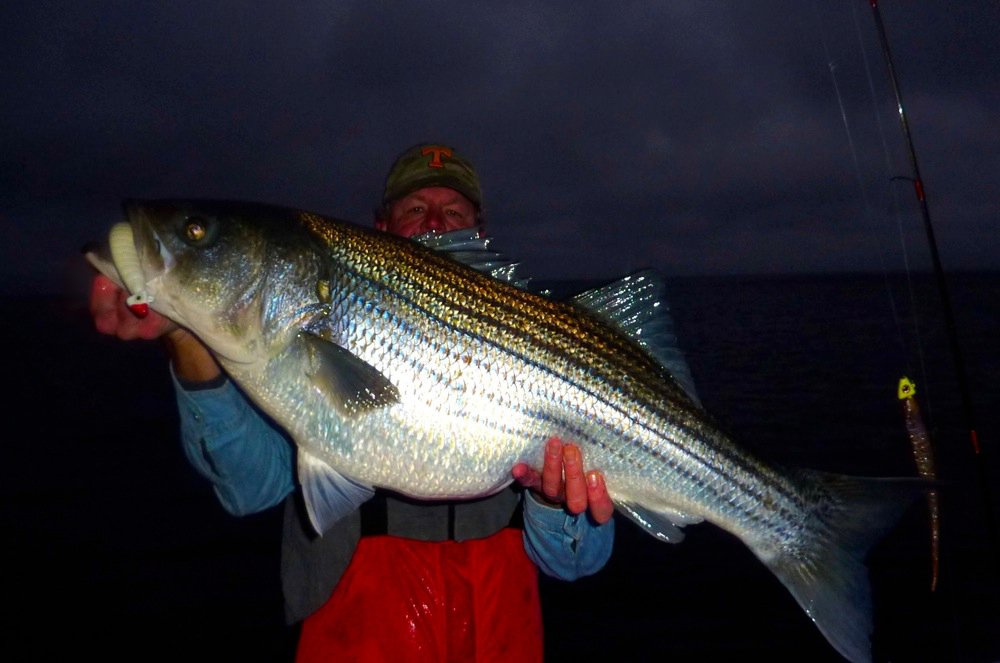 Responses to "Something We All Agree On – A Call To Action"