Click the Book Covers Below to Buy the Books

Current Moon Phase




Waning Gibbous Moon




The moon is 17 days old


Distance: 61 earth radii
Ecliptic latitude: 4 degrees
Ecliptic longitude: 104 degrees


Recommendations

Good Information

Wind Weather & Tides

Meta
Stillwater Smackits
Currently browsing articles with a topic of "Stillwater Smackits".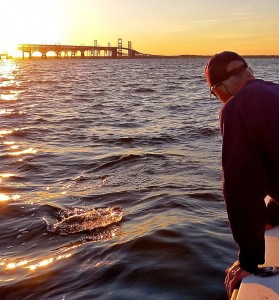 We've caught some very nice fish on Thunder Road over the past couple of weeks.  Whether in the shallows or on the ledges, it's fall on the Chesapeake Bay and time for trophy striped bass.
It's a hot bite tonight.  I'm fishing alone throwing topwater, a big chunky blue and silver Stillwater Smackit.  Not my favorite plug, but pretty damn close.  If you've read my book, you know where I am.  If you haven't, turn to page 50 in this month's Chesapeake Bay Magazine and in his article, "Autumn Angling," John Page Williams will tell you exactly where.
I'm right where John Page says I'll be, working well inside the eight-foot-deep mark where the rocks come up to four.  It's a windy evening, too windy for topwater, but the bite is on and the fish don't care.
There's a full-moon-outgoing, so lots of current, too much current to stay over the spot for very long.  The wind is blowing 17 knots from the northeast and building ahead of an approaching cold front.  I'm drifting across the rocks way too fast. I compensate by slinging my lure as far as I can to lengthen my angle of attack.  I imagine my fishing spot as a giant rectangular canvas with my lure painting a streak from the top corner to the bottom. The fish won't hit unless I'm working the surface within four feet on either side of the underwater rocks. Unlike jigging where we work with portrait strike zones, for topwater, they're landscape. Read More!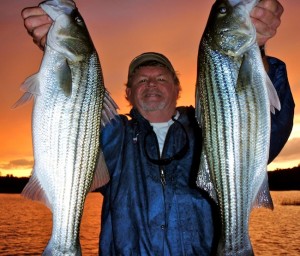 There is a harmony in autumn, and a luster in its sky, which through the summer is not heard or seen, as if it could not be, as if it had not been!  ~Percy Bysshe Shelley
Is there anything more dramatic than an October sky? If I had my way there would be an eternal high tide, a full moon every night, and the skies would always glow like they do in Autumn. There's a chill in the Chesapeake air tonight, signaling that fall is here and October fishing has begun. Just like they have the past three years in a row, bigger fish have arrived in the shallows of the mid and upper Bay. The pattern hasn't changed from last week:  topwater plugs in the shallows are still producing, but the exciting difference is that now there are significantly more 30-inch rockfish in the mix. Nothing beats big stripers exploding on surface plugs beneath the technicolor skies of October. Read More!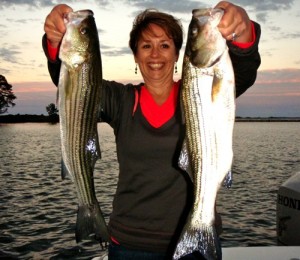 No, this isn't an entry about breakfast cereal.  It's about skinny-water fishing on the Chesapeake Bay where conditions are perfect for the snap, crackle, and pop of topwater lures.  That's the good news.  The bad news is that muddy water has all but eliminated fishing in the main stem of the Bay.  The tributary rivers are clearing, but water in the main channel remains deeply stained.  Satellite photos show a sediment plume stretching all the way down to the mouth of the Patuxent River.  It's too trashy to troll, too muddy to catch bait, and too dirty to bottom fish.  Thank goodness for the versatility of light tackle!  While many anglers are sitting on their hands lamenting the impossible conditions, light tackle fishermen are enjoying a banner fall.  Since the shallow-water bite is tasty, I thought it might be interesting to look at three basics premises of topwater casting –  let's call 'em snap, crackle, and pop. Read More!
No man, after catching a big fish, goes home through an alley. – Ancient Chinese Proverb
Maybe you've heard someone recite another old saying about "the three stages of a fisherman's life."  It goes something like this:  The first stage is when the angler's main objective is to catch as many fish as possible, the second stage is when the angler only searches for the larger fish, and the third and final stage is when size doesn't matter and the capture is unimportant, but satisfaction comes from the way the angler tricks the fish. I usually nod my head in agreement when I hear that, but c'mon now, I don't know one single fisherman who, when given a choice, doesn't cast toward the biggest fish in the pond.  We can wax poetic about the joys of baptizing ourselves in the boundless beauty of nature, and we can sing the praises of that peaceful solitude we find out on the open water, but screw it – the bottom line is, no matter how we are fishing, we want to catch a whopper!  In this third and final segment of the Gimme a Breaker series, we're looking at ways to get the lunkers out of surface blitzing Chesapeake rockfish.   Read More!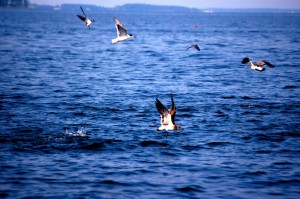 It's summer and you live in the land of pleasant living.  I hope you're enjoying it.  If your idea of fun is sitting in the hot sun, live-lining, soaking bait, or trolling, this entry isn't for you. But if you like blasting through the spray on a fast boat, swerving around hairpin turns, and stopping on a dime to cast top-water plugs & jigs toward screaming birds over frenzied fish, you're in the right place to enjoy some of the most exciting action the Bay has to offer.  On an average summer day, a knowledgeable light tackle angler will catch more fish by accident than most bait fishermen can catch on purpose in a year.  It's time for running and gunning beneath working birds on the Chesapeake Bay.  Summer breakers are here, and it's your mission to find them.  In an earlier segment, I wrote about how important it is to stay as close as possible to hard bottoms when looking for open-water summer fish.  In this entry, I'll say a little about looking for breakers including some strategies for fishing beneath working birds. I'll also mention some individual species and cover what they might tell us about the fish.  Read More!
Ouch!  Sunday night, my fishing partner Rich got a little too close to the top-water lure he'd left hanging on his rod in the console rod holder. The heavy duty treble hook went clean through. Even though he had mashed the barbs, it didn't want to back out cleanly on those heavy duty saltwater hooks. More on that later….. If you've heard about big migratory fish with sea lice in the Bay, you heard right.  I don't know why they're here, but I don't see any reason to ask questions.  They're here so let's enjoy them.  I've fished three times since returning from my freshwater bass retreat to Tennessee.  Each time we had big fish in shallow water.  I'm fishing very close to home near Kent Island, sometimes within site of my house.  I spent most of Saturday winterizing my boat and fishing gear. In my world, winterizing means preparing for big fish and rough water. I worked most of the day on the emergency gear in my boat but took the evening to upgrade the hooks and hardware on my top-water plugs. I also made sure I had plenty of good line on my reels, loaded my tackle bag with 10″ BKDs, and generally got things prepared for bigger fish. Saturdays are tough on the Bay, I think the fish hide on weekends, but on Sunday evening, sometimes they peek their heads out to see what's going on. Read More!